Log into most business banking apps from the major high street players and you will have access to a number of services.
You can see your account balance; view individual transactions; access any further accounts you hold with that bank; move money between accounts; and pay people from them. It is very much a transactional role. For some SMEs, perhaps that is all they need from their online banking provider.
However, it pales in comparison with the digital money management experience offered as part of Monzo and Starling's business accounts: for example, the ability to send invoices, categorise transactions and set aside money in tax pots. 
More and more SMEs are waking up to the possibilities afforded by Open Banking, driven by their use of accounting platforms such as QuickBooks and Xero. So how can banks transform the services they offer to compete with challengers? 
BankiFi's technology elevates a bank's digital channel from not only fulfilling that transactional role, but also making it the place where SMEs go to manage end-to-end business finance requirements. Business customers of three bank clients, including the Co-operative Bank, for example, can take care of invoicing, streamline the collections process and access other accounting services thanks to integration with our platform. By reducing the time that they spend on financial admin, SMEs can reinvest this back into activities that generate revenue for their business.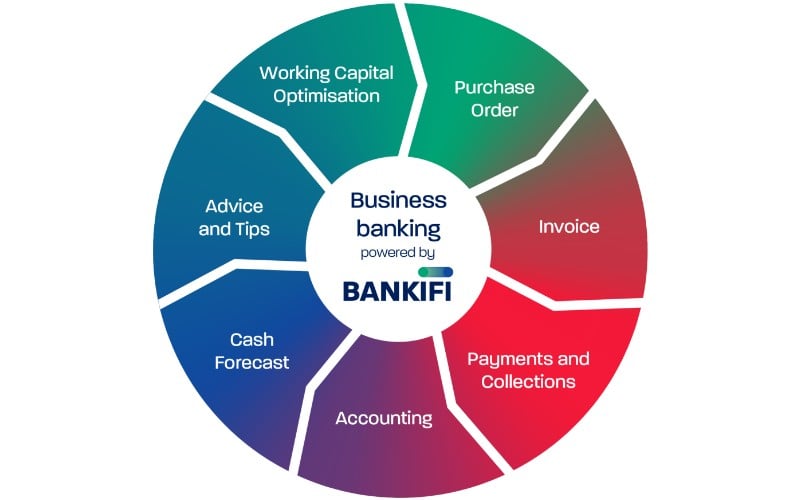 For too long, most banks have been overly product-centric: this is our deposit account; our credit or debit card proposition; our merchant services; our lending proposition. There's a financial product involved in every single transaction, but an SME doesn't really care what that is – what matters to them is the workflow involved in making payments, getting paid and doing their accounting. That is where accounting packages have a laser focus: invoicing, collecting money from the customer, sending invoice reminders, post-transaction accounting, reconciliation, reporting, making taxes digital. Financial products are important because you have to have a mechanism for money to move from A to B – but you have to build a workflow-based approach to meet the needs of SMEs.
The barrier to entry has been lowered by the Open Banking regulation: you can already access your bank account from within an accounting package to make payments and view payment information, reducing the relevance of digital business banking channels. This threat intensifies because non-bank providers have also started to offer business bank accounts and small business lending.
Banks are facing an existential crisis because if you're a small business using an accounting package for all financial management, you will perceive that platform as providing all the value. If you can also get a bank account and access to business finance from that provider, you may ask: what do I need my bank for?
By enabling banks to provide the workflows SMEs really value from within their digital channels, our tech is not only designed to help banks fight back against the threat to their existing customer base, but also to allow them to acquire new market share themselves. If their brand is associated with helping the SME manage their digital workflow, it's a short step for them to move other business accounts to that bank.
Much of the industry discourse is about Open Banking but Open Finance is a much more accurate way to describe the opportunity for banks. They can build a picture of the company's current working capital position from all their bank accounts – but also see their future working capital position by bringing rich payables and receivables data in from external sources. BankiFi provides powerful cash forecasting insights to businesses, but also presents an opportunity for the bank because it can see that data as well: for example, by identifying a future shortfall in working capital, it can proactively offer them a loan and generate incremental revenue for its lending products. Likewise, if the bank is aware that a customer of the company has paid 100% of previous invoices on time – and a new invoice is due within the coming days – it can use that data as security on a reliable basis against a short-term invoice finance offer.
There are also around three million sole traders in the UK using their personal accounts to run their business. Our technology helps the bank to identify this, which presents an opportunity for them to proactively offer that customer an upgrade to a business current account featuring all sorts of benefits and tools to run their business.
Businesses place great trust in financial institutions. It's actually quite hard to provide bank services: it's a very regulated sector with significant expertise and infrastructure required, something which is easily overlooked in the noise about digital challengers. The number of neobanks who go on to withdraw from markets is an example of this. 
This credibility with SMEs is invaluable to banks, yet many business owners are being forced to manage their finances in many different  places – not only their bank account as you would expect, but also external accounting software, Companies House, HMRC, their CRM and more. At BankiFi, we strongly believe that they would much rather manage everything in the same place – and we even more strongly believe that the best place to do that is with their trusted bank. 
The concept of a 'Super App' is popular in the industry right now, yet it is always spoken about in the context of FinTechs and challengers. There is no reason why digital business banking channels can't be Super Apps.