BankiFi is a technology platform designed to provide banks with an integrated set of services – accounting, invoicing, and payments – based on the processes your customers use to run their businesses.
Using our platform, we enable banks to become customer-centric rather than product-centric – increasing your revenues and reducing costs while empowering your business customers to thrive.
Our platform reimagines a bank's relationship with business customers. No longer is it simply about offering products. Instead, we embed banks within their customers' daily workflows. Whether it's 'order to cash' or 'procure to pay', we make you part of an organisation's core processes.
And what does this mean for your customers? By being able to run their business even better and automate manual tasks – all from within their online banking interface – they can spend more time on the things that matter to them.
There is ever-increasing competition for business relationships from non-bank providers. But banks can win if they focus on their customers' workflows and embed themselves within day-to-day processes. Get it right and you can increase your revenues, reduce costs and protect your lending business – all while enabling your customers to thrive.
We have a range of options to suit every bank. From on-premise or software-as-a-service; white labelled or co-branded; and our regulatory licence or yours.
Equipping banks to take on challengers
Both new regulation and advances in tech have lowered the barriers to entry in banking and finance, enabling new entrants to erode bank revenues.
SMEs are seen as the low-hanging fruit, having been underserved for too long. Fintechs, payment processors and alternative finance providers have already taken market share of several banking services, and payables and receivables will be the next area attacked – with deposits no doubt following. But by embedding banks within business workflows through simple-to-deploy financial tools, we can help you take on the challengers and become indispensable to your customers – protecting your position.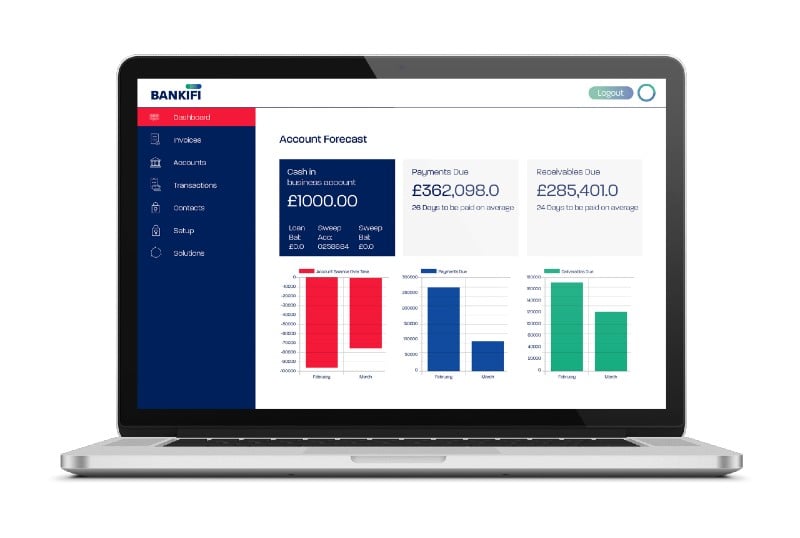 Do your customers struggle with late payments?
Late payments are a global issue, eating up significant time that businesses should spend elsewhere. In the UK, it's estimated businesses spend 54.6 million hours per year chasing late payments, and it takes an average of 71 days to collect money when invoicing terms are 30 days. Businesses are desperate for support, but as it stands the banks aren't doing enough to help. 
BankiFi enables banks to automate collections for their customers, reducing late payment days and as well as significant admin burden – all from within the bank's own digital channel. On top of that, you can use this data to proactively identify lending opportunities. 
Do they spend significant time on matching and reconciliation?
A non-core activity that is ripe for automation. The admin strain on businesses around matching and reconciliation is significant, while a manual approach leads to more errors too. A bank that could solve this challenge for its customers would become an invaluable partner overnight. 
BankiFi links bank accounts and accounting packages to provide automated matching and reconciliation, allowing your customers to focus on what matters to them. This can be offered as a subscription service linked to the amount of time saved, providing a new revenue line. 
Do they struggle to accurately forecast their cash position?
Cash forecasting is a non-core activity that SMEs often struggle with. Either they struggle to gain a clear picture of their position and make the wrong decisions, or they simply have no grasp of where they are at and what their working capital requirements are. It's an area where banks should be well placed to help, but they don't have access to all the data to do so. 
Using data from bank accounts and accounting packages, BankiFi builds a live profile of your customers' cash positions. This enables them to make better business decisions, while providing you with the data you need to drive proactive lending. 
Online accounting packages are too complex and expensive for their needs
Bookkeeping is a business workflow that starts with issuing or receiving an invoice and includes receiving and making payments, categorising the sales and expenses, paying taxes and culminates in seeing the profit or loss for a given period. This process is often alien and handed over to an accountant at considerable cost. From the business's perspective, they just want this to be done in a few easy-to-manage steps and the information to be presented in an easy-to-understand format. 
With BankiFi, bookkeeping and accounting can be made easy by linking to the package of the customer's choice, or if they don't yet use one because of complexity or cost you can offer them a simple, easy-to-use white labelled version. This allows them to create, send and input invoices, categorise transactions against a simple chart of accounts, attach receipts, keep track of their tax obligations and look at their profit and loss for a given period. If they later decide to move to another package you can also help them migrate to their new preferred solution.
My customers want to do their banking from their channel of choice, not mine
For decades banks have built siloed product channels for their customers to do their banking. This disjointed channel strategy is a reflection of a bank's organisational structure rather than the customer's needs. This problem is further amplified in business banking when banks segment a customer by turnover or the number of employees or some other arbitrary measurement. This leads to customers being forced to use channels that don't fit their needs, register for different channels requiring them to replicate the input of the same data over and over again, and worse still there is no consistency in experience across those channels.
BankiFi replaces the siloed approach to a bank's channel strategy with an API-first approach. Don't dictate the user experience – instead let them choose whether they access those services from a mobile, a tablet or a desktop, and give them a consistent experience across them all. Our 'gig to big' subscription model helps you to acquire customers at the earliest and cheapest point in their business journey by offering them the right services to opt-in to at the right point in their journey, such that they never need to look elsewhere. Go on their journey with them – some of those 'gigs' may eventually turn out to be 'bigs'. 
My sole trader and micro businesses want to use their personal account to run their business
Banks often can't decide whether their sole traders and micros are retail customer or business customers. They are often described as 'retail++' as they sometimes behave more like consumers, but other times more like businesses. This often ends up with banks forcing customers to open expensive business accounts to get access to necessary tools and services that are not available with their personal accounts. 
BankiFi's solution for sole traders and micro businesses utilises open banking, enabling the customer to choose to link the bank account type of choice, personal or business. The feature rich service means customers that choose to use their personal account can get access to a suite of business services, including invoicing, payments and collections, bookkeeping/accounting and cash forecasting, instead of being forced to open a business account.
Introducing: Incomeing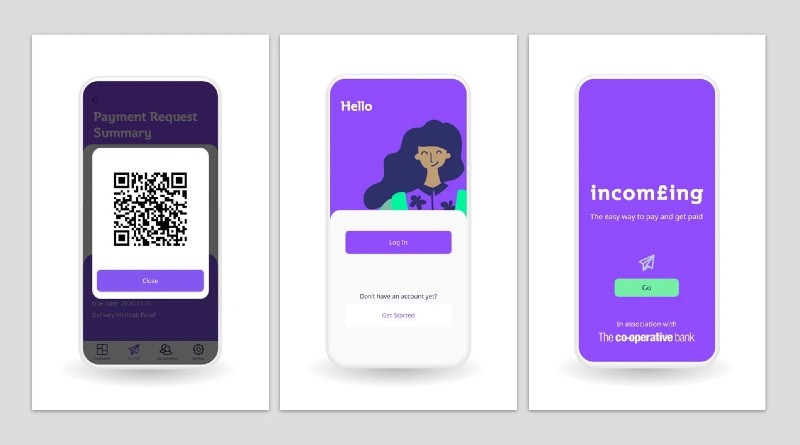 We have partnered with The Co-operative Bank to launch a Request to Pay (RTP) service – Incomeing.
The service helps SMEs boost their cash flow by facilitating instant, cost-effective and secure collection of payments from their customers. The Co-operative Bank is the first UK provider to offer an open Request to Pay mobile application for not only its customers, but also those that bank elsewhere.
With the UK home to approximately 5.5 million micro business owners, the RTP service is designed to provide them with greater choice, control and a flexible technology that is a more cost-effective alternative than cash, direct debits or high-fee card transactions.
The platform allows users to send secure, real-time payment requests via text, email and Whatsapp, as well as QR codes for simple face-to-face transactions. It ensures that funds are transferred into a chosen account immediately, boosting cash flow. It also generates invoices, streamlines the process of chasing late payments and automates financial admin by integrating with all the major accounting applications.
The Co-operative Bank is the first to offer the platform to its micro and small business customers, but the app is available to customers of any UK bank.
Follow BankiFi on Twitter and LinkedIn – or get in touch via our website.