Uncategorized
HealthTech
Covid-19 and the move towards homeworking has changed the tech sector's approach to recruitment and the role of the office.
That's the view of a panel of HealthTech and property experts spoken to by BusinessCloud about what they wanted from their office space in a post-Covid world and how the pandemic had changed their business.
The UK HealthTech sector is worth £36bn and employs 127,400 people. There are more than 100 HealthTech companies that are valued between £200m-£800m.
Will Lewis is the co-founder of OBI and said while the role of the office had changed as a result of Covid-19 he said it was more than just a place to work.
"The days of SME's signing 15-year leases or 10-year leases without a break options are long gone," he said. "When people go back to the office they'll inevitably adopt blended approach but I think there will be a bit of a bounce in people. I think people have forgotten some of the really good things about offices and about interacting with their team. Lots of people live in the city and haven't got gardens or outside space. The office environment is a social leveller and people forget that.The blended way of working is here to stay but the office will remain key to the success of the majority of businesses and their culture?"
Liz Ashall-Payne is the founder of leading health app evaluation platform ORCHA, which won BusinessCloud's 'Meet the game-changing pioneers of tech' event in 2017.
ORCHA is based at Sci-Tech Daresbury having previously been based at Baltic Triangle and Liverpool Science Park. The office moves have been driven by the pursuit of talent. Ashall-Payne said one of the changes from Covid-19 has been that their next recruit could be from anywhere in the world. "We're less worried where we're going to get that talent from," she said, "we're just looking for talent."
The entrepreneur said ORCHA had revised its office requirements after seeing how productive staff were while working from home. "One of the things we had on our plans was to take over a whole floor at Daresbury by the end of this year and we're definitely not going to be doing that," she said. "I think we'll keep the floor space that we've got and use it very differently."
She added that creating a HealthTech cluster in the North West would be a game-changer. "Having a HealthTech hub in the same way that the media has a hub at MediaCity would be phenomenal," she said.
Dom Raban is the chair of Corporation Pop and the founder and CEO of Xploro, which he launched in 2011 after his daughter was diagnosed with cancer. He decided to do something because he was concerned about the amount of information given to children going into hospital.
He predicted the function of the office has changed since the pandemic. "I think we'll use our office as a meeting space and not a dedicated working space," he said. "What we found was teams working more remotely were actually being more productive. What's important from our space is that it facilitates good interactions for our people."
Dr Lucy Buckley is the co-founder of Dr Fertility, which has seen its turnover grow by 80 per cent in the last year and its customer base grow to more than 30,000 customers. Dr Fertility is currently trying to raise £1.75m to fund its future growth strategy and Dr Buckley said Covid-19 and the move towards homeworking had changed their approach to recruitment. "Location is not as important to us anymore," she said.
James Chapman is the co-founder of Liverpool-based Safe Steps, which is a digital falls risk assessment tool, designed to reduce the number of falls for older people. Safe Steps has been picked up by the NHS Innovation Accelerator (NIA) programme and employs five people.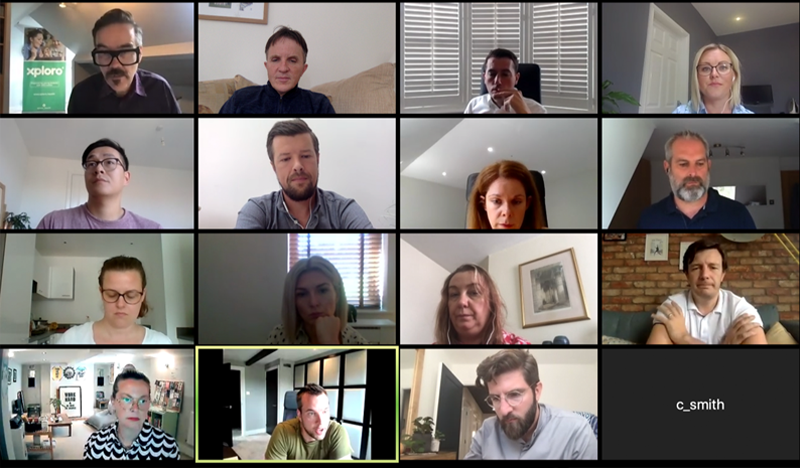 "We are working in a sector that is going through a technological revolution," he said. "The pandemic is only going to accelerate that." Chapman said Covid-19 had changed their approach to getting their own office. "We're working remotely and it's worked incredibly well for us," he said. "We're based in Liverpool Science Park. We've been co-habiting with our angel investors in year one. It makes sense as it kept our rents down.
"Interestingly, for the second half of this year, we were looking at getting our own space. This enforced change of working has made me reflect and go 'why?' Why do I need to pay rent for 365 days a year when actually the social and strategy model of coming together maybe once a week or once a fortnight and paying for some space might be a better, cheaper solution and give us that balance."
Rory Cameron is the CEO of Gendius, which has developed the Intellin app to calculate an individual's risk of developing complications from their diabetes based on their clinical history. It's based at Alderley Park, in Cheshire.
He said in his experience it was the younger generation who found working from home the hardest. "We've got groups in their 20s who have actually really struggled working from home," he said. "Some of those wanted to stay in the office all the way through. We have given money and helped people to make their home environment as comfortable as possible to work in.
"Moving forward we won't need everyone in the office. In actual fact for the people doing the development work and the coding work they've been much more productive at home. I think it's about agreeing some strategic white board space. I like being in the office but for many people it's about providing that flexibility."
Bridie Oldroyd is an account director Leeds-based EMIS Health, which provides software to GPs and pharmacies, helping them to manage practices and keep patient records.
At the time of the roundtable she said EMIS Health was planning to have people back in the office from September. "The experience that we have is that people actually miss being in the office now and having that communication with people," she said. "Most people are really looking forward to getting back into it."
Zillah Moore is the marketing director at Yorkshire-based Tunstall Healthcare, which pioneered the use of technology to support those requiring care and health intervention to live independently in their chosen home setting.
She said: "We do have people who want to come back (into the office). It does impact on creativity. We have a lot of social distancing measures in place. We recognised it (homeworking) was starting to affect the mental health of some of the employees."
Andy Atha is the director of operations at Manchester-based Push Doctor, which works in partnership with NHS practices, PCNs and CCGs across the country to provide the platform and technology to allow safe and secure video consultations with NHS GPs.
He said Push Doctor operated a flexible working environment which helped the switch to remote working when Covid-19 struck. He said there was no pressure on staff to return the office but many of them wanted to. "There are definitely some people who are really keen to get back into the office," he said. "Some people haven't enjoyed being stuck at home." He said the role of the office had changed post-Covid and would be used if employees wanted to be around other people or wanted to hold a strategic meeting."
David Foreman is the managing director of Manchester-based investor Praetura Ventures, which backs early-stage businesses in high-value sectors.
He said Covid had not only changed what they required from their office but the way staff worked from home. Praetura have introduced a 'switch-off policy' so when people are off work they don't have access to their emails, shared files etc. "We're effectively making sure they take a full week break and not think about work," he said. "As connectivity has increased in the last five years people are always 'on'. I've been there myself, checking emails at 3am in the bathroom on holiday."
He said Covid presented a real opportunity for employees to trust their staff and not stipulate how long they work in the office "Post-Covid we will have an office," he said. "We moved into our office in June last year and it's a lovely space to work. I think there's a real opportunity with this forced pause to look at all of your employer engagement. Having said all that I think we'll still predominately recruit people from the North West."
The other people to take part in the discussion were Louise Kitchingham, communications and PR manager at iPLATO Healthcare; Dr Jing Ouyang, COO and co-founder, Patchwork; Dr Anas Nader, co-founder and CEO, Patchwork; and Lauren Bevan, head of health and social care, BJSS.