Gendius is a health data and insights business focused on metabolic disease. We deliver award-winning projects dedicated to improving patient lives and helping to solve the challenges faced by healthcare systems worldwide. We use data sets to transform patient outcomes.
Our mission is to build the world's most comprehensive, rich metabolic data set enabling earlier identification and earlier intervention. Over 1 billion people have a metabolic disease: these progressive, silent diseases are identified too late and account for 33% of deaths globally.
Our passionate team has extensive skills and experience in business, healthcare, tech, and data science. The team's expertise allows us to utilise our data giving a unique understanding of how these diseases influence and impact each other. Our current work has the potential to change the course of chronic kidney disease (CKD) in patients with type 2 diabetes.

We have designed a non-invasive, scalable tool that can prioritise patients so that they receive the treatment they require sooner. The CKD Screening Prioritizer is digital software that contains an intelligent risk calculator. Our algorithms predict which people with type 2 diabetes are likely to be experiencing abnormal kidney function. The tool can be used to increase the accessibility of screening globally across a variety of healthcare environments. This allows patients at risk of complications to be identified sooner, enabling earlier healthcare intervention, earlier use of lifesaving medicine, improved patient management and reduced costs.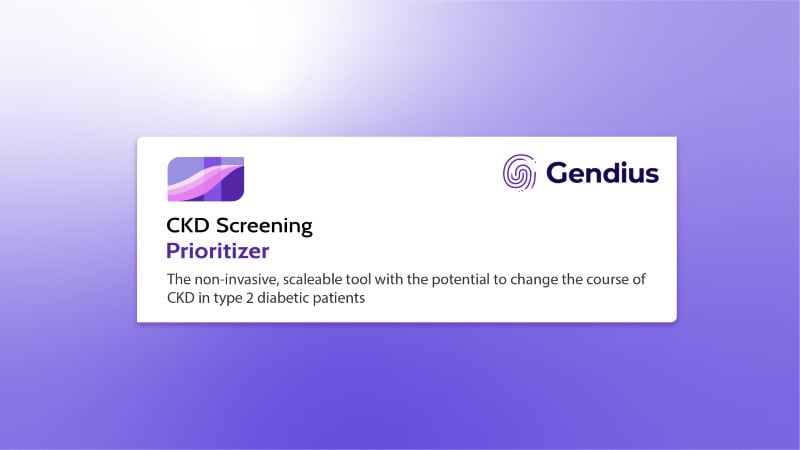 Currently, we hold over 30 million data points which our team can work with to develop predictive algorithms. We are perfectly positioned to rapidly expand our solutions globally and successfully. Our digital solutions aim to promote health equality and cost-effectiveness in the system. We look forward to continuing this mission with current and future innovative tools.
Find out more about what we do or how we can help you below.