Mental health and wellness platform Discova – formerly known as Myndr – is one of 20 finalists in Tech Nation's Rising Stars 3.0 competition. 
The esteemed programme brings together some of the country's brightest tech start-ups from across England, Scotland, Wales and Northern Ireland. 
Aiming to support early-stage companies in their scale-up efforts, the competition culminates in the top 20 companies showcasing their work to an audience of investors, influencers and the wider tech community, with the hope of being named one of the 10 Rising Stars. You can see profiles of all 20 finalists further down this article. 
Founded in 2018 by Lizzy Hodcroft and Emma Reilly, Discova is a digital platform that promotes wellbeing and helps companies and its employees battle common mental health issues via peer-to-peer support. 
Designed for both personal and corporate use, the soon–to–launch platform utilises the power of data and machine learning to deliver personalised support and guidance to suit different personality traits, learning styles and life experiences.  
A unique feature of the app is the steps Discova have taken to make the product accessible; representative to different cultures and backgrounds as well as tackling unconscious bias. 
The idea behind Discova stems from Hodcroft and Reilly's personal mental health struggles and frustrations accessing mental health support through the NHS. With the isolation and loneliness of the pandemic having a crippling effect on the nation's mental health, Discova's platform is more important now than ever. 
"Building a business that is seeking to bring positive change into the daily lives of people at home is something a lot of people connect with at the moment," said Hodcroft.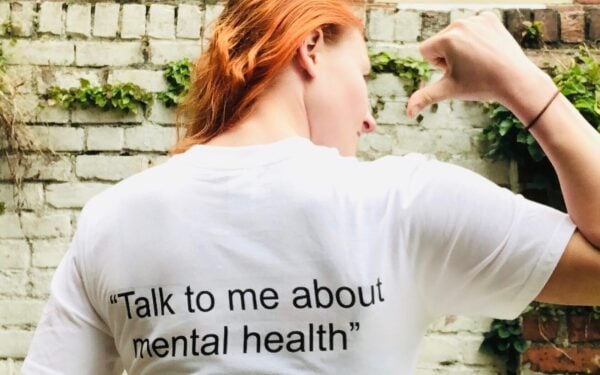 "Mental health and wellbeing are being given a lot more attention in recent years. COVID-19 has helped to highlight this. 
"The pandemic has radically accelerated efforts to promote work-life balance, raise mental health awareness and provide emotional support to those that need it. 
"Mental health and wellness support can no longer be location-dependent and I believe there has been a shift from treatment to prevention. We are all dealing with so much right now, trying to balance our lives at home while also planning for a future that, at times, seems non-existent. 
"Discova is important because we are helping people to gain the coping skills they need to get through this tough period." 
This isn't the first time that the company has applied for the Tech Nation programme. Last year the founding duo applied for the competition without success, however they remained undeterred. 
Over the following year, in the middle of a global pandemic, Emma and Lizzy propelled the business forward. In April 2020, the company was awarded a £300,000 grant from the Innovate UK fund. With over 1,600 applications and only a 4% chance of success, the company wrestled out strong competition with one of the highest-graded scores in the grant round. 
Crowned Startup of the Year for 2020 by the Federation of Small Businesses (FSB), the company has since grown its team and solidified partnerships with the likes of Home Group and the RAF's innovation hub, RAFX. 
Its shortlisting for the Rising Stars competition comes at an exciting time for the company as it kicks off the year with an investment round, aiming to raise £500,000 by April 2021. 
https://businesscloud.co.uk/news/meet-the-next-generation-of-uk-tech-innovators/
Discova will also begin a number of high-profile contracts and is set to host the Newcastle's first mental health conference of its kind, Discova X Con on Thursday August 12th 2021, with panellists that includes Ex-Premier League football star Clarke Carlisle. The event will also give Discova the chance to reveal its fully formed application. 
With proud roots in the North East of England, Discova's founders have a passion for the region and its burgeoning tech community. 
Hodcroft added: "I'm proud to be able to wake up each morning and commit my focus, time and energy to something that is bringing good into the world. 
"To do this while representing the North East makes me even prouder. The North East is all too often overlooked when it comes to start-ups and tech so I am really happy that I can do my bit to bring attention to this region." 
Rising Stars 3.0 finalists
budibase, Belfast 
Founders: Michael Shanks, Martin McKeaveney, Joseph Johnston 
Founded: 2019 
Size of team: 5  
Building custom software for your business in minutes, without coding, Budibase is an open source, nocode platform used for building web applications, to digitise your business. Small to medium sized businesses and digital consultants use Budibase to build and host apps, or for supporting their self-hosted deployments. 
CGHero, Manchester 
Founders: Jonathan Lloyd, Chris Lawrence 
Founded: 2016 
Size of team: 16  
CGHero is a collaborative marketplace for 3D & CGI content creation, bringing together the world's top talent to work on feature productions across gaming, architecture, TV & film, automotive and retail. The platform has been used by the likes of Valvoline, Sega, B&Q, Unilever, and NHS. 
Define, London 
Founders: Nnamdi Emelifeonwu, Feargus MacDaeid 
Founded: 2017 
Size of team: 10  
Drafting made simple, Define optimises the contract drafting and reviewing process by allowing users to quickly access key information (namely all defined terms and references) in legal documents without ever having to leave the provision they are working on and lose their context of review. Define acts as a risk management tool and efficiency software that helps lawyers save time when working on legal documents. 
Discova, Newcastle 
Founders: Lizzy Hodcroft, Emma Reilly 
Founded: 2018 
Size of team: 4 
Created by founders with lived experience, Discova delivers personalised support and interventions for better employee and team mental health and wellbeing. Discova empowers employees to take positive action quickly through tailored action plans, adjusting the support and guidance received based on individual areas of focus, learning style and personality. 
e-Surgery, Norwich 
Founders: Thuri Wenbar, Oskar Wendowski 
Founded: 2017 
Size of team: 12 
e-Surgery is the UK's leading prescribing service and sustainable online pharmacy. Patients simply need to go to their website, choose the treatment they need, fill in a simple health questionnaire and wait for next day delivery in discreet recyclable and biodegradable packaging. They're a private healthcare provider radically proving the idea that private healthcare can be affordable and that these efficiencies can be made available for the masses. 
Elemental, Derry 
Founders: Leeann Monk-Ozgul, Jennifer Neff 
Founded: 2013 
Size of team: 30  
Elemental is an award-winning tech for good company with the purpose of empowering and enabling individuals, families and their carers to better connect into community-based programmes, services and interventions that make a positive impact on their lives. Through an innovative digital platform, it provides teams with the technical connectivity they need for multi-sector partnership working, leadership, and the measurement of mobilisation of support where needed. 
eLocker, Derby 
Founders: Jacob Hinson, Mark Hinson 
Founded: 2013 
Size of team: 8  
Locker management made easy, eLocker connects Bluetooth enabled locks to the internet via an IoT gateway. Already working with Amazon, DHL and Kuehne and Nagel, it's the world's first wirelessly managed locker solution. 
felloh!, Grantham 
Founders: Claire Lowry-Hubball, William Bicknell, Ujwal Bhagwat 
Founded: 2020 
Size of team: 4 
felloh! is a payments platform for good which cuts costs and does good with every payment. By embedding payments and banking into client's journeys, they improve customer experience, simplify reconciliation and innovate to improve profitability whilst embedding giving to good causes into the business model. 
Glimpse Protocol, Winchester 
Founders: Alasdair Macdonald, Tim Holmes-Mitra, Mark Stoter 
Founded: 2019 
Size of team: 4 
A revolutionary advertising platform with privacy at its core, Glimpse Protocol have invented a new data model to allow online businesses to reach precise consumer audiences, while protecting consumer privacy and without using any third-party data sources. They offer an ethical, compliant and efficient ad marketplace for advertisers and publishers. 
Hyper, Leeds 
Founders: Thomas Hill, Adam Barrowcliff, Damon Bryan, Peter Denby 
Founded: 2016 
Size of team: 9  
The data science brain for customer-led retail decisions, Hyper enables retailers to use AI and data science to improve marketing, merchandising and supply chain performance. Through its cloud-based data platform, proprietary AI engine and intuitive user interface, Hyper gives non-technical people access to powerful insights, helping them make decisions which increase customer loyalty and profits. 
Jobseekrs, Manchester 
Founders: Jamaal Brathwaite 
Founded: 2017 
Size of team: 2 
Jobseekrs is a careers platform that mitigates unconscious bias at the sourcing and screening stage of recruitment to increase diversity and inclusion and to decrease churn. The jobseekrs algorithm matches a candidate to a potential employer based on skill set and culture alignment, producing an overall percentage fit score which is presented to the employer anonymously. The employer then purchases credits to reveal and engage with candidates. 
LiberEat, Aberdeen 
Founders: Barry Leaper, Louise Cahill 
Founded: 2016 
Size of team: 5  
LiberEat makes life easier for people with dietary restrictions. It provides bespoke menus, supermarket grocery options, and recipes to users with options filtered by their requirements, helping businesses such as restaurants and supermarkets become more accessible, and providing useful analytics and insights. It has the potential to seriously reduce harm from food allergies. 
Okkulo, Newcastle 
Founders: Abu Ali, Mark Westerhof, Owen McFarlane, Peter Atkinson 
Founded: 2018 
Size of team: 2  
Okkulo is a sports training system that uses unique light levels to recalibrate the visual system, allowing the athlete to improve their reaction time, motion perception and depth perception above and beyond their current levels. The Okkulo technology can be used across a broad spectrum of sports such as football, baseball, basketball, tennis and even F1. 
PORT.im, Brighton 
Founders: Dan Eltis, Julian Saunders, Piyush Shah 
Founded: 2015 
Size of team: 3 
PORT.im is transforming the way businesses manage privacy. The end-to-end service manages all aspects of privacy from the website through to the compliance documentation. Recognising that privacy is an area fraught with difficulties for businesses, PORT.im is on a mission to help businesses build trust with their customers and comply with the regulations. 
RoleMapper, Exeter 
Founders: Sara Hill 
Founded: 2019 
Size of team: 6  
How jobs are designed and job descriptions are created is critical to attracting and retaining talent, but the process for designing jobs is broken, manual and disconnected. RoleMapper helps organisations to design and manage jobs, and create great job descriptions that increase hiring diversity and workforce flexibility. 
Selazar, Belfast 
Founders: Kevan Bishonden, Jack Williams, Gareth Burns 
Founded: 2014 
Size of team: 21  
Selazar is a tech-first company automating retailers' entire eCommerce operation through its single fulfilment platform. Selazar automatically picks, packs, stores and ships products with up to a 40% saving compared to other fulfilment providers. The end-to-end solution encompasses stock management, deliveries and returns for the retailer allowing them to scale their business without the heavy lifting. 
SupplyWell, Liverpool 
Founders: Raina Heverin, Michael Heverin, Dan Price 
Founded: 2017 
Size of team: 3 
SupplyWell is a digital recruitment solution putting control in the hands of teachers and schools. It connects teachers and schools together directly removing the need for slow and costly traditional agencies, which allows teachers to earn more while schools pay less and ensure that wellbeing comes as standard. 
Vimma, London 
Founders: Outi Pietilanaho, Mykhailo Loginov  
Founded: 2018 
Size of team: 4  
Vimma is building a productivity suite for passion entrepreneurs. Its app helps bloggers, vloggers and content creators manage their day-to-day business with simple tasks and processes. Vimma has over 20,000 registered users, and users have completed over 2 million productivity tasks with its app. 
Worldr, Slough 
Founders: Dmitry Maskaliou, Max Buchan 
Founded: 2019 
Size of team: 10  
Worldr is a privacy and security focused alternative to Slack. They deploy into large organisations who are not able to use third-party communication tools because of the threat they represent to data security. Worldr combines the usability of cutting-edge communication with the security of an in-house application. 
Yoello, Cardiff 
Founders: Sina Yamani 
Founded: 2017 
Size of team: 36  
Yoello is an app-less hospitality payment platform that allows customers to simply scan, order and pay. Utilising new open banking legislation to cut out the middleman and bring merchants and customers closer together, they connect to banks directly to initiate funds between consumer and merchants, saving businesses 75% on transaction fees. They're supporting thousands of UK businesses, enabling them to reopen and operate in the new age of post-lockdown technology-led service.  
https://businesscloud.co.uk/news/business-owners-unlock-your-wealth-and-maximise-value-on-exit/