A resurgent Stockport can't afford to lose its momentum if it wants to build on its recent success.
That was the message from Stockport Council chief executive Caroline Simpson at a business event entitled 'The rise and rise of Stockport'.
The event was held in the offices of tech firm Shopblocks, which recently committed its future to Stockport by signing a long-term lease on new offices at 1 St Peter's Square in the town.
Caroline Simpson has been widely praised for her leadership of Stockport Council and said: "The key is building on the momentum we've got so far. We've got great evidence of delivery in my view in terms of that change that you can see and feel as you come into Stockport, especially the town centre.
"Our next job is to build on that pipeline, build on the momentum, keep going with the pace of change, keep going with building that confidence and really ensure that not only do we do that in the town centre but right through the borough as well.
"I agree that it's not all about individual sectors. I think our economy is a mixed economy. We've got a large number of micro businesses and I think the real wealth of expertise and creativity in Stockport is around our micro business base and our entrepreneurial spirit.
"The fact that tech is a good part of that is excellent but it's not the whole story. We have a good sense of creative and manufacturing all evolving in Stockport. The next phase for us is to move from 4th gear to 5th gear."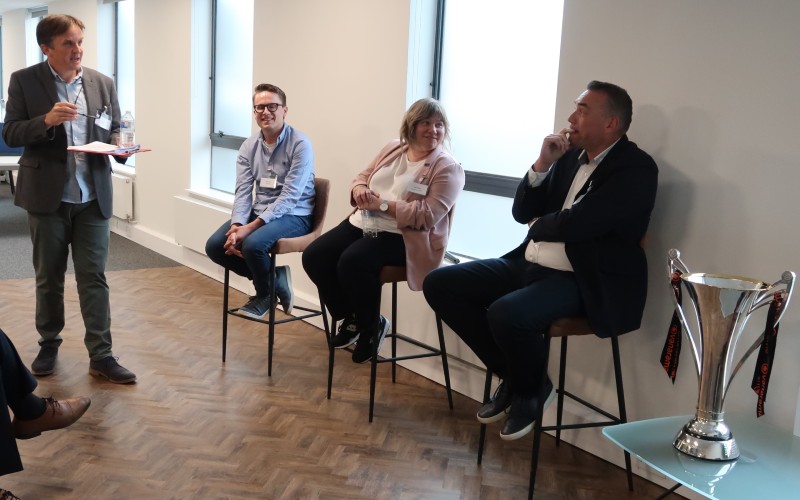 One of the highest profile businesses in Stockport is musicMagpie, which has a turnover of £145m.
CEO and co-founder Steve Oliver is also the chairman of the Stockport Economic Alliance and said it was an exciting time for his own business and Stockport.
"We've been rolling out our smart drop kiosks with Asda nationwide, where you can sell your own mobile phone in two minutes and pay for your shopping in store," he said.
"We're at 105 now and will be hitting just shy of 300 kiosks by the end of the year.
"By October / November time we'll have nationwide coverage and Asda tell us we'll have 90% of the UK population living within a 15-minute drive of one of our kiosks."
More than 19,000 people now rent mobile phones through musicMagpie and Oliver said the cost of living crisis had prompted the Money Saving Expert Martin Lewis to again recommend their services.
"We were born out of my garage in 2007/8 when the world was similarly in recession," said the entrepreneur. "It was a difficult place for consumers and we were a great way for them to declutter, raise cash and buy products in as good a new condition for a fraction of the price.
"That very much maintains now. It's gone full circle in this circular economy and now the Money Saving Expert  is promoting our business as a great way to raise cash and save money when buying."
Oliver said Stockport's appeal was obvious from the amount of construction work currently taking place in the town.
"There are some great things happening in Stockport," he said. "There's a lot of work going on at the old interchange, the Weir Mill and we're seeing a third office building going up and an additional multi-story car park around our offices at Stockport Exchange."
Around 60 people attended the event, which also showcased Shopblocks' new offices and growth plans.
CEO and co-founder Kevin Jones said there was never any chance of leaving Stockport when they were searching for new offices as they look to scale the business to £100m  turnover on the back of a range of exciting new products.
Phil Mayall is a director of Muse Developments, which has been behind the phased Stockport Exchange development.
He said the same companies looking for office space in Manchester city centre were now also looking at Stockport.
"10 years ago that would not have happened but now they appear on exactly the same schedules, viewing the same properties," he said. "That's a massive vote of confidence in Stockport."
He added that Muse had started work on a third building at Stockport Exchange next to the railway station.
"It's a speculative build itself which is another vote of confidence in Stockport," he said. "That was driven by inquiries and demand. Again it's a real sign of confidence about what's happening in the office market in Stockport."
The other speakers were Steve Bellis, president of Stockport County FC, who have just been promoted back to the Football League and Cllr Elise Wilson, former leader of Stockport Council and local businesswoman.