MediaTech
The blank page is a frustratingly familiar sight to anyone working in the creative industries.  
That first line of text paves the way for the rest of your copy to flow, yet it is undoubtedly the most difficult to write. Coming up with that first concept for a creative project can feel like an impossible task, but it can open the floodgates to a cascade of other ideas.  
And of course, our creativity is bound by our own experiences and those of the people we're bouncing ideas off.  
So, what if a machine could give you a head start? Instead of facing a blank page you were starting the process with a handful of ideas generated using artificial intelligence. But can tech come up with ideas and would we want it to? 
Cambridge graduate Will Hanschell says people are "either curious and excited or shocked and terrified" when they hear about Pencil, the machine-generated creative platform he founded in 2018.  
"In general, people didn't expect AI and tech to start coming into the creative space or they said that the last thing to be automated would be creativity, yet creativity itself has been becoming more repetitive because of digital," he says.  
Once you start churning out creative ideas, then why not allow tech to give you a helping hand.  
Singapore-based Pencil uses AI to generate online video ads within minutes, with machine learning then used to understand how a particular ad performed to work out which angles resonate with audiences.  
Barbados-born Hanschell says the name 'Pencil' was chosen so as not to be scary and off-putting. He spent 10 years in advertising, including with London agency Iris, where he found, with the take-off of digital, creatives were spending less time on the big ideas and more time on small ones.  
"There were fewer TV ads being produced but more time spent on social media ads, which was starting to become overwhelming," he says. "Creative folks were spending more time in Photoshop and After Effects so they could churn out social media ads but less time on the big ideas." 
His idea with Pencil, which has seen his creative background and his engineering degree collide, was that AI could take the strain by picking up those time-consuming jobs to free up people to work on other projects.  
Mindful of any reservations over 'machines taking jobs', he says the tech aims to integrate into a creative team, which remains fully in control. "We didn't want anybody to be scared that we were trying to replace people, we wanted to empower them," says Hanschell, likening the marriage of tech and creativity for good to director James Cameron's then groundbreaking use of CGI in the 2009 film Avatar.  
"If you said to a copywriter, we have a system that helps you write copy, they might say 'but it's in my head', but the system works like a person. It might generate 12 lines of copy and then you'll edit it, put it back into the system and then be given new versions of the same copy taking into account your edits. It's like an interactive brainstorming process." 
Since launch, it has generated more than five million adverts and more than 15 million lines of copy and counts the likes of L'Oréal, Kelloggs and Unilever as clients.   
To start, you brief the platform like you'd brief any creative worker, giving a short description of your brand or product – which can be as little as two lines, uploading any digital assets such as images, logos and font files, and inputting any key words relating to personality and the language you use around your brand.  
The brief can be as brief as you like, and once your key information is in the system it doesn't need to be stated again. You can add information about target audience, any calls to action and any particular angles you'd like to take, such as a sunglasses brand wanting to promote the anti-glare qualities of a particular model or an offer.  
Once you've given your brief, your social media ads – containing copy written by the machine – are generated within minutes, with six-second, 10-second and 15-second versions of each idea produced to fit the format of every social media platform. You could accept those ads and run them on your channels or reject them and generate some more.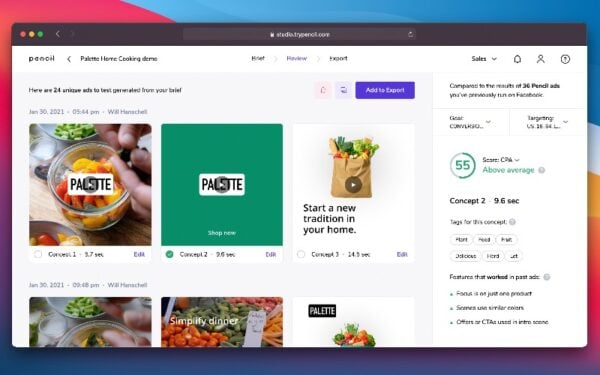 Every time you click 'generate' you get three new concepts, with the platform learning from every choice you make. Whereas a programme like Microsoft Word has never learned from the countless words you've typed into it, Pencil is always learning so that it can come up with better ideas for the user, Hanschell says.  
And it doesn't stop there. Once you run an ad, Pencil tracks and analyses dozens of creative parameters to understand what in the ad is resonating with customers. New ads can then be generated to share those winning characteristics, while ditching the angles that didn't do as well.   
For example, a torch brand using Pencil may generate a first batch of ads and find that those pitching battery life outperform those playing on its brightness. The brand could then generate more ads exploring how battery life is important when keeping a torch in the car for emergencies.  
Users pay a $9,000–a–year subscription, which entitles them to run 300 ads over the course of that year, with Pencil suggesting 25 a month enables brands to get the best use out of the technology.  
"You should be testing at least five new creative ideas a week so that you know what's working for your customers," Hanschell says. "Customers change and the market evolves so it's a good habit to get into to be constantly testing and learning what's working." 
Pencil's data suggests its ads generate results twice as successful for 10 times less in cost. Anecdotally, customers are happy with the results. "One was surprised with the ad the platform came up with because it described his product in a way he'd never thought of before," he says. "It costs less, gives better results and frees up time to work on other projects, so it's a no-brainer and a game-changer." 
More than 10 million advertisers bought more than $80 billion of Facebook ads in 2020, and Hanschell believes the concept of machine-generated creative will only grow.  
https://businesscloud.co.uk/news/100-mediatech-innovators-shortlist-revealed-vote-for-your-favourite/
The business, which has a 20-strong team spread across Singapore, India and the US, raised $1.1m in 2019 and received backing from Sequoia for an undisclosed amount in 2020.  
Pencil is keen to retain the joy a user gets from the creative process, which is why Hanschell is keen to reiterate the collaboration element involved in working with the platform. The user ultimately makes the choices that shape the ads and has the final say over what is produced.  
"We set up a code of ethics about how we wanted the data to work and how we wanted people to feel when they used the software," he says.  
"As a creative you stare at a blank piece of paper and have no idea whether something will work or not, and there's a bravery in that.  
"Imagine if instead of a blank piece of paper we started from a higher plane, with some ideas generated by learnings. That's a win-win for everyone." 
AI