MediaTech
Imagine a world where your every sensation is augmented with music. 
When you pick up speed while out running, the music responds; as you enter a forest, instruments of deeper bass are seamlessly layered into the piece; and as your car creeps beyond the speed limit, the music alters rhythm to keep you in check. 
It may not be as far away as you think. "When we say we want to soundtrack your life, it's a big ambition," acknowledges Philip Sheppard, CEO of LifeScore. "But take a movie: when a soundtrack is considered, it is getting under your skin and leading your emotional response. 
"We're not telling people what to feel, but hopefully forcing serendipity – which is the point when the movie director of your brain goes 'I'm here and present for this'." 
Virtuoso cellist Sheppard knows quite a bit about soundtracks – a renowned composer who has written with the likes of David Bowie and Queens of the Stone Age, he has more than 65 film scores to his credit and has worked on global music projects including Olympic Games ceremonies, the Rugby World Cup and the Tour de France. LifeScore is his brainchild.  
Accentuating the small moments which together make up a lifetime is the goal of a London start-up which uses AI – the company considers this to mean 'Augmented Intelligence' – to help music respond to these changes in environment.
"Massively generalising, the music falls into five camps: calming and sleep; flow and focus for work; daydreaming and wonder; narrative fantasy; or energy and uplift," says Sheppard. 
"We've really got into sensory ontology, which is how you link colour, texture, flavour and taste to sound. When I listen to a vinyl album, I'm consciously engaging with that artist; but if I'm using music to come up with a better way of cooking, or engage with the landscape, it's simply serving me with what I need based on these factors [and pre-selected inputs]. It's putting enough of these little tentacles into my brain so when something happens in real life and there's a chord change, you go 'wow'! 
"It's a coordinated way of hitting that 'perfect moment' when everything comes together in time with a piece of music. We call it TTG – Time to Goosebumps." 
On his experience working within the 2008 and 2012 Olympic Games, he adds: "Talking to [gold medal-winning cyclists] Chris Hoy and Victoria Pendleton about how they use music was fascinating – it's completely functional to them. 
"I'm fascinated with looking at every part of the day where we choose music: are we using it to be palliative, functional or to create an imaginative spurt? 
"That's very different from artist-led… the music is listening to you." 
A graduate of the Abbey Road Red music tech incubator, LifeScore crowned the UK's most innovative MediaTech company after securing backing from both a high-profile judging panel and our readers to finish No.1 on the 100 MediaTech Innovators ranking for 2021. 
"Every morning I go for a six-mile walk and listen to music that tends to be very patterned, detailed, organic, textural – something like Punch Brothers, Sibelius symphonies or Jessica Curry's soundtracks," says Sheppard. 
"Sometimes I'll go to heavy repeat mode on that just because I'm not really listening to the music: I'm using it as a way of distracting the 'monkey brain'… it becomes like a meditation. I then know what I'm doing for the rest of the day. 
"If I was living a LifeScore day, the music could adapt as I walk to help me into that mode." 
If it begins to rain or the sun appears over the horizon, for example, the music could reflect that; likewise, the temperature or humidity might determine the specific composition for the user at that moment. 
The firm's patented Cellular Composition(TM) tech creates such real-time and interactive music experiences and is also capable, in theory, of responding to biometric changes in the listener. LifeScore's AI technology is architected by none other than Siri co-founder Tom Gruber, LifeScore's CTO and co-founder. 
"It's the kind of thing that your brain does when you're reading a book. There's no reason why printed words on a page should throw it inside landscapes and characters, but they do," explains Sheppard. 
"This is why a lot of us involved in the company come from the soundtrack and videogame world: we're saying that the movie or the game is actually the world you're seeing now." 
Far from being generated by AI, the 'building blocks' of the adaptive music are composed by LifeScore's audio team, led by chief audio officer Mary Lockwood and featuring a host of award-winning composers, including Sheppard himself. 
The company licenses its music and adaptive music platform to businesses, ranging from video games to automakers. In the past year alone, the firm scored Twitch's Emmy award-winning original show, Artificial, adapting in real-time to the sentiment of the crowd (click on image below to see this in action); collaborated with Yoto to release music that aids children's sleep; and has developed prototypes with luxury car companies.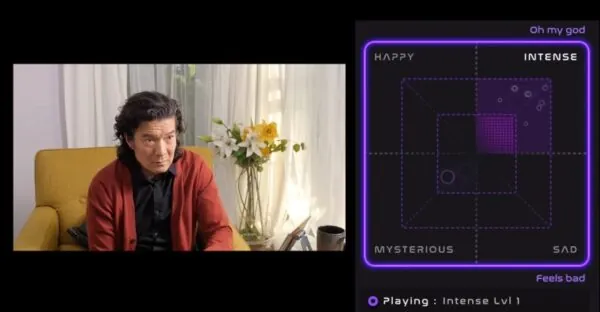 Sheppard met Lockwood while composing music for blockbuster game Detroit: Become Human. "I realised: that's the brain I need in my company. Because the way she thinks about music in time and space is 'when I'm out for that walk in the park, how do you actually make it feel as viscerally exciting as a triple A game?' 
"Having a real-time toolkit for music construction is really exciting. Making that game, we did a full-size orchestra in Abbey Road for 15 hours recording – and we were delighted to get about an hour and a half of soundtrack from that. 
"Using a far more algorithmic process – still with that organic analogue recording – we could turn that into hundreds of thousands of hours of original material. That's really cool." 
LifeScore records its music in spatial audio at the legendary Abbey Road studios. With the help of co-founders Ian Drew, a former executive at Arm, and COO Chris Walch, a former senior legal associate and all-round polymath, the company aims, in the coming year, to deploy its adaptive music platform with partners in strategic industry verticals and to build out its vast original library of high–end audio ingredients with talented musicians and composers at a time when musicians are struggling to find work due to the COVID-19 pandemic.  
"There's never an excuse for not having something that's been put together well," he insists, drawing a comparison with the legendary Fat Duck restaurant. "A friend of mine was a development chef there. I looked at the way he worked: the olive oil they use – they know the name of the farmer – the flour, the quality of the water, all means that the bread there will be mind-blowing. 
"Yeah, I can make bread… but if I've gone through that much trouble with every single part of the ingredient chain going into it, I don't need to tell you how to eat it. With music, people often say, well, you need to understand how it's come together… no! You'll have that visceral goosebump response nonetheless. 
"Our AI technology acts as an invisible layer. It can't replace the composer or player – it simply helps the music they make meaningfully intersect with something that's going on in your life. 
"I like the idea of being able to go to sleep to my favourite guitarist and violinist playing music that I've never heard before, that are different every night." 
music