Entries and nominations are now being invited for Liverpool City Region Tech Climbers 2024.
Tech Climbers is an annual list which showcases the top performing and innovative tech companies and it's the fourth time it's returned to Liverpool.
Entries and nominations close on December 1st, 2023 and the full list and ones to watch list will be announced at a big reveal event in February, 2024.
The official launch event for LCR Tech Climbers 2024 took place on Thursday at Nova Scotia, in Mann Island, Liverpool.
Around 100 people attended and heard from two panels of industry experts and tech businesses.
They included an update from Claire Lewis, co-founder and CEO of Baltic Ventures, about the Liverpool-based startup accelerator.
A cohort of nine companies have been selected for the accelerator's inaugural four-month programme through a £50,000 equity investment, weekly masterclasses and workshops, expert mentorship and access to investors.
Lewis said: "It's been an absolute joy to work with the people I get to work with. It's genuinely collaborative with other players in the ecosystem. It's been fantastic working with the (Liverpool City Region) Combined Authority.
"We've got our first cohort up and running now. We've got nine founding teams that are incredibly talented.
"The coaches that we've got on the programme, who work with the companies, have really all been there and done that.
"They include exited founders like Carl Wong and David Woods (ex-Living Lens), who are two of the coaches for example. They've kind of got a bit of a reputation for rinsing the team but the teams are loving it and responding to that direct coaching.
"We've also had people who have worked as early hires in some of the UK's most successful startups. Last week we had Flora Devlin and Dave Martin, who were doing a product masterclass. They've got backgrounds with Comparethemarket, Booking.com and Monzo."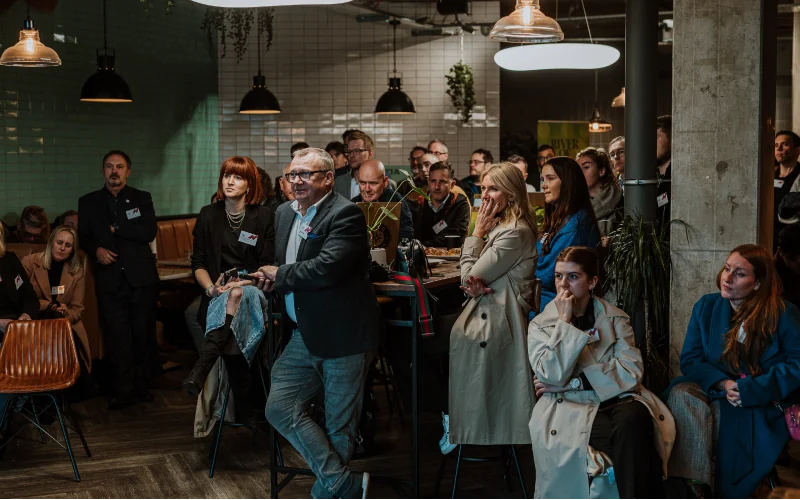 Lewis said there were different ways to measure the success of Baltic Ventures, including the cohort companies obtaining follow-up funding and growing their valuations.
She added: "Yes we want to see an exit – maybe not in five years but certainly in 10 – from our portfolio but more broadly we want able to look at the stats and investments in the companies in the city region and show an upward trend, which is already happening.
"We want to see that continuing. A unicorn would be fantastic but certainly a £100m exit would be a goal in five to 10 years.
"There is a vibe in Liverpool. We had Liverpool Slush'D here a couple of months ago. That's building on the launch of Baltic Ventures and other initiatives that are going on.
"There's a real sense that maybe Liverpool has been overlooked and that there are actually some really fantastic founders and companies here. We're getting a lot of interest from VCs. This is not a hard sell."
The launch event also heard from a number of companies that have been included in previous Tech Climbers lists.
Bootle-based CNC Robotics made the inaugural LCR Tech Climbers in 2019 and joint owner Madina Baker said it had massively raised the company's profile and enabled it to leverage its brand.
Michael Heverin, co-founder of EdTech Supplywell, told the audience of the challenges they'd encountered in closing their recent £900,000 fundraise.
They were joined on stage  by Will Roberts, investment director, Rathbones; Graeme Murray, senior associate, Marks & Clerk; Daniel Hayhurst, partner, Brabners; Rob Sims, co-founder and CEO, Sum Vivas; and Ben Sweeney, founder of VidiVet.
The event was hosted by Chris Maguire, executive editor of BusinessCloud, which is the media partner of Tech Climbers.
Liverpool City Region Tech Climbers is sponsored by BDO; Baltic Ventures; Brabners; Marks & Clerk; TD Synnex and Rathbones. The associates are Data City; Gather; Growth Platform; HubSpot; techUK; LCR Angels; and Startup Grind.
Tech Climbers is organised by Active Profile.
Enter Liverpool City Region Tech Climbers here