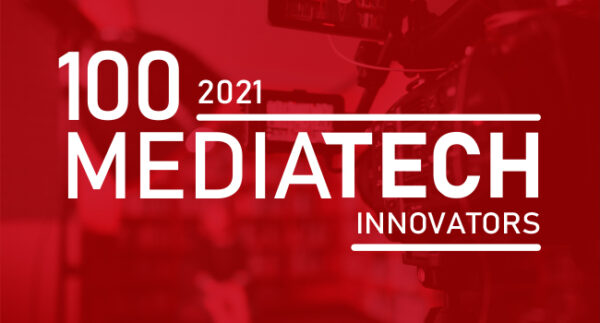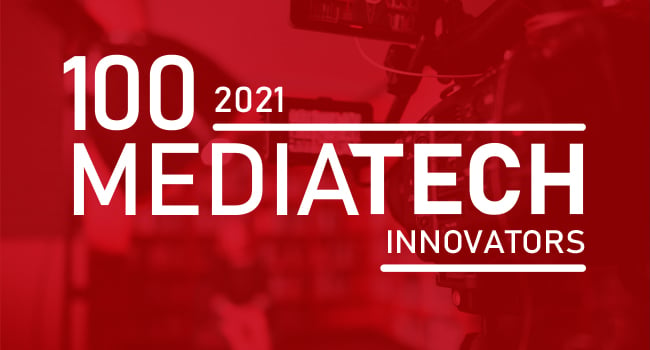 It's time to help decide BusinessCloud's inaugural 100 MediaTech Innovators for 2021.
The new annual ranking profiles the UK's most innovative start-ups, scale-ups and established firms creating technology which is transforming production and delivery of media and the arts: from music to podcasts, radio, video, film and the written word.  
We have shortlisted around 130 firms for potential inclusion. The final 100 MediaTech Innovators ranking will be determined by a combination of reader votes and selections from an expert judging panel (available here).
You can cast your vote until 23:59 on Sunday February 21st. Browse the shortlist below and vote for the company you believe to be the most innovative.
The final 100 MediaTech Innovators ranking will be published online on Monday 8th March and in the Q1 edition of our digital magazine, out on the same day. Subscribe to our daily email tech innovation newsletter (just tick the checkbox when you vote) to be among the first to see the results.
Your vote
Voting has now closed 
100 MediaTech Innovators shortlist
4J studios
Dundee

Video game developer behind Minecraft console editions
7digital
London

Digital music licensing and management solutions
Adelicious
Bristol

Podcast advertising platform
Admix
London

Programmatic monetisation platform for in-game advertising
Aerodrums
Liverpool

Revolutionary air-drumming instrument
Aflorithmic
London

Personalised audio experiences using AI
AI Music
London

Uses AI to remix songs (Ossia app) and generate audio ads (Sympaphonic)
Alpacr
Cardiff

Social network for adventure-seeking travellers
AMS Neve
Burnley

Digital sound mixing consoles used in Hollywood and music industry
Audio Analytic
Cambridge

Sound recognition software
AudioScenic
Southampton

Immersive 3D sound technologies
Audoo
London

AI-powered monitoring tech for music royalties
Beem
London

Recreates humans in augmented reality
BetaJester
York

Interactive virtual experiences and games
BidStack
London

In-game ad platform
Brandwatch
Brighton

Structures social media data
Ceres Holographics
St Andrews

Holographic AR displays
CGEye
White Colne

CGI developer behind new augmented reality toolkit for commercial apps
CGHero
Manchester

Collaborative marketplace for CGI content creation
ChilliConnect
Dundee

SaaS platform allowing game developers and publishers to run live games
Chronicle Digital Storytelling
Ipswich

Creates tech tools for digital storytelling
Coach Logic
Edinburgh

Video analysis and feedback platform for sports teams
Coatsink
Sunderland

Development studio behind stylish indie games
Codemasters
Birmingham

Legendary development studio now specialising in racing games
Codices
Penryn

Live interactive video broadcast platform
Condense Reality
Bristol

System capable of streaming live sports in volumetric 3D to AR and VR headsets
Cooperative Innovations
Leeds

Immersive technology tools for play, exploration and learning
Covatic
Birmingham

Empowers media companies to leverage user context data
Creative Assembly
Horsham

Games studio behind Total War series
Creative Passport
Bristol

Verified digital ID allowing musicians to manage their own information
Crisp
Leeds

Protects brands' reputation on social media
Crowd Network
Manchester

Podcast platform
Cubic Motion
Manchester

Facial mapping software for video games
Curio
London

Creates audio versions of journalism from leading publications
Deary
London

Captures and preserves messaging app conversations
Delic
Edinburgh

Networking platform for the creation of new music
DeltaDNA
Edinburgh

Game analytics and personalised marketing
Dimension
Gateshead

Volumetric production studio for digital humans and XR content
Discover Film
London

Tech platform for short movies
Double Eleven
Middlesbrough

Studio behind games including Prison Architect
Entale Media
London

Podcasting app featuring enhanced content
Factmata
London

AI scoring system for accuracy of online content
Filmily
Totnes

Automatically curates films from events based on fan-based content
Filmstro
Brighton

Royalty-free music creation app
Flipbook Studio
Manchester

Production studio with a focus on cutting-edge digital technologies
Flix Premiere
London

Streaming platform for indie films
Fracture Reality
Hove

Behind online mixed reality platform JoinXR for data-intensive collaboration
Frontier Developments
Cambridge

Games studio behind Zoo Tycoon and Jurassic World Evolution
Fundamentally Games
London

Games industry services including design and business strategy
FXhome
Norwich

Creative software for filmmakers
Gismart
London

Developer behind mobile hit Cool Goal
Gorilla In The Room
Brighton

AR and VR research tech
Gravity Sketch
London

3D design and modelling software
gruup
Milton Keynes

Digital collaboration tool
Holovis
Hinckley

Sensory immersive and mixed reality experiences
Holoxica
Edinburgh

3D holographic visualisation solutions
Igloo Vision
Craven Arms

Immersive 360-degree projection environments
Immotion
Salford

Immersive virtual entertainment experiences
Improbable
London

Games tech company behind powerful SpatialOS platform
Incisiv Sport
Belfast

VR analytics for decision-making in sport
Intelligency
Halifax

Protects brands' reputation on social media
iSize Technologies
London

Intelligent video streaming with advanced machine learning
Jagex
Cambridge

Games studio behind Runescape open-world epic
Kinicho
Liverpool

Volumetric 3D spatial audio processor
Krotos
Edinburgh

Sound design tech
Label Worx
Kingston upon Hull

Tech service provider to the dance music industry
Landmrk
London

Mixed reality geolocation content discovery platform
Lickd
London

Claims-free music-licensing start-up for YouTube
Lifescore
London

Uses AI to adapt music to listener's environment
Liopa
Belfast

Lip-reading technology
LivingLens
Liverpool

Analyses sentiment in video content
Lockwood Publishing
Nottingham

Behind 3D social app Avakin
Logically
Brighouse

AI to detect misinformation and combat fake news
MagicBeans
Watlington

Behind 3D spatial audio platform Roundhead
MarketMate
Cardiff

AI to grow social media presence and brand engagement
Maze Theory
London

Storytelling-based VR experiences including Dr Who
MelodyVR Group
London

Platform for immersive music experiences
Mixcloud
London

Audio streaming platform for music
nDreams
Farnborough

VR-powered gaming experiences
Ninja Theory
Cambridge

Games studio behind games which explore mental health
Odro
Glasgow

Video interview software for recruiters
One Media iP Group
Iver Heath

Digital music rights acquirer, publisher and distributor
Outplay Entertainment
Dundee

Mobile game developer behind Gordon Ramsey's Chef Blast
Overview Ark
London

Platform enabling interactive virtual music experiences
Papercup AI
London

AI language translation tool for voice used in video and television industry
Parlia
London

'Wikipedia of opinions' fighting misinformation
Peek & Poke
Sheffield

White-labelled games for brands
Peel Interactive
Skipton

AR, animation and 3D modelling visitor experiences
Permutive
London

Data platform for publishers built using edge computing
Picfair
London

Image licensing marketplace
Playdemic
Wilmslow

Mobile game developer which created smash hit game Golf Clash
Polystream
Guildford

Immersive in-game spectator experiences
Rare
Twycross

Legendary videogames development studio
Radio.co/Podcast.co
Manchester

Cloud-based live-streaming platform for radio and podcasts
Red Star 3D
Sheffield

Animation studio for theme parks and museums
RETìníZE
Belfast

Studio behind immersive tech software including fast-turnaround animation product
Rockstar North
Edinburgh

Video game developer behind Grand Theft Auto V
ROXi
London

Music streaming platform
ScreenHits TV
London

Aggregator for streaming services
Seenit
London

Crowdsourced video platform
Sentric Music
Liverpool

Independent music publisher with royalty collection platform
Serelay
Harwell

Verified video capturing tech for media
Simul Software
Liverpool

Real-time sky and weather rendering for video games
Speech Graphics
Edinburgh

Software delivering speech animation and lip sync from audio alone
SpeechKit
London

Creates audio versions of news articles
Spirable
London

Personalised video marketing automation
Sumo Digital
Sheffield

Globally successful video game developer
SYNCR
Wolverhampton

Helps artists get music featured on film and TV
Synthesia
London

Generates professional-looking AI videos from text
Team17
Wakefield

Legendary video game developer and indie publisher
Twine
Manchester

Platform for connecting with creative freelancers
TT Games
Knutsford

Video game development firm behind LEGO games
TVSquared
Edinburgh

Analytics for TV ad campaigns
Ultraleap
Bristol

Virtual touch technology
Viddyoze
Preston

Create a unique video animation in three simple clicks
Vidsy
London

Tech platform for creating effective video ads
VIKA Books
Bristol

Publisher using immersive technologies to include sign language in its books
VISR VR
Hull

Mixed reality expert working with Microsoft and Google
VividQ
Cambridge

3D holograph technology
Vochlea
London

Use your voice to create music from any instrument
Voxpopme
Birmingham

Data insights from video
vTime
Liverpool

Virtual reality social network
Vualto
Plymouth

Video streaming solutions
XR Games
Leeds

Games studio behind Angry Birds VR
Zephr
London

Identity, subscription and paywall solutions for media brands
Zerolight
Newcastle

Creates 3D modelling and immersive experiences for brands
ZOO Digital
Sheffield

Cloud-based dubbing, subtitling, localisation and distribution services for TV and movies