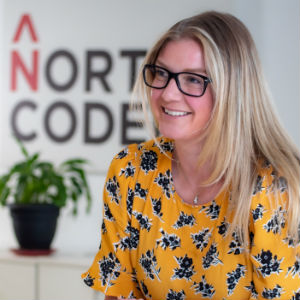 By Amy Wild, chief commercial officer, Northcoders
Upskilling is on, or should be on, every company's agenda. If the coronavirus pandemic has taught us anything it's that the talents and dedication of people are what get firms through tough times.  
We are, of course, still in the midst of the crisis, but it won't last forever, so businesses of all sizes need to be looking to the future by investing in their teams right now to ensure they are best placed to thrive once this is all over.
It goes without saying that it's essential to focus on the immediate challenges we're all facing. However, having an effective growth strategy in place that includes nurturing and growing talent shouldn't be ignored – it's business critical. I passionately believe that employing and, most importantly, developing the very best people is what sets good businesses apart – both from a commercial and cultural standpoint.
Let's take this right back to the beginning… imagine you need to make a hire. There's no-one right internally so your only option is to go outside and use a recruiter. They claim to have access to some of the best talent on the market, but there's no guarantee any of the potential applicants are going to be the right fit – either culturally or from a skills perspective – and bringing in the wrong person could quite easily cause damage to morale and cost thousands in fees for absolutely nothing.  But what if you could eliminate all that risk by simply focussing on bringing on talent? Whether that's upskilling people from within your team or hiring in new people with potential and giving them an environment in which to thrive.
Take the tech sector, in our experience, junior developers want to work for a business where they see career longevity and investment in their learning and development and never more so than now. Time and again they tell us that feeling valued and being invested in via regular learning is as important as financial renumeration. They also want to feel proud of where they work and know their efforts are appreciated. Society has shifted for many and it's no longer just about how much you get paid, it's about something bigger. Organisations are missing a trick if they overlook these drivers because if you listen and invest in people they become your ambassadors and your future.
The key to all of this is about ensuring upskilling and learning is a central part of how you operate. It can't be an after-thought. It needs to be integrated, constant and of high quality. According to the recent Deloitte Insights Technology, Media and Telecommunications Predictions report, the average shelf-life for new technology is two to five years. You simply can't remain competitive if you don't ensure your people grow with it.
Employees are the backbone of every single company and by investing in them you'll attract both the best and the earliest talent who will want to grow with you over the long-term. We also know that when firms invest in their people the commercial and cultural value they get in return is far higher. For many, it will take a real shift in their mindset to embrace this approach.  
It's not about the minutiae or the individual; it's just about using talent to resolve complex business issues in the best way possible. It is, however, key to get the junior person's buy in. You need to be honest about the learning and development that you are going to offer them, and then crucially deliver on it. You should also provide a degree of mentorship, but also give them enough autonomy to thrive, and be honest about what their progress will look like right from the offset.
If you're nervous about the initial investment costs, it's important to remember that there are several funded routes that provide good quality learning and development options, including the apprenticeship levy funding, co-investment or levy-transfer. If employers don't have a levy, they can share the cost with the government. This is called 'co-investment' and means the company pays 5% and the government will pay the rest.
As with everything in life, staff development and retention won't always be perfect, and realistically you won't hold on to everyone you invest in, but incrementally you will keep more people over time. In my experience, you'll begin to see the positive effects as quickly as from six to 12 months in.  
And, most importantly, if you get the balance of learning and development and culture right, you'll grow a strong, engaged team – the value of which can never be underestimated.