The UK boss of tech unicorn Adyen has questioned why some businesses were unable to last longer than a fortnight when coronavirus lockdown measures were introduced.
Myles Dawson has headed up the UK operations of the Amsterdam-headquartered FinTech giant since 2012 and feels a change is needed in how companies are run to enable them to withstand significant down-cycles.
Founded in 2006, the firm allows businesses to accept eCommerce, mobile and point-of-sale payments. Its customers include eBay, Facebook, Uber, Spotify, LinkedIn, L'Oreal and McDonald's.
"One thing that has struck me is seeing so many businesses fail two or three weeks into a really significant down-cycle," he told BusinessCloud.
"These are unbelievably tough times that no one could really foresee – but to not be able to survive two or three weeks… I just find that really bizarre.
"I think we've got a look at how we're running our businesses and how we're measuring them and tracking what success looks like.
"Loading everything up with debt just can't be the way forward anymore."
Dawson says Adyen, which has offices in London and Manchester, tends to hold healthy deposits for its customers to ensure it is not left compensating consumers if the companies fail to deliver goods or go out of business.
He revealed that it worked to release these funds back to its clients to aid cash flow when the pandemic hit.
"Really early on we stopped making outbound calls. The last thing companies want is us bugging them," he said. "We decided to double down on our existing customers and figure out what we could do to help them survive and flourish through this.
"We did a big piece of work to look at the deposits we were holding and how we could release those back to our customers to help them through these times to help their cash flow. I thought it was amazing when our CFO [Ingo Uytdehaage] rang up and said, 'right, we've got this money, which is theirs… let's see if we can release it'.
"Whereas I think other CFOs are kind of trying to figure out how they can make sure they've got everything covered and tightening the purse strings – so that's been really, really well-received by all the merchants we've spoken to."
The publicly-listed company went against usual practice in releasing quarterly figures for the first three months of 2020, a decision prompted by coronavirus uncertainty.
The processed payments volume of €67 billion was up 38% year-on-year, with net revenue of €135.5m mirroring a similar amount of growth.
Despite the impressive figures, COVID-19 lockdown measures between mid-March and mid-April have obviously impacted the business' in-store retail and travel verticals, with many shops closed and travel severely restricted.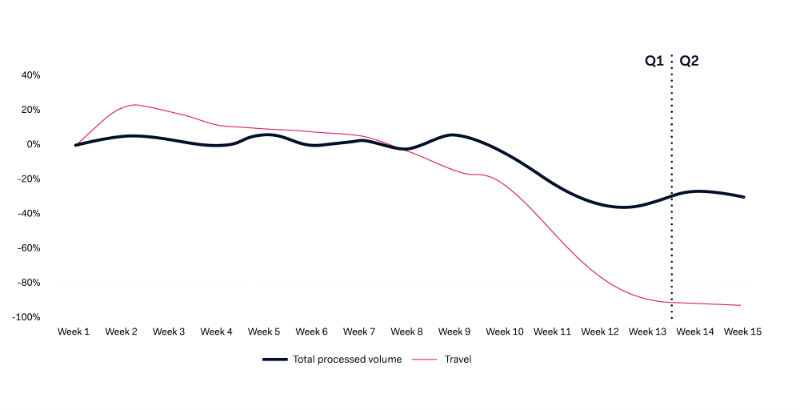 Weekly total processed volume and weekly travel volume indexed to the first week of January
However the positive impact registered in digital goods and online retail partially offset that. Adyen said this underscores the robustness of unified commerce strategies, with merchants able to seamlessly move volume from in-store to online sales channels.
There was a notable uptick in certain types of integrations, including use of its Pay by Link product — allowing merchants to take their activities online quickly.
"True omni-channel – being joined up across your sales channel – is something that can really deliver a lot of value to businesses. We originally saw a big opportunity for a single platform to deliver both online mobile and in-store transactions," he said.
"What we've seen over the last three or four weeks – within the carnage – is companies making a huge effort to open up their online channels really, really quickly.
"I think there's been some really impressive changes in the way some businesses have worked to do that."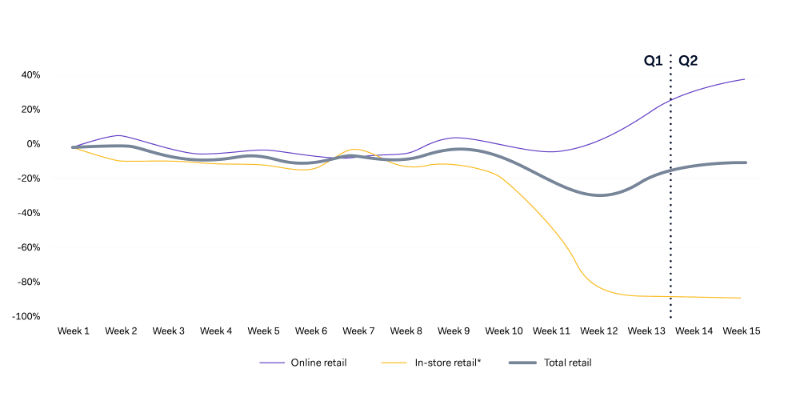 Weekly retail processed volumes indexed to the first week of January
Dawson said coronavirus has forced this step-change in how many legacy businesses operate.
"In years gone by, people have been quite slow to make that change because of corporate politics or where to invest the next dollar has gotten in the way.
"Businesses that had a lot of lethargy in the past to move quickly are suddenly realising they can move at a million miles an hour and trust their people to go out and do what's needed."