EnviroTech
Armen Papazian believes his analytics platform is the key to freeing data from the prison of individual cells guarded by impenetrable formulas.
The financial economist, a PhD graduate from Cambridge University's prestigious King's College, built Value Xd after he was faced with a '2D analytical reality' during his career in finance.
"In the finance sector, most build models in Microsoft Excel or Google Sheets, where the equations are written behind the cells in coder-invented abbreviations," he explains to BusinessCloud. "It is an entire architecture that we're used to, and we don't question it enough.
"When I write an equation in one of these spreadsheets, I get an output and see the value in that cell. But I can't see the equation until I click on that cell. Most of the financial modelling in startups, fundraising, asset management, banking and business planning continue to use this 2D architecture. An architecture that is hard to audit and lacks transparency and agency.
"I wanted to develop a software where the mind analysing or building a model does not have to look behind the sheet to see the equations, and can identify the actual variables used rather than the cell numbers. It is tough to carry out multi-dimensional analysis when you have many dozens of tabs open to address the various aspects involved. This is especially relevant in the age of climate change and sustainable finance where value chains and impacts have to be considered in parallel to other financial data."
Dashboards & data
Value Xd – seventh on our EnviroTech 50 innovation ranking – uses actual mathematics: equations are written in panels which sit inside dedicated dashboards. These are kept separate from the data and can be applied to it – in any number – to generate model outputs. This introduces authenticity and transparency in the valuation and reporting process, but most of all, transforms equations into shareable cloud-based tools, freed from cells. "It could be profitability ratios, liquidity ratios, risk measures, carbon intensity… anything you can think of," says Papazian.
"Our second differentiator is that we don't ask the user to learn a new syntax of abbreviations built and created by our coders. While the equations are in actual math – as you might see in a finance textbook or article – the idea was to make it simple and easy for people to use."
He offers the example of a business submitting its financial model to potential investors. "If you're going to trust my model, someone in your institution may have to click on every other cell to make sure I haven't hardcoded anything or made any errors. How are you going to audit my business plan or projections otherwise?" he asks.
"With Value Xd, an investor can simply ask for the data within the Value Xd ecosystem, or import it from other sources, then apply the ready equations/dashboards directly with ease. They can also import data from the IMF and Bloomberg [for example].
"We've also created a library of dashboards, where you can download ready-made financial ratio models, climate impact models, carbon intensity models, stock valuation, startup valuation models, real estate income models, emission factors, etc."
Value Xd – An ideal ecosystem for ESG/impact assessment and reporting
Papazian, who sees great potential in a marketplace of 'add-on' dashboards created by experts, says using a combination of Excel, Powerpoint and Word to prepare presentations and reports can necessitate hundreds of unnecessary and wasteful clicks.
"In contrast, with Value Xd I can automatically aggregate hundreds of models, maps, charts and tables into a live presentation quickly and easily," he adds. "You can also simulate and project  the data and therefore charts in real-time while you present."
The Space Value of Money
The entrepreneur is a former executive director at UBS and managing director of innovation and development at Nasdaq Dubai, where he led the launch of the Middle East's first structured products platform with Morgan Stanley, Deutsche Bank and Merrill Lynch. Prior to founding Value Xd in Exeter in 2016, he established Keipr, a boutique financial modelling and consulting firm. 
Throughout the last decade he has also worked on a book outlining the need for a new dimension in financial economics – space – integrating our responsibility of impact on space into the very core equations of finance. The Space Value of Money: Rethinking Finance Beyond Risk and Time, published by Palgrave Macmillan, was launched just last week with an event at the Keynes' Lecture Theatre, King's College Cambridge, in partnership with the Cambridge Judge Business School and the Space Value Foundation.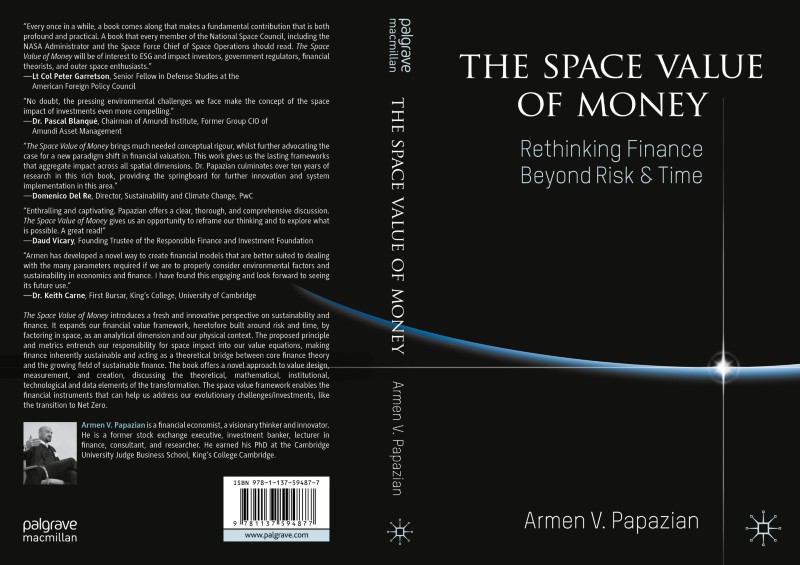 "We have a missing principle in the theory and analytical framework of the field of finance – the dimension of space," says Papazian. "We consider time, and we consider risk – but spatial impact is not considered within the very core equations of finance.
"We need to account for the impact of investments on space as a dimension and as our physical context, a multilayered reality that stretches from subatomic space to interstellar space and beyond. I could be a shipping company based in New York which transports cargo across the planet using only aeroplanes: where is my impact concentrated? My offices are on the continental crust, but most of my activity is in the stratosphere. Meanwhile, another shipping company, also in New York, which transports its cargo only via ships, has an impact on the hydrosphere. This nuanced understanding of our space and its many layers is key to a robust impact analysis of investments.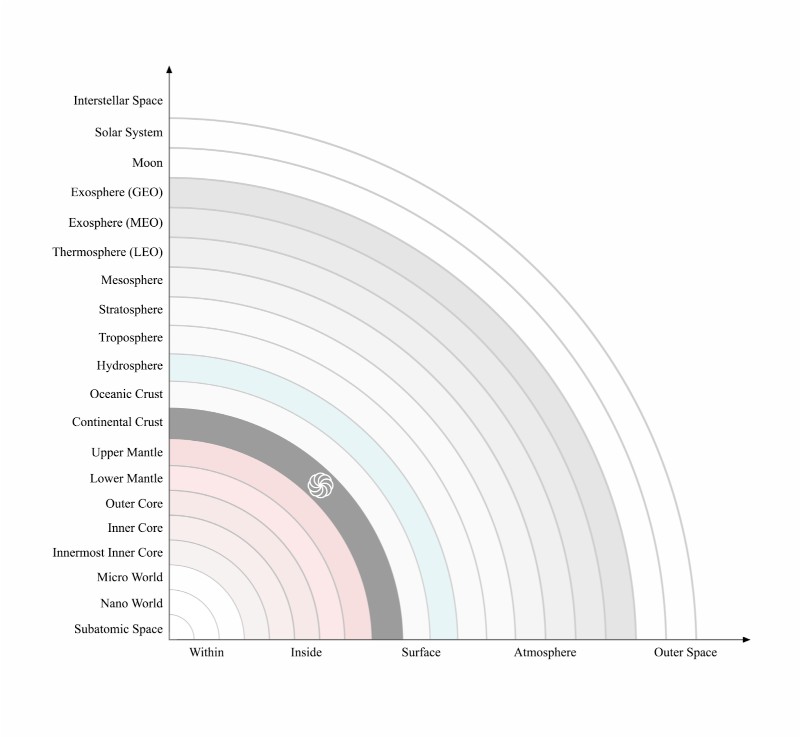 "When we talk about impact, ESG (environmental, social and governance) is reductionism of the highest order. It's not just the climate and emissions: there is plastic in the ocean, inland radioactive waste, carbon in the air, debris in orbit, sewage in the rivers and on the beaches.
"The financial analytical framework that omits space is partly responsible for the current crises we face because investors have been focused on time and risk, not accounting for space and our responsibility of impact. The space impact of cash flows has not been integral to our equations of value and return."
He adds: "We need to bring in a new principle of finance which establishes a bottom threshold of investment acceptability. The space value of money principle requires that $1 invested in space has at the very least a dollar's worth of positive impact on space, so you can't earn a return based on negative impact.
"Once we've introduced the space value principle and associated equations, we will be able to identify the data points we need for the sustainable finance algorithms of the future. This is key if sustainable investment strategies are to attract a larger chunk of capital markets' turnover, which are largely managed and based on algorithmic trading."
Value Xd Impact
Value Xd Impact,  a dynamic cloud-based analytics platform for sustainable impact design and measurement, is the embodiment of this principle. The first edition currently in public beta stage, Value Xd Impact, is a digital harness for collective intelligence creation and deployment dedicated to the sustainable and responsible investment institution, asset manager, or PE/VC firm. It addresses and resolves their data, modelling, auditing, and reporting needs while servicing E,S, and G, and much more.
Aiming to replace the survey-based sustainability data collection and assessment value chain with a smart ecosystem for structured data collection, reporting and analysis, Value Xd's potential use-cases include stock exchanges and regulatory agencies, asset managers and investment firms, ESG data providers and rating agencies, and corporations and companies.
Value Xd  is now looking for strategic investment partners to deliver the next phase of growth for its revolutionary technology.