Value Xd provides an ideal and universal ESG/impact assessment and reporting platform.
The use cases and potential clients of Value Xd Impact include: 1) stock exchanges and regulatory agencies, 2) asset managers and investment firms, 3) ESG data providers and rating agencies, and 4) corporations and companies.
Value Xd Impact replaces the survey-based sustainability data collection and assessment value chain with a smart ecosystem for structured data collection, reporting, and analysis.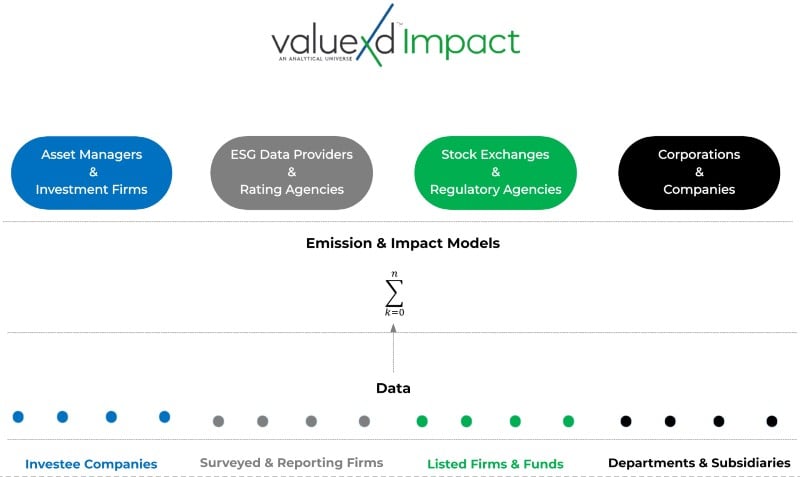 The Value Xd platform allows the separation between data and analytics, ensuring the reliable and transparent assessment and reporting of impact – covering emissions, social and governance factors, temperature scores, waste, and other relevant aspects such as biodiversity.
The platform is a secure collaborative space where ESG data points can be aggregated and assessed with transparency and authenticity – internally from within firms, funds, and organisations, and externally from outside suppliers, clients, investee companies, listed or surveyed firms, etc…
With a library of ready-to-apply models covering Implied Temperature Scores, Carbon Intensity, Emissions, ESG factors, and much more, the platform provides the technical and analytical know-how necessary for an accurate and transparent analysis of ESG and Impact on company and portfolio levels.
The Value Xd platform introduces unparalleled new features and transforms our existing analytical value chain. Recognised for its innovative technology, the Value Xd platform absorbs the tedious and complex, introducing a dynamic and effective intelligence creation and sharing architecture that saves time and valuable resources.