MedTech
A wearable ECG monitoring vest aimed at people with abnormal heartbeats – arrhythmia – has been created.
Product design and innovation agency Design Partners has created Viscero with the aim of replacing the Holter monitor currently used by medical professionals as a non-invasive solution for heart monitoring. 
The Holter monitor relies on taping 'wet' electrodes to the chest, which are then plugged into a monitor carried by the patient in a pouch. Natural movement is consequently inhibited, causing patient discomfort, and even impacting data veracity. 
It is estimated that annually as many as 12.1 million people in the US alone will have abnormal heartbeats by 2030, according to the Centers for Disease Control and Prevention. 
In some cases, these can be life-threatening, and lead to blood clots, strokes, and heart failure. As a result, people affected must regularly have their heart rates monitored for between 24 to 72 hours at a time. 
An ECG circuit system is incorporated into the fabric of the Viscero vest using electronic ink. As a result, the system can be worn discreetly under clothes – causing no discomfort to the wearer – while results are captured via a doctor-patient dashboard.
Heart rate signals are captured via printed electrodes, situated beneath tailored compression points in the arms and waist. These maintain electrical contact between the garment and the skin, to ensure continuous, accurate data monitoring.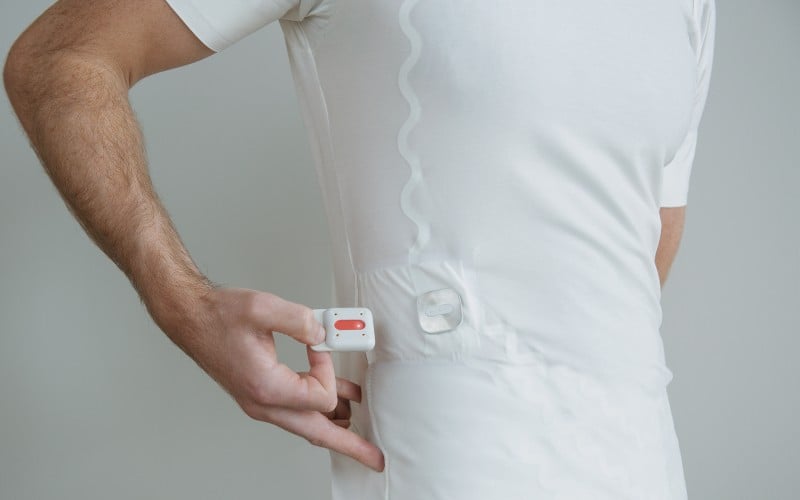 The 'brain' of the device is a small pod that has been specifically designed to sit in a small pocket on the shirt to enable further discretion. This can be easily removed for charging or washing. 
Inside the brain is an onboard accelerometer and gyroscope. This data is combined with any recorded heart signals to provide the clinician with a fuller picture of the circumstances surrounding specific events, such as a change in heart rate due to exercise.
"Separating the electronic and fabric elements allows for a more affordable, conventional textile printing process," said Cormac Ó Conaire, chief design officer at Design Partners. 
"The printed electronics can last approximately 30 wash cycles, which is far better than conventional electrodes. When the vest eventually needs to be replaced, the brain can simply be transferred to the new garment."
Design Partners envisages a system that gives healthcare professionals the ability to access data from the vest via an AI enabled dashboard that segments recordings into identified arrhythmia events. This information can be triaged for cardiologists to review, saving hours of scrolling through ECG recordings. Patients would then be able to access the results through an app on their phone. 
"Having your heart monitored can already be a daunting and unpleasant experience, and uncomfortable, impracticable solutions like the Holter monitor only make the experience worse," said Ó Conaire. 
"The design and wearable technology industries are only just beginning to experiment with printed electronics, but we saw an opportunity to use this technique to create a solution that directly addresses these issues and creates connected, positive healthcare experiences for both doctors and patients alike. 
"The result is a medical-grade, 6-lead ECG monitoring system that can be easily thrown on beneath clothes, guaranteeing patient comfort and data validity. This is a shining example of the multi-disciplinary work ongoing at Design Partners, and we look forward to working on similar pioneering projects in the future."