When Dom Raban's daughter was diagnosed with a rare type of cancer, he saw first-hand how daunting the treatment journey can be for children.
Issy was just 13 when she was diagnosed with Ewing's sarcoma, a cancerous tumour that grows within bones and the surrounding soft tissue. Seven years on and cancer-free, she is helping her father's vision of supporting others faced with the same terrifying scenario.
"It's weird to still be talking about children with cancer every day – but it's really cathartic," Raban, founder of digital agency Corporation Pop, reflects in an interview with BusinessCloud.
While he acknowledges that information was made available through books and leaflets, the designer and entrepreneur saw an opportunity to rethink the process. Raban first revealed the existence of the resulting side-project to BusinessCloud in 2016 – and last year Xploro, as it would later be known, became his full-time focus.
Among the app's team of developers is none other than Issy, now 20. "It's incredibly rewarding to see young children, who are going through similar treatments to my daughter, being helped by Xploro," Raban says.
Like many games for children, the Xploro app centres on a user's customised 3D avatar. This cheerful, personalised virtual friend doubles up as an all-knowing guide full of information about upcoming treatments.
The character can explain in simple terms what the child should expect from his or her next appointment – and even take them through a CAT scan to highlight how the procedure doesn't hurt despite the scary chamber and loud noises. Its design is inspired by lifestyle simulator The Sims while the language could be straight from a Super Mario game.
"Nintendo's language style is non-patronising to younger children, but simple enough for younger people to understand. We've mimicked that approach," says Raban.
However the character is a great deal more than a prewritten proxy: children can chat to and confide in their new guide through the app like they would a friend, have them appear on their bed or the ward through augmented reality, and be reminded of upcoming appointments.
All this seemingly simple functionality requires a powerful back end of tools. Xploro's custom-built AI is the 'brains' of the character and can answer questions, understand sentiment and even tell jokes. It has also been built to interpret misspellings you'd expect from a child who might – for example – want to know about chemotherapy without necessarily being able to spell the word.
A mood diary and calendar of events to help children are also included to give the users control of their day. This part of the app can be managed via the parent or guardian, who also have a space to keep a journal. A clinician's management system allows for the customisation of some content, including the addition of those events, and detailed analytics for monitoring patient feedback.
And when children get tired of talking, there are also games modelled on how the treatments are working to battle the cancer.
A trial of the app among children aged six to 16 was held at cancer care specialist hospital The Christie (see Emmie boxout, opposite page), which has since become Xploro's first paying customer. A research team at Edge Hill University – led by Lucy Gray, a Professor in Child Health Literacy and leading figure on the information needs of children going into hospital – determined that the app improves clinical results. The evaluation of 80 children, half of which had access to Xploro, found that access to it showed a statistically significant reduction in procedural anxiety.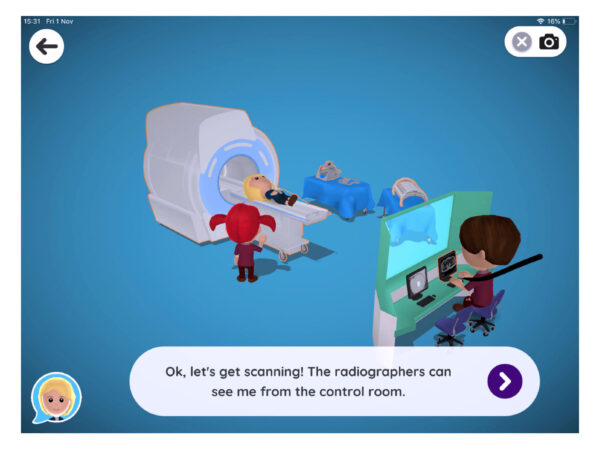 "That's really important, because there's lots of research evidence that says that if you can reduce anxiety, then you can improve clinical outcomes," says Raban, who also highlights the anecdotal feedback received by the Xploro team.
When the mother of a nine-year-old girl being treated for the removal of a benign brain tumour got in touch, they readily provided her with access to the app. Within a few days the daughter was markedly less afraid and openly talking about going to hospital. "She was internalising all of her fears but, through familiarisation, she went from being terrified to actually talking about the experience.
"That sums up what we're trying to achieve. It's what success looks like."
The aim is for the app to be used by "a dozen or so NHS trusts". "We'll then use that as a reputational door opener for the European and US markets," Raban adds.
The key to the UK market, he says, is for clinicians to become aware of Xploro and make a case for it to the hospital's own charity, rather than seeking NHS funds. "Finding the money to pay for the software can become quite a protracted process," he qualifies.
The firm plans to broaden its content to include people coming into hospital for basic procedures. Over the next year to 18 months, it will work with clinical partners to develop content for diabetes, respiratory illness and mental health: "Once we've done that, we want to develop versions for other age groups. Developing that content for adults is actually quite simple, in terms of the differences we'd need to make. It's more of a change to the user interface than the whole structure of the app."
Around 25 million people in the UK reported high levels of anxiety during March due to the COVID-19 pandemic, according to the Office for National Statistics. Should another coronavirus wave sweep the planet, the app would be well-placed to help reduce this.
"There's definitely a role for Xploro to play in explaining 'what is a virus?' and 'how do you treat it?'" says Raban. "We haven't got that content, but were something like this to happen again in future, I could see Xploro playing an important part in reducing anxiety."
Raban has also had conversations with eager users who want the app to work for treatments outside of hospital, for example at home or in school.
"The long-term goal is any age, any condition, anywhere in the world."
Meet Emmie, 11 – an Xploro expert
Emmie is part of Xploro's Expert Advisor group, which tests the app at The Christie.
Emmie has been lending her experience of hospitals and treatments to the company for two years.
"It is very scary," she tells BusinessCloud of entering hospital as a young patient. "I didn't know what was going on, so for other children the app can help you see what is going to happen with different machinery. There were different procedures I didn't know, which I know now because of the app."
Emmie is a gamer and keen user of Roblox, an online platform where people can design their own games and play those created by others. She says Xploro is better than her other games because the content is all free to use. "There are some games that use coins, but Xploro is free so you can customise the characters however you want."
Mum Eve says her daughter enjoyed making a character which didn't look exactly like her, and that the design choices of the character were a good way to strike up a conversation with new friends in the same hospital bay. "You can use the app to become friends with new people in your bay, because they are all playing the same game," Eve says.
Emmie adds: "If you have a favourite nurse you can put in their name and customise [the character] to look like them."
She says her friends can also use the app to get a better idea of what she has been through. That ability to communicate the experience in new ways extends to Emmie and Eve's relationship too.
"As a parent, the app gives lots of opportunity to talk with Emmie about what might be happening at the hospital," she says. And when Emmie wants questions answered privately, the chatbot is there as a safe space accessible only to her.
The diary and mood journal, while a useful space to express feelings, also keeps a record of her progress. "She might feel quite unwell one day, but by the time we'd gone to see the consultant, she'd feel fine," says Eve, who explains that the consultant can use that mood journal data to build a better picture of her progress.
Emmie is still on the advisory group, and is brimming with ideas for new features – including adding VR and being able to take on the role of a doctor or nurse in the simulation.
Xploro's international challenge
A Spanish-language version of the app is being tested in Barcelona – but the end-goal is to penetrate the US market
The challenge facing Xploro if it is to achieve global success is to weed out the cultural differences around healthcare.
The firm is currently working with Hospital Sant Joan de Déu in Barcelona, a teaching hospital specialising in the fields of paediatrics, gynaecology and  obstetrics, to develop and test the Spanish-language version.
Raban is working to get new patient user groups to evaluate the app. "Last year we were successful in getting some European money to help us produce a Spanish language version of Xploro," he says. "One of the things we noticed is that they don't really have wards. Most patients are treated in their own rooms."
This means that the current 3D model of a ward in Xploro's app (left) was confusing to its Spanish users. "That's just one minor example of the cultural differences which need to change."
Raban, who acknowledges the ambition of attempting to get into multiple countries at once, says the US – a market where 13 per cent of people speak Spanish as a first language – is the biggest fish it is looking to catch. "The States has always been a really important market to us. We spent quite a lot of time reworking the software last year so that it can be localised easily," he says.
A planned trip to the US, curtailed by coronavirus, formed part of the firm's conversations with the US National Cancer Institute. Together they are detailing potential work with a number of US hospitals.
Raban admits that COVID-19 has left "everything up in the air at the moment" but sees the first year's sales coming from the UK, followed by 60% of sales coming from the US in 2021.
The sales process, he says, is entirely different to that of the UK. "People tend to think of the NHS as a single body. In fact, each NHS trust operates completely differently from the next. One thing which unites them is a really complex digital procurement system.
"Rightly or wrongly – and emotionally I think wrongly, but as business person rightly – selling in the UK is quite difficult, whereas in the States you're dealing with hospitals that are operating more like conventional businesses."