RegTech
A slick and sticky digital compliance solution built in the North West is driving forward safety in industries such as transport.
CheckedSafe, based in Burnley, Lancashire, is a SaaS platform which harnesses the convenience of smartphones – and the tech within them – to replace cumbersome and archaic paper-based checklists.
Transport was the initial focus of the company – fifth on our RegTech 50 ranking last year – due to the legal requirement for daily checks on commercial vehicles. 
"It's a massive market: there are more than five million commercial vehicles, 23m pieces of plant and around a million forklift trucks – and they all require a mandatory check every day," co-founder Darran Harris tells BusinessCloud.
"Once data is collected on a vehicle, it can then be reported on and measured to improve compliance."
Harris, a qualified solicitor, co-founded the business with transport consultant Gary Hawthorne in 2014. Former civil servant Hawthorne served in a variety of management roles within the organisation that is now Transport for Greater Manchester before building Maytree Travel from a single bus into a 40-vehicle operation with 100 staff and £3.5m turnover.
Lightbulb moment
The idea for the business came when Harris, who represented Hawthorne during the sale of Maytree, and his future co-founder represented a customer called to a public inquiry.
"This was a company that turned over £2m a year but wasn't carrying out proper checks on vehicles and managing things properly. It was at risk of losing its licence [which would have sunk the business]," says Harris.
"As I sat there being b******ed by the Traffic Commissioner, I thought: 'this is daft – everybody moans about compliance and nobody gets it right'.
"What's supposed to happen is the driver checks the windscreen and the tyres; but the truth is he can sit in his cab and tick every box – and you're none the wiser. We wanted to be able to say with integrity whether they were doing this properly or not.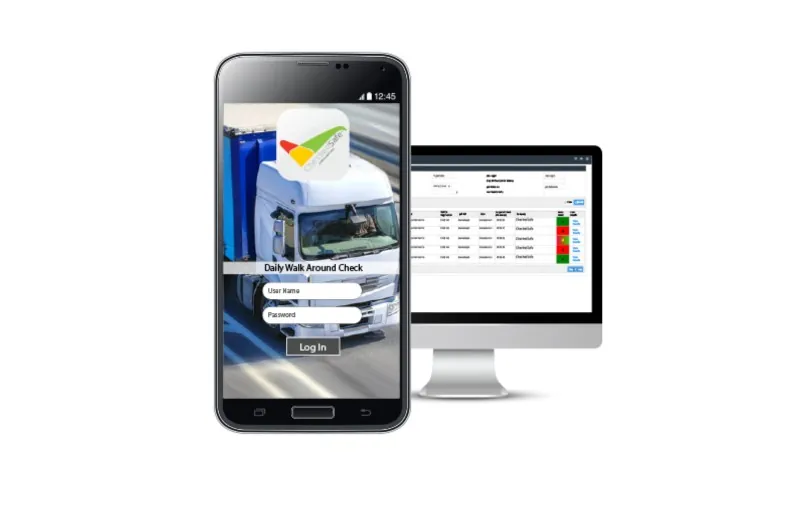 "When they log in, we date and timestamp; we geolocate; every time they press a button we record the time so you can see if they've raced through in two minutes; and the clever bit is we also use the accelerometer in the device to make sure they're walking around the vehicle and not just sitting in the cab because it's raining. We then went a little bit further, with locked pages: you have to wait a certain amount of time before you can move to the next page or question. 
"It's fundamentally about changing behaviour."
He offers the example of a plumbing company. "Your focus would be on fixing boilers, putting radiators on… the vehicles are secondary. Managing 10 people and 10 vehicles is a hassle.
"We take the hassle away. Everything is reported; everything is recorded. You can find everything, track everything, there's an audit trail – and it costs you only £10 a week. There's never any resistance."
Onboarding
The pair didn't take a penny out of CheckedSafe for four years as they continued working on their own businesses. "I was doing an audit for one of my clients – a coach company – and showed them the app," Harris, who sold the solicitors' practice in 2017, says of its first customer.
"They had eight coaches and asked how much it was. I told them £8 a week. Straight away they said they'd have it – I left the meeting and was like 'yes!'"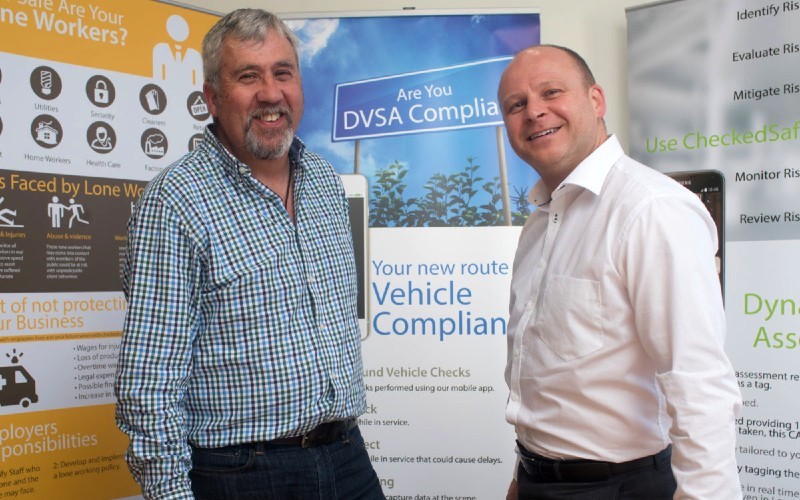 Onboarding new customers has also been streamlined over the years from a two-hour process to mere minutes thanks to automation.
"We wanted to make it slicker so that from the moment we get a customer, we can put them into our system on a journey without too much intervention," Harris (pictured, right) explains. "If you can control your overheads, of course, you can make money. That's the whole purpose of any business.
"Our tech guy was really clear: we shouldn't employ somebody if we can improve the tech to make it work. So as we've gone along, and as we've developed, we've continually upgraded the tech.
"If a customer gives us their driver names, reg numbers and company details, we can have them up and running using our system inside 10 minutes."
If somebody makes an inquiry – say through Google AdWords – they can be onboarded within half an hour, says Harris. "Our conversion rate from a lead to actually using us is consistently high. Once you move from paper to digital, you don't really want to go back," he adds.
"This hasn't happened by accident. We've engineered it that way."
CheckedSafe crowned Most Innovative Business of 2022 at BIBAs
CheckedSafe's churn rate is also below 2%. "Our competitors have a tiered pricing structure, which I personally think is a terrible idea – if someone wants to use an extra bit of the software but don't know if they want to pay for it, they won't even try it," is Harris's view.
"Rather than being greedy and trying to squeeze all of the juice out of the lemon, we give them everything and the more they use, the more they're hooked and won't leave us."
Licence checking
One paid-for service which offers great value is licence checking, typically carried out twice a year but far more often in the case of high-risk individuals – for example those with nine points on their licence.
"There are a lot of companies out there checking licences, but the main issue is with organisations that have a disparate workforce. It is often difficult to get users to commit to bringing their licence to the office or even completing the mandate so we use tech to solve that issue," says Harris.
"The user logs into our app, selects the licence check template, takes a picture of the front and back of the licence, which we then read using OCR (optical character recognition). They complete the mandate at the bottom and press submit. We then read the data, send it to the DVLA, get the results and display it to the employer.
"The whole thing is seamless and slick – imagine the time you save if you've got 100 people! And the best part is that we only charge £1.60+VAT per check. That makes us much less expensive than most of our competitors."
CheckedSafe now has around 850 paying clients – managing 7,500 depots and just under 100,000 assets – with more than 170,000 users following Network Rail's nationwide deployment of the tech in January 2023. Further clients include Amey, Kier, Balfour Beatty, Manchester Airport, HS2, The RAC, Northgate and Hitachi. 
The business is now targeting other sectors such as general health and safety compliance – specifically dynamic risk assessments, auditing and general record keeping. The system is now more akin to a case management system, enabling customers to carry out checks, plan maintenance and inspections, store documents, set reminders and message operators, Harris says.