CheckedSafe is an inexpensive SaaS platform for any type of digital compliance. It replaces cumbersome and archaic paper-based checklists with a digital version utilising existing equipment, namely smartphones. Once data is collected, that data can be reported on and measured to improve compliance. In short, if you need to check anything – whether on a regular basis or infrequently – do not use paper, use CheckedSafe.
Based in the North West, it was created by two co-founders: Darran Harris, a qualified solicitor & commercial mediator, and Gary Hawthorne, a transport consultant with over 30 years expertise and also a commercial mediator. The company was formed in 2014 after a lightbulb moment when Darran and Gary represented a customer called to a Public Inquiry before a Traffic Commissioner.
CheckedSafe strive to simplify everything. As such, it was important to ensure that the new tech was not cost-prohibitive. Early adopters often pay a heavy price and so, accordingly, CheckedSafe wanted to make sure that their product was cheaper than the current paper-based system. On that basis the price was fixed at £1 per week per asset, compared to roughly £1.50-£2.00 per week for paper-based systems. With no set up fees and easy-in-easy-out agreements, we made adoption simple.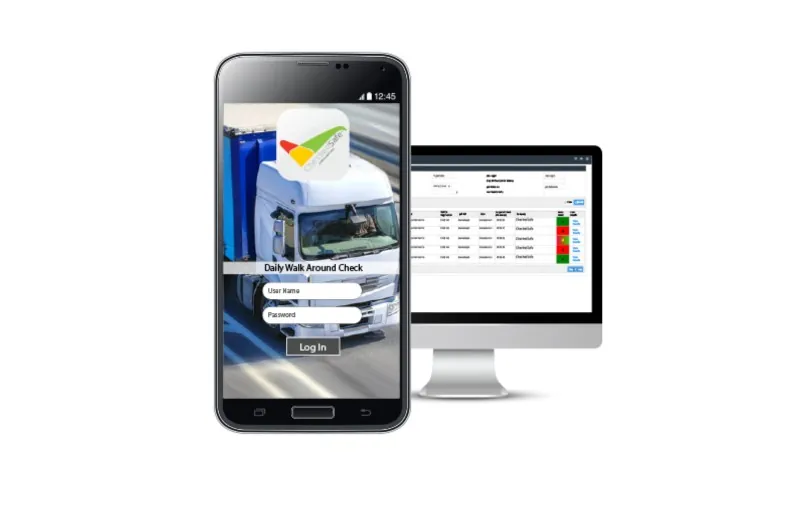 What do we do?
The initial focus of CheckedSafe was transport, but after a relatively short period of time the system was developed to enable management of any sort of compliance, not just checking vehicles. 
Transport was straightforward because there is a codified system compelling mandatory and legally required daily checks on commercial vehicles. This market is massive, with over five million commercial vehicles, roughly 23 million pieces of plant and around a million forklift trucks.
Once we cracked that nut, we moved into general health and safety compliance, specifically Dynamic Risk Assessments, auditing and general record keeping.  
CheckedSafe is cloud-based and requires virtually no capital expenditure to get up and running. The system consists of a mobile app that can be made bespoke to individual user requirements and a back-office cloud-based management portal. 
Development
From starting in 2014, CheckedSafe now has over 4,500 customers, over 85,000 assets in the system and is approaching 10 million checks. We have well over ½ billion data points. 
The customer base is diverse, from companies with one or two assets to those with 9,000-plus assets. 
As CheckedSafe has grown, there has been significant investment into the platform to add more and more features whilst retaining the initial price point of £1 per week per asset. This is important to engender loyalty from customers and maintain the valuable recurring revenue that a SaaS platform thrives on. 
The system is now more akin to a case management system, enabling customers to carry out checks, plan maintenance and inspections, store documents, set reminders and message operators – all within the confines of one platform. Importantly for customers, all of this is with zero capital outlay and no longer-term contractual tie-ins.
Where next
The market is sizeable. Whilst we have competitors, the market is sufficiently large that there is room for everyone. 
We plan to develop our platform to add more features and enable our system to be used by any industry, even if only from a storage and case management point of view. 
Our platform is such that it can apply to any industry or sector, meaning our sales pipeline is constantly expanding. 
We are, as the buzzword seems to be, an agile company – and we listen to our customers and move quickly to implement new innovations. 
Paraphrasing the great Henry Ford: " You cannot build a reputation on what you are going to do" – and with that in mind we do not let the grass grow under our feet. Sound advice which encourages us to strive to continually improve for the benefit of our customers. 
Customers
We are delighted to work with the following customers:
Amey, Kier, Balfour Beatty, Manchester Airport, HS2, EKFB, AlignJV, Sapphire Utilities, O'Connor Utilities, Birchalls Foodservice, Abbey Logistics, The RAC, Kinaxia, Enterprise, Northgate, Hitachi and many others.