EdTech
Cybersecurity
Deals
Skills City has teamed up with Raytheon Professional Services on a 'unique' model that fast-tracks learners from digital bootcamps into technology apprenticeships.
Skills City, established by IN4 Group and based in MediaCity in Salford, says the partnership will offer employers the most diverse, qualified and employment-ready talent, boosting jobs and prosperity in the region.
Raytheon is a world-renowned training organisation and, as apprenticeship partner to Skills City, will look to further increase fair access to technology careers, particularly for those from underrepresented and disadvantaged backgrounds.
Based at HOST, the Home of Skills & Technology, Skills City secured £1.2 million from the Department for Education in July 2021 to deliver six Skills Bootcamps, fast-tracking 450 people into technology careers. Skills minister Alex Burghart recently visited Skills City and met the staff team and bootcamp students.
Having already worked with Raytheon over the last year to deliver its cyber bootcamps, Skills City will provide learners across all eight of its technology bootcamps with training and development support over 12-16 weeks, which will prepare them for jobs that go straight into Level 3-5 apprenticeships with a local employer. 
All the bootcamps will be mapped to specific apprenticeship standards, hence accelerating talent competencies and meeting labour market demand.
Cybersecurity bootcamps
Skills City focuses on an employer-led approach, so its bootcamps and apprenticeships can offer the most in-demand technology skills across disciplines including software development, network engineering, cybersecurity, data analytics, user experience (UX) and gaming.
The cyber bootcamps have seen 42 students graduate with 100%, saying they now feel confident enough to apply for new digital roles. More than 50 learners are due to start the course in January 2022 and upon completion, they will receive a CompTIA Network+ qualification and will be ready for a Level 4 Cyber Security Technologist apprenticeship.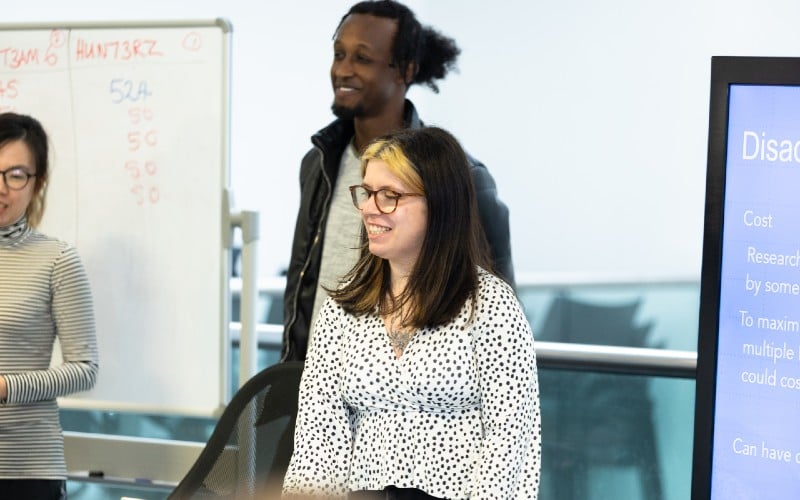 Emma Bateson (pictured above), 30, from Salford, has multiple sclerosis and graduated from the cyber bootcamp at Skills City in December. She is about to start an apprenticeship at IN4 Group as a cyber technician.
"On the first day I was nervous and as a disabled woman going into cyber and tech, you sometimes don't know how it will be taken," she said. "However, when I walked into the classroom I was greeted with kindness and support, something that carried on throughout my time on the cyber skills bootcamp. 
"The lessons covered multiple technical topics such as networking, physical security like lock picking and card cloning, offensive security, and gaining access to virtual machines and encryption techniques. This is just a small part of the things I have learned.
"Not only that, but I also learned soft skills such as communications, networking via events and social media, working in groups and even doing presentations to the skills minister Alex Burghart. 
"They also supported my confidence levels, encouraging me to get through the mental barriers I had put up in my head before the course, this helped me see my potential and to strive for success.
"Both these skills plus the immense support from Raytheon and IN4 put together have helped me get into a career I never thought I could have ended up in, but I am in now. It has taken me beyond my wildest dreams."
Digital skills and apprenticeships
Mo Isap, CEO of IN4 Group and operator of HOST, said: "Having noticed a huge disconnect between Skills Bootcamps and apprenticeships, where a learner might spend up to 16 weeks on a bootcamp and then have to start all over again in an apprenticeship, we have designed this innovative model to bring them altogether alongside our partner Raytheon Professional Services, a world leader in technology.
"This is the future of the government's investment in skills in the regions, where bootcamps and apprenticeships can come together in this brilliant talent provision. We are excited to offer this seamless transition, a key pathway from Skills Bootcamps to apprenticeships. 
"Employers will benefit immensely from this new approach as we will have done the initial groundwork of nurturing and developing talent, so learners are fully prepared for technology career starts, creating the most capable, industry-ready talent in the UK."
David Marriott, UK business operations manager at Raytheon Professional Services, said: "The Skills Bootcamps plus apprenticeship progression model we have designed provides a robust education system where every person no matter their background will get the chance to achieve the highest levels of skills, qualifications and employment without the need of financial support, loans or tuition fees. 
"Employers gain pre-skilled candidates who will make an impact on their business from day one of employment.
"We are a best-in-class provider of apprenticeships and always more than 20% above the national average achievement rates. We look forward to continuing this success for the benefit of residents and employers in Greater Manchester, Lancashire and beyond."