Recruitment & HR
Investment
Screenloop, a hiring intelligence platform that helps teams hit their recruitment targets faster and remove unconscious bias, has raised a £5.7 million seed round. 
Founded in 2021, Screenloop was born from the shared frustrations and poor hiring experiences of its founding team whilst working as senior operators at fast-growth tech businesses – including Stack Overflow, Talkdesk, Revolut, Reachdesk and ClearScore. 
It aims to enhance the recruitment experience for candidates, interviewers and businesses.
The investment was led by Stride VC with participation from Ludlow Ventures, All Iron Ventures, Passion Capital and angel investor Paul Forster, founder of job-seeking platform Indeed, and follows an earlier investment in December 2021, bringing the total raised to $9.5m. 
The latest funding will be used for continued product investment plus research and development, with the goal of delivering a powerful end-to-end hiring intelligence platform. Screenloop will also continue its expansion into the US and new markets. 
"Our team is united in the belief that hiring is inefficient, outdated and unfair to candidates around the world," said Anton Boner, co-founder and commercial director. 
"We have all been hiring managers and candidates, and we know the hiring process is broken. It's difficult to track and measure, meaning there's a lack of insight into what to improve and what to prioritise. 
"Companies struggle to replicate their top performers and the cost of a failed hire is over $180,000."
Employers must raise the bar if they want to win talent race
Data from Glassdoor claims that 95% of businesses have admitted to making bad hiring decisions and research from Yale found that 30% of interviewers typically make their decision on a candidate in the first five minutes of an interview.
"Screenloop reduces the likelihood of companies making a bad hire whilst also helping remove unconscious bias from the recruitment process," added Boner. 
"We want to ensure candidates have an amazing interview experience with every company and are treated fairly. We also want to empower companies with data, insights and actions to be able to make the best hiring decisions all the time."
Screenloop has already received feedback from 100,000 candidates globally within 12 weeks and analysed over a million minutes of interviews. The platform claims to reduce the average time to hire by three days. 
Screenloop is operating in Europe and the US, with an initial focus on fast-growth tech companies. Current customers include TrueLayer, Beamery, Reachdesk and GorillaLogic. 
The end-to-end platform currently includes four product solutions for businesses. 
'Pulse' enables automated candidate feedback on the organisation's recruitment processes and uses it to identify and provide tailored recommendations for improvement using AI – enabling businesses to hit their hiring goals faster.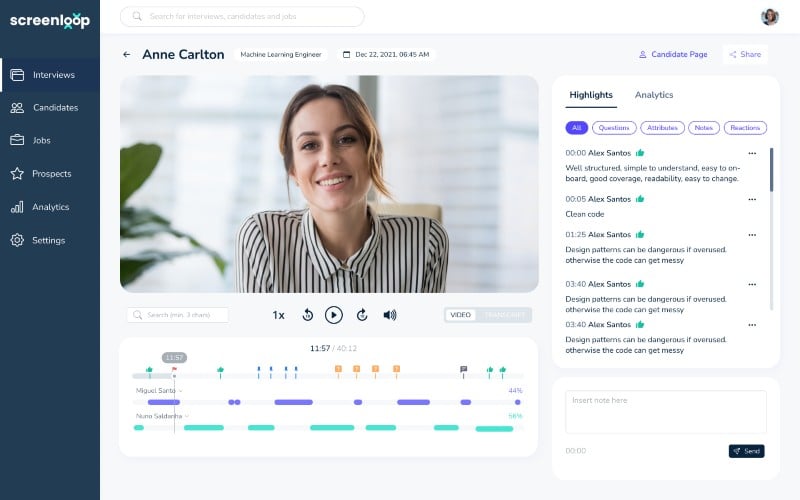 'Interview training' provides modern shadowing and real time coaching through AI to enable interviewers to ask better questions as well as remove subjectiveness and unconscious bias in decision making. 
'Interview Intelligence' allows businesses to collaborate quicker and make decisions faster. 
Finally, 'Success' is Screenloop's tech-enabled take on the highly manual referencing process which is outdated and inefficient. Success allows companies to understand more about the soft skills of their new hires, and completes the reference process in less than 24 hours. The technology allows new hires to contribute faster in their new position, and reduces the likelihood of failed probations.