MarTech
Appointments
Print-on-demand merchandise platform Merchr has bolstered its team with three new recruits in line with the growth of the business.
Dan Delew has joined as partnerships manager, and Merchr has also recruited Ariel Or and Titilayo Salau as graphic designers.
Merchr, which has its production facility in Middleton, Greater Manchester, and offices in London, enables individuals and groups to create and sell their own merchandise collections. 
Delew has five years of marketing experience, mainly in the retail sector. He has joined Merchr from premium fashion chain Tessuti, and previously worked at Regatta Group sportswear brand Dare2b and Tech Nation.
His role at Merchr involves forging new partnerships with retailers, sports clubs, visitor attractions and others as well as with product suppliers, to spearhead further growth for the business.
Merchr co-founder and director Nora Yassin (pictured, main image) said: "As a company focused on supporting retailers and brands, we recognised the need to recruit someone with hands-on experience in the retail sector. 
"Dan's expertise in this industry will be a huge asset to the business. His arrival gives us the opportunity to forge even more impactful high-level partnerships.
"Our strategy is for Merchr to become a broad marketplace, and we believe that the way to achieve this is through partnerships – with suppliers to add more products and with the likes of retailers, visitor attractions and sports clubs."
Merchr was set up by an experienced team backed by Martin Varley, a well-known senior executive in the personalised products industry.
The platform enables users to create and launch a free online store by designing and uploading customised product collections with artwork, a logo, slogan or an image. Alternatively, they can connect an existing website via Merchr's integrations with e-commerce platforms such as WooCommerce, and soon Shopify.
Merchr has recently expanded its product range with towels, blankets, mugs, placemats, coasters, canvas prints and hot water bottles in a partnership with supplier Jondo, and clothing for children and babies in a partnership with Snuggle. 
Its range of merchandise also features hoodies, t-shirts, polo shirts, jackets and hats, tote and make-up bags, backpacks and messenger bags, power banks and earphones, desk and office items such as notebooks, pens, pencils, pouches and highlighters, water bottles, tumblers and souvenirs.
Yassin added: "Investing in talented graphic designers ensures that we are moving forward in the right direction and aligning with our growth goals by raising our brand presence and creating a competitive edge. 
"Crafting compelling on-brand visuals and content that capture the attention of our Merchr users is an important part of this strategy. Current projects include packaging, marketing materials, branding concepts, product designs and more. 
"Ariel's strengths are illustrative designs, and she has an in-depth understanding of products and product design. Titi has a strong eye for detail and brings his designs to life in line with the latest trends. Both are very creative and imaginative and are great additions to the team."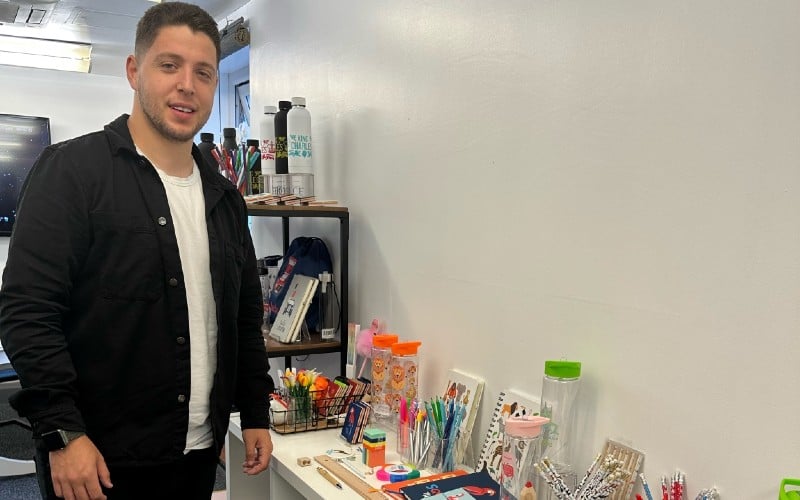 The latest appointments mean Merchr now has a team of 20, and further recruitment is under way for a variety of roles, including a web developer and an eCommerce channel manager.
Delew (above) said: "I'm thrilled to join the team at Merchr and I'm confident that my previous experience gives me the skills to make a significant contribution to the company. 
"I'm excited to take up this role and look forward to having a positive impact on Merchr's development."