When football stadia, music festivals and transportation hubs – otherwise known as the settings you've built your new tech business around – close almost overnight, it's clear a real sense of panic would set in.
Cambridge-based Alastair Williamson was two months from launching Wyld Networks, a business based on connecting crowds of people in live settings, when the first lockdown began.
"It felt horrendous," he says. "Our market disappeared overnight. We'd built a fantastic business model with a great potential return on investment and the world had suddenly changed."
Initially anticipating a delay of about six months – though obviously it turned out much longer – Wyld Networks could have been put on hold to wait out the storm.
Instead, Williamson and his team chose to pivot, finding a completely new use for their tech in healthcare that they'd never have considered if not for COVID.
It's meant future growth for their business through having two separate markets once live events return.
"We've become experts in something we never even considered," Williamson (below) says. "We're waiting for live events to come back, because that's what we know, but we now have two uses for our technology."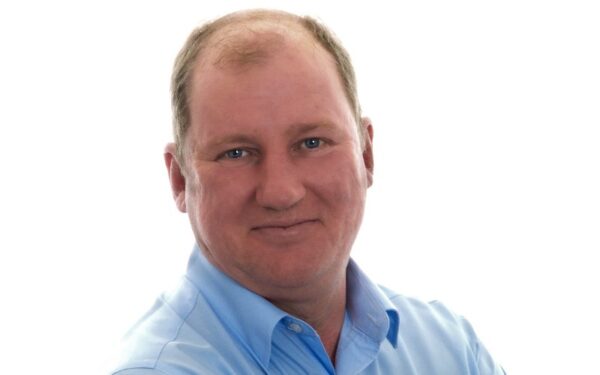 Wyld Networks has developed mobile mesh technology that connects a smartphone to other smartphones without the need for WiFi or 4G/5G. The innovative technology is built into mobile apps to create an instant communication platform between all those who have a particular app who are in a particular area.
The original market of sports arenas and festivals drew on the fact that visitors often struggle for connectivity in these crowded areas. Football fans would download their club's app, embedded with the Wyld Mesh Mobile software development kit (SDK), and be instantly connected by the mesh network.
That opens opportunities for the clubs to deliver content directly to phones, whether it be team news, snack bar menu deals or anything else they want to promote.
"If Marcus Rashford comes off the bench and scores a goal against Everton, you could send an alert to phones advertising a deal on Rashford replica shirts in the club shop while fans are still in their seats," says Williamson.
Similarly, music festival organisers could deliver relevant content to revellers' phones via an app, informing them of when bands will be on stage, which food outlets are offering deals and allowing friends to find each other without the struggle for a phone signal because phones in the mesh network are connected directly.
https://businesscloud.co.uk/news/chatbot-platform-born-during-covid-to-expand-to-us/
With venues empty, Wyld Networks had to come up with other uses for its tech, with COVID – the reason for the pivot – actually providing a new opportunity.
"Some of us had relatives in care homes, so we thought about how we could use our tech to help reduce the spread of COVID and influenza in these settings," says Williamson.
Rather than bringing people together, the new approach for care homes is around ensuring social distancing.
Seven care homes in Scotland are currently using Wyld Networks' mesh technology to create data that enables them to lower the risk of infection. Residents, staff and visitors have either a wearable device on a lanyard or a mobile app that shows exactly where they are at any given time once within the fixed geozone of the home.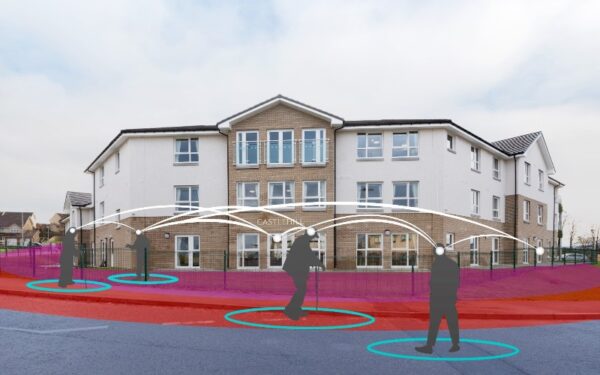 On a day-to-day basis, the tech creates a heat map to show where hotspots of people have occurred and at what times, with two-metre social distancing regulations in mind.  The data may reveal room occupancies need to be reduced or that routines need to be altered – an extra lunch sitting introduced to lower the number of people close together at meal times, for example.
Staff can also set up real time alerts such as revealing when two people are within two metres of each other for 15 minutes or longer, with the option of setting up a gentle beep system that alerts the wearer to their breach of social distancing.
"When analysing the data, the care home may find a problem on Fridays with 12 lots of people coming down a particular corridor, so they'd know to make changes to routines and policies," says Williamson.
"We've found that using data to make informed decisions has given staff a level of confidence in going to work because they know there are measures in place to stop the spread of COVID."
There have also been other benefits that Wyld Networks never predicted, that have only become clear through using the mesh technology in a care setting.
"One thing that has been interesting, which we never expected, was that because it looks at people coming together, it also shows when residents are not coming together," Williamson says.
"The heat map could show that 'Mrs Williams' has been sitting on her own for eight hours a day so somebody needs to be socially interacting with her. That allows staff to offer more compassionate care."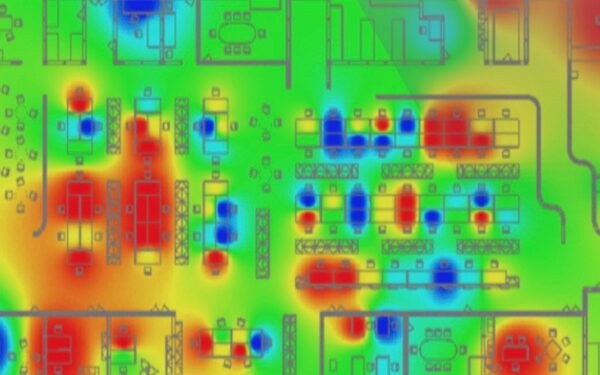 The University of Edinburgh is working with Wyld to analyse the data and carry out interviews with users to look at how technology can impact compassion in care homes.
Williamson says the vaccine announcement of 2020 had led the business to believe it would be pivoting back to live events sooner rather than later. From working with the NHS, however, he believes such extra measures to control infection will become the new normal, leaving room for both sides of the business to run in parallel.
The business is also talking to schools and universities about using mesh networks to aid social distancing once they return, though he believes this will be a more temporary measure.
The technology is already in the process of being exported after Wyld Networks signed up with global reseller Ascom, which has an expertise in ICT in healthcare, as well as resellers in the US and Latin America – a route chosen partly because COVID travel restrictions would seriously hamper any relationships the team could hope to set up themselves.
Along with healthcare and live events, there is potential in retail, too. For example, a supermarket could integrate the mesh technology into their app, with a smartphone connecting to the network as soon as the shopper drives into the car park set within the geozone.
Content could be delivered while the person is still in their car, such as a welcome message and links to any two-for-one deals before they even enter the store. Inside, the messaging can be even more precise.
"If you're in the dog food aisle you don't want an offer for alcohol, so the content you receive would be relevant to that aisle – it's that precise," says Williamson.
"You could also put your shopping list into the app and it could tell you exactly where to get everything inside the store, or it could suggest recipes and tell you where everything you need is – it's all about improving the customer experience."
https://businesscloud.co.uk/news/1-2m-for-insurtech-founded-by-england-rugby-star/
There is huge potential for other industries, and Williamson agrees the business has a hunger to make as much difference as possible. "When you finish work you want to switch off your brain because you're coming up with other ways of how to use it all the time," he says.
The business now has a workforce of 22, two of which he has never met because they were recruited during the pandemic, and offices in Brighton and Cambridge.
Currently raising a large chunk of money to enable them to fulfil their aspirations, he believes starting a business during such a turbulent time – and having to pivot – has given them a strength.
"It's demonstrated our ability to adapt and made us stronger than we were before, and that's engendered a great team morale because we've been able to do it," he adds.
Coronavirus
COVID-19