Transport
FinTech
Investment
Lloyds Banking Group has invested £4 million in Caura, a motoring app designed to take the hassle out of car ownership.
Caura for iOS and Android provides a single interface for all driving-related payments. It serves the 30 million motorists in the UK today who currently find themselves using between 8-10 apps and websites to manage their vehicles. 
Forgetting to pay the ever-growing list of charges and payments is costing drivers billions of pounds in unnecessary fines every year, figures show.
Caura simplifies car admin by sending drivers relevant information and timely reminders to help them stay compliant. By managing car insurance, MOT, vehicle tax, tolls and city charges, Caura aims to save drivers time and money.
The investment from Lloyds Banking Group will support the development of new and existing products and services for both consumers and businesses including vehicle maintenance and UK-wide parking for both iOS and Android apps.
"This significant investment represents another important step forward in our plans to work closely with FinTechs and technology partners to bring together data-driven insight and technologies to help our customers," said Kirsty Rutter, FinTech investment director at Lloyds Banking Group. 
"Caura's experienced management team have a relentless focus on customers, and we are excited to work with them to support the development and growth of this groundbreaking simple-to-use app."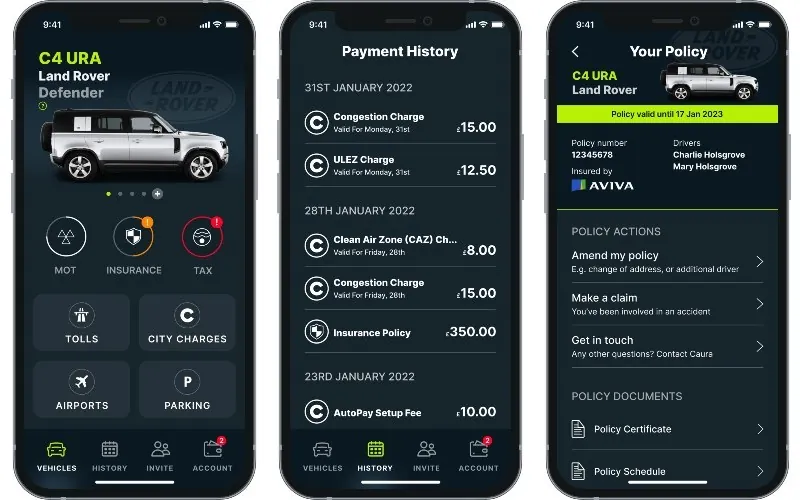 Caura topped the 2023 Startups 100 list of the most disruptive and innovative new businesses.
Dr Sai Lakshmi, CEO & founder, said: "Lloyds Banking Group's investment will help accelerate our plans to improve Caura for our consumer customers and our industry partners. As part of our mission to take the pain out of driving, we have already simplified payments for tolls, city charges and vehicle excise duty. 
"Our next step is to apply our technology to overhauling the car insurance and maintenance processes which have remained antiquated and resistant to change.
"Our future plans for Caura include developing embedded financial services such as motor loans and insurance, white-labelled payment solutions for automotive partners and self-service SaaS solutions to SME customers."
TransportTech 50 – UK's most innovative transport technology creators for 2022
This latest investment is part of Lloyds Banking Group's public commitment to the Fintech Delivery Pledge – an industry-wide initiative designed to enhance the global position of UK financial services by making partnerships between fintechs and large financial institutions smooth and productive.
The investment in Caura is Lloyds Banking Group's first investment of 2023, following a successful round of investments in 2022. These investments are headed up by the Group's recently formed Fintech Investment team, which focuses on identifying and exploring opportunities for investment into fintech at Seed to Series B.
Dr Lakshmi added: "Lloyds Banking Group and their proactive approach to innovation is incredibly exciting, and the cross-pollination of ideas between our respective teams will allow us to deliver an innovative suite of products and services that the market has not seen before to customers ranging from drivers through to vehicle manufacturers."