Recruitment & HR
One in 10 children in the world are involved in child labour – an astonishing 160 million of them.
Despite massive increases of spending on ESG initiatives, child labour is still present across most supply chains. The Biden administration has even created a task force to tackle the problem in the US.
However attitudes within companies and investors are causing failures to address the issue with any urgency, suggests Eleanor Harry, founder and CEO of HACE.
"There is no minimum work age for children in agriculture in the US, which means you can see 5-, 4-, even 3-year-olds working on farms," Harry tells BusinessCloud.
"We find a lot of our time and resource is taken by trying to 'convince' companies and investors that child labour is the biggest social sustainability issue today, despite 160 million children being involved."
Around 70% of child labour worldwide is in agriculture, yet it is also prevalent further up the supply chain. For example, a Reuters investigation last year found children working illegally in Alabama car plants supplying carmakers Hyundai and Kia, leading to state and federal investigations.
Harry has worked to tackle child labour for over a decade across supply chains including cotton, fishing and ready-made garments. A contributor to international UN literature on child labour, she also sits on the UN's UK Global Compact Child Labour Working Group. 
She founded HACE: Data Changing Child Labour in 2020 with the aim of empowering businesses to make timely and data-driven decisions to proactively tackle this disturbing problem. The company was recently featured in our sister publication TechBlast's Manchester Startups 2.0 list.
"My biggest wish for HACE as a company is for people to believe us when we tell them how serious this issue is, how prevalent it is, how urgent it is and, most importantly, how vital it is that we help these children now," she says.
"This would mean we, as a company, would have more time and resources to dedicate to directly impacting children's lives."
Designed for financial institutions, the startup's Child Labour Index, powered by artificial intelligence, scores companies on three aspects: Public Perception, Company Disclosure and Risk.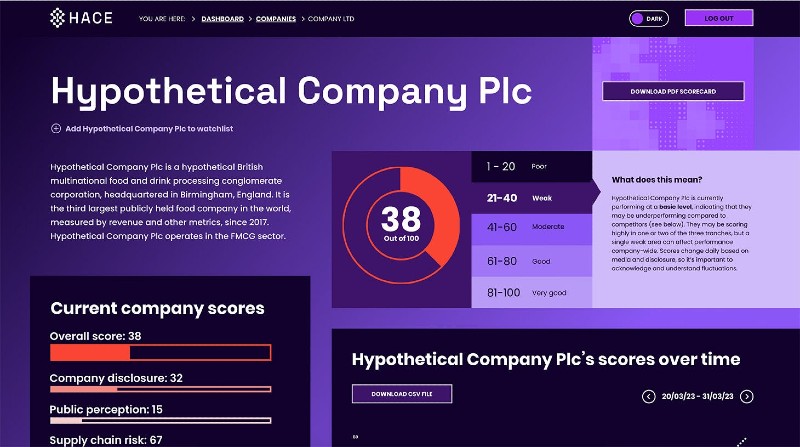 "We use data and AI to help companies with supply chains understand the risk of child labour: see where it is, why it happens, and how they can optimise their existing spend to have greater positive impact on communities," explains Harry. 
"Our Child Labour Index generates a quantitative metric on child labour performance at company and group level. It is the only metric that exists in the entire world to measure that."
Harry has raised seed funding for her startup, which is based in Bonded Warehouse in central Manchester under Department's Exchange Accelerator.
"We have also benefited from the support of NatWest, Greater Manchester AI Foundry, Equal Experts, Innovate UK and various other Manchester-based organisations," she says. "We're supported by both KPMG UK and KPMG Acceleris within our funding round which allows us access to invaluable resources, expertise and networks within Manchester and the North West.
"We are extremely lucky to have the opportunity to partner with both the University of Manchester and the University of Salford within our academic research arm of the company and therefore to tap into the fantastic potential of young students and graduates of the North of England. 
"This allows us to expand our recruitment network further towards passionate and innovative young people as well as offering them corporate experience within their university career, if they choose to move on to enrich other businesses in the city."
'How I turned my side hustle into a multi million pound business'