Transport
Investment
London startup BoxxDocks, whose tech logistics boxes offer a smart solution to improving efficiency and reducing carbon footprints in shipping, has hit £250,000 in pre-seed funding, following an investment from British Design Fund.
Unlike traditional fixed-size packing boxes currently used in warehouses and delivery vans across the world, BoxxDocks' patent-pending smart logistics boxes can collapse to the size of their contents. This can help drive down carbon emissions and costs by reducing the amount of empty space being shipped between warehouses and the final delivery location.
In addition, the boxes – which are manufactured in the UK and 100% recyclable – incorporate tracking IoT technology that allows logistics operators to know at all times where their boxes are, while mapping their entire supply-chains.
With backgrounds in logistics, the idea for the business was born during a conversation between the founders about the design of standard heavy-duty boxes. After months of market research, meeting warehouse managers and looking at warehouse distribution and packaging infrastructure, they quickly realised there had to be a better way – a box that could fold.
"As a team, we were sceptical as to why others hadn't already thought of such a simple solution to the boxes' outdated design – something that had not changed in over two decades," said Amarjit Pall, co-founder. 
"Coupled with this, we found their production involves carbon-heavy manufacturing and the use of virgin PP plastics, large raw material supply chains, and synthetic dyes.
"We realised that the entire life cycle of the product, from cradle to grave, needed to be rethought, designed, and renewed and so the three of us set out to create a solution."
He continued: "Our smart, collapsible boxes fold from full to half sizes enabling our customers to reduce wasted shipping space and increasing the number of boxes that can be shipped within one transport. They are optimised to the needs of logistic companies, making space usage more efficient, saving them money, and reducing CO2 emission per transport."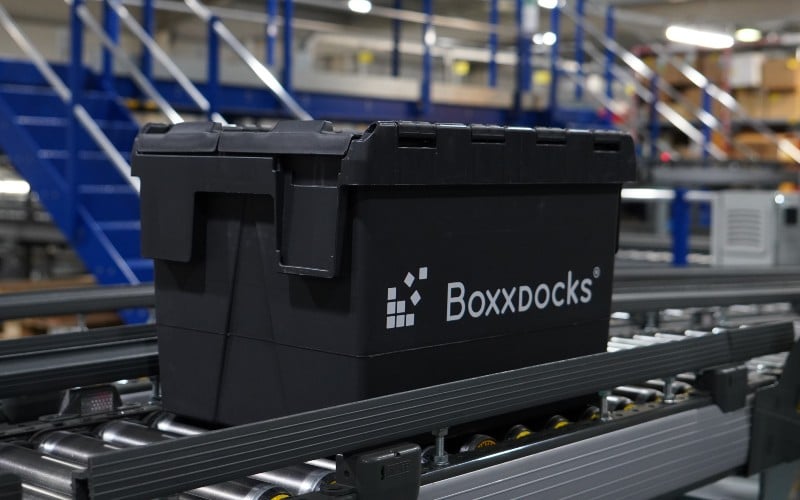 Once closed, the pre-seed investment round – which includes £150,000 from British Design Fund – will support the launch of the company's 'box-as-a-service' offering, as well being used to further develop the product line and accelerate innovation within the thriving UK logistics sector. Other investors in the round include global investment firm Techstars. The company is also supported by University College London (UCL).
Alessandro Attanzio, co-founder, added: "There are more than five billion logistics boxes in circulation today, yet it is the only element of the logistics chain that has not been optimised. At BoxxDocks, we want to change that by building a global network of data-driven logistics boxes to unlock both cost savings and Co2 reductions.
"We are incredibly excited about this partnership with the British Design Fund. The investment and mentoring we receive will allow us to start scaling our solution, as we drive down costs and carbon emissions within the logistics sector, while redefining the standards being used today."
Damon Bonser, CEO, British Design Fund, said: "The investment committee were really impressed with the team at BoxxDocks, their visionary approach and commitment to innovation. Their mission fits perfectly with our goal to support ambitious, purpose-led British startups, with potential to scale. We are delighted to be joining BoxxDocks on its journey."