Recruitment & HR
Recruitment and human resources are, by definition, areas of business which are focused on people.
But with artificial intelligence becoming more effective and gaining traction across sectors, are recruiters now turning to this cutting-edge technology? And is it producing the desired results?
We joined forces with recruitment marketplace Hiring Hub to discuss the impact of AI on recruitment and HR.
Early Doors
Tim Clifford, evangelist at intelligent talent technology firm Talos360, says AI is "very, very early doors with regards to what it can do". 
He explains: "We're just starting to understand how it can make our lives easier. I personally think you can never take the human out of HR. It's called human resources for a reason. 
"These tools are there to help us, especially with the mundane tasks. A large proportion of people who work in HR pick up recruitment as part of their job. If they can automate as much of that role as possible they can focus on retention and increase employee engagement. 
"It's a tool to assist, rather than replace."
Simon Swan, founder & CEO at Hiring Hub, agrees: "I'm excited about the opportunity to be more productive by using AI. 
"I look at it like it's a co-pilot to help me aggregate information faster but I don't believe it should replace the human part of the HR recruitment process. AI is about supporting, rather than replacing."
Time saver
Gemma Hutchinson, HR manager at global gaming firm Betable, sees advantages in having the tech sort through initial applications.
"I think AI can be a really good idea in recruitment, especially in bigger companies when they can have 600-700 applicants for one role," she says. 
"If it can sift out the good applicants from the bad ones, that's going to help HR and the recruitment team to do face-to-face interviews with the candidates who fit the criteria better. It will save time and money."
Warren Jacobs, CEO of Betable and also chair of marketing agency ActiveWin, adds: "I believe AI, if used right, enables us to focus on more qualitative work and focus on things that are more important and remove more of the automated work from our life." 
However he warns: "There are a lot of concerns about AI – the misuse of it and over-reliance on AI."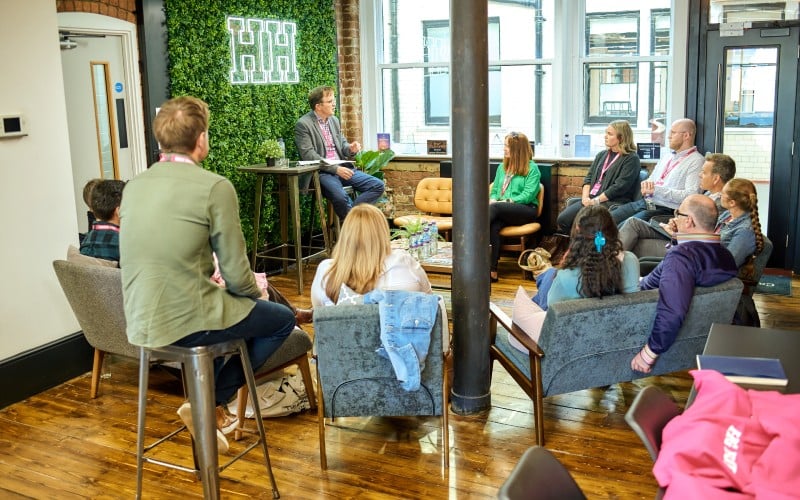 Ethical considerations
Elle Chamberlain is HR manager at Mustard Tree, which aims to combat and prevent poverty, inequality and homelessness across Greater Manchester.
"While AI has its benefits and could enhance the recruitment process in some ways, such as CV screening and streamlining administrative tasks, it should always be used in conjunction with human intuition to ensure the candidates fit the culture and values of the organisation and are treated with fairness, ethics and compliance with relevant regulations in mind," she advises.
Tamara Rubery, senior HR manager at intellectual property legal specialist Mewburn Ellis, echoes those concerns, but also believes that "AI can be really useful and bring efficiencies". 
"I'm apprehensive about it deskilling some people and some people relying on it too much," she cautions. "I'm also worried about people not giving it a quality check to make sure it stands up to employment legislation. You're also checking it for your organisation's cultures and values."
Overuse
Jamie Williamson, head of human resources at holidays company Alpine Elements, says "there could be an overuse of AI". 
"It could damage your culture because a machine can't read emotions and judge a person's qualities," he says, before adding the caveat: "One advantage would be it could filter applications and save time to make you more efficient with your time."
Nikki Harrison, talent acquisition business partner at the Information Commissioner's Office, also sees advantages and disadvantages.
"This is my thought rather than the ICO's stance – but in my eyes, for the candidate experience, you're always going to have that personal touch where a human needs to be involved. 
"However, if AI can make it easier for my team and myself to have the time to spend on that human element, then great. If it can take away some of the mundane administrative tasks then I think that would be a good thing."
'What iffery'
Shaun Hinds, CEO at events venue Manchester Central, says "the more you think about AI, the more you get lost in this 'what iffery' around how this might work and how that might work". 
"Right now, for me, I'm interested in how AI might influence a candidate's attitude or perception toward a job, work and employer – and therefore as an employer, how we might need to adapt to ensure we continue to find the right people to make a difference to our business," he adds. 
"Hopefully we can make a difference to their career as well."
Simon Penhallow is business development manager at Catch22, a not-for-profit business which has helped deliver social services into communities for more than 200 years.
"From today I gained much more of an appreciation of all the work that HR professionals have to do in their role – for example, how many CVs they have to read through for each individual role," he reflects. 
"I think AI will be massive in reducing that workload and freeing up more time. That being said, I do still have concerns around how it might affect candidates from disadvantaged backgrounds and I hope they'll be able to still apply for roles they have the skills for and won't be filtered out by AI systems."
Lisa Shaw, recruitment coordinator at PLS Solicitors, adds: "What I've learnt from today is that AI is out there. It sounds interesting but also a little bit scary at the same time. I'm old school, I'm very people-oriented – but it's about opening your mind and looking into the future to see what's going to work best. 
"It will help in the filtering process so I can focus on the people side, which I enjoy."