Transport
It is a conundrum which has stumped many trailblazing technology entrepreneurs: how do you accelerate adoption and achieve a critical mass of users?
Rebranded app Flare, launched as Busby in 2019, believes it has the answer in its quest to create an 'ecosystem for safety'.
"We don't want to conquer the world with just our own apps – the goal has always been to create an ecosystem for safety," Kirk Ryan, technical director of the Liverpool startup, explains to BusinessCloud.
"We extend an open invitation for others to build upon our technology… this is how we'll be successful."
Flare, which featured in fourth spot on our TransportTech 50 ranking late last year, is a personal safety app initially developed to protect cyclists.
Working with the sensors in a user's smartphone, it can detect the likelihood that they have been involved in an incident. The app then begins a 30-second countdown: if there is no movement or response from the user, their exact location is sent to emergency contacts, using What3Words, so help can arrive quickly. 
Its RoadRadar tech now also alerts drivers to the presence of cyclists to keep them safe. "Of all the severe or fatal injuries that happen on the road, 44% of them are due to lack of driver awareness," Ryan explains. "Drivers are not aware that you are there, they misjudge your speed, they aren't paying attention, they are on their phone. 
"There's a clear problem that can be solved: how can we make drivers more aware that you're nearby? The next time a lorry with RoadRadar drives past you, they're notified in real time. It positively impacts their behaviour to ensure that they don't flatten you.
"This is truly revolutionary technology. It can be used anywhere in the world, but we're starting in the UK."
TransportTech 50 – UK's most innovative transport technology creators for 2021
Flare is targeting fleet managers to enable its tech among thousands of commercial vehicles such as HGVs. Partnerships will increase its presence in other areas: for example, it is working with Deliveroo, while it also recently announced a deal with TIER to support the safety of the micro-mobility operator's riders in London and York.
Commercial director James Duffy, who co-founded the business alongside Ryan, software development director Roger Kadama and operations director Barry Green, says linkups are essential to its future.
 "This year we're developing an API to integrate into partners' apps to enable more people to use the software without needing to download our app," he explains.
"In the early days, because we were the first in the market, we had to show people that there is a problem in society where this technology is needed: it's the eighth leading cause of death across the world.
"When Apple released fall detection on the Apple Watch, it showed that massive need. Over the last year or two, businesses and users are starting to realise that this is great technology and more and more adopters are picking that up and using it. 
"Our mindset was a couple years ahead of where the technology was at the time – but that's why we are where we are now."
Flare attracted users in 129 countries with only English in its app. The technology is now available in nine languages.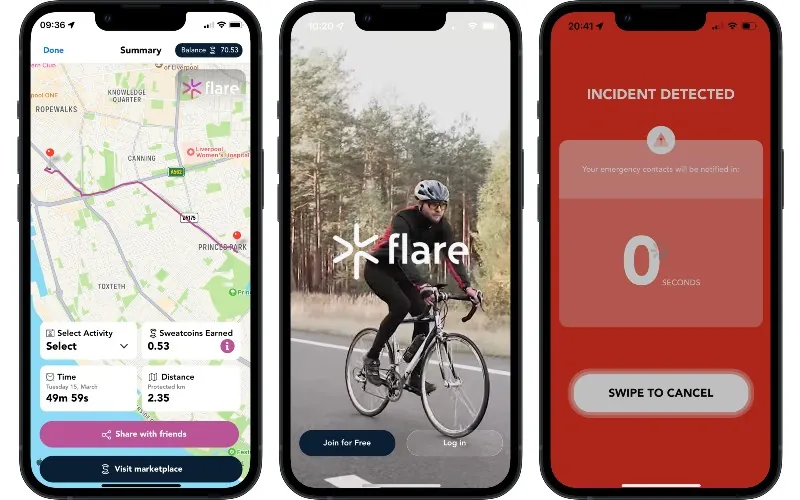 "We know it's a global problem and that people understand it very clearly," says Ryan. "The second-biggest user-base we have is in the US. We've got plans and ambitions to make sure that we grow in North America."
It is expanding its focus into more general personal safety: for example, users can now locate their friends and family through the GroupSafe feature and call for community assistance if they ever need help, which alerts other Flare users.
SOS alerts to loved ones – say, on a night out – can also be activated via voice command or gestures, such as a double or triple tap on the back of the user's phone.
"That was a feature requested by couriers that are out on the road today," says Ryan. "We have all that functionality: you don't have to build it yourself. You can get started in less than a few days using this technology."
Among a raft of new safety features, the firm has enhanced its SmartStart feature, which automatically turns Flare on in the background when users are active and out of their 'safe zone' – so they don't have to launch the app each time they set out. 
Another new feature is Hazards, which alerts users in real-time about anything that could affect their safety. Flare users can notify others about road accidents, physical attacks, near-misses and potholes.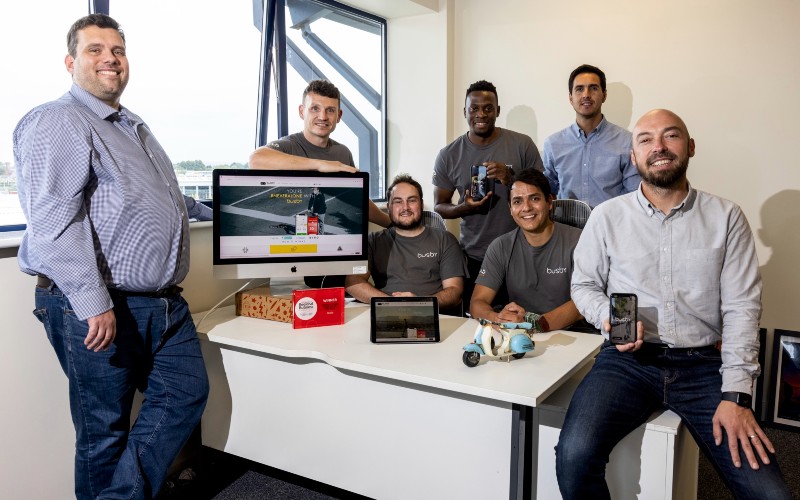 "When you start out as an entrepreneur, you're advised to focus on solving one problem for a particular set of users. At the time, that was two wheels, cyclists, that was our story – and we went and proved that we could do it," says Ryan.
"It was a natural progression, when we publicised that we did incident detection, that people would reach out to us saying, 'Listen, can this work for my carriers? Could this work for motorbike riders?'
"We started a multi-year journey of training a multi-activity incident detection algorithm that now has a real powerful use case in that it can keep you safe not just when you're on the bike, but when you walk to the garage, get it out, chain it up and walk back into the building. Say you slip on ice and hit your head…. we're giving you that full wraparound protection.
"It's the same application on a night out. If you've left someone behind or they've wandered off, it's a simple way to share your live location, whichever phone you have."
Enhance your safety by downloading the world-leading incident detection app Flare for free! Gain the confidence you deserve just by a simple tap of a button, protecting you from any potential incidents and rewarding you for taking control of your safety. Download today by clicking this link: https://getflare.app/MM1v