Holovis has been crowned the Midlands' most innovative technology firm for 2020 after securing backing from both a high-profile judging panel and readers of tech publication BusinessCloud. 
Headquartered in Hinckley, Leicestershire, Holovis designs immersive and mixed reality solutions for entertainment venues and enterprise clients. 
Specialists in systems integration, complex AV, creative design and turnkey solutions, its recent projects include work with LEGOLAND New York, Universal Studios, Alton Towers and the Royal Liver Building, as well as a myriad of large-scale projects in China, Japan and the Middle East. 
The company also developed an app called Crowd Solo, which helped theme parks and visitor attractions open safely in the wake of COVID-19. 
https://businesscloud.co.uk/midlands-tech-50/
Holovis is about to open an office in Abu Dhabi to add to additional innovation centres in London, Manchester, Orlando and Shanghai. 
"We are delighted any time our team's work is recognised with an award," said Holovis CEO Stuart Hetherington. 
"But it means even more in a year like 2020, where all businesses have faced so many challenges. We've done massive installation work in China remotely, and also a lot of design work for clients. The whole team has really stepped up. 
"The diversity of our business has been a real strength during this time. We have strong creative, design, engineering and development teams and this has allowed us to pick up significant work from various parts of the globe. 
"We now have offices in four major centres in the world and look forward to expanding our reach even further as and when things return to normal. 
"But while our work covers the planet, our foundation and roots remain here in the Midlands, as does much of our talent base. So it's a fantastic award to receive." 
Peter Cliff, Holovis' Creative Director, added: "We've used this year to really expand our work and client base in both the Middle East and China. These regions have ambitious projects where our innovative approach, systems integration capabilities and turnkey solutions can really add value. 
"It's been a year like no-other for everyone, so we're delighted we've been able to find ways to attract new clients and bring in new business."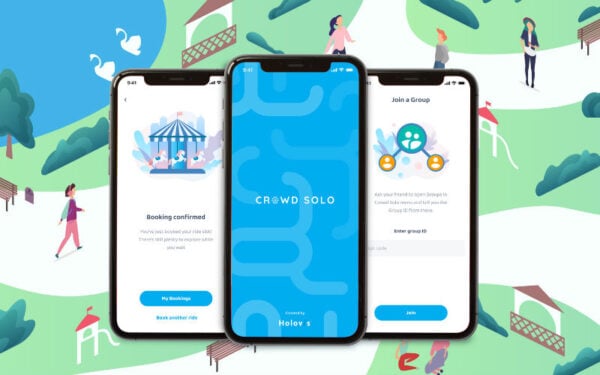 Holovis led the way in BusinessCloud's regional ranking, which compares companies of all sizes creating innovative technology.   
The top 10 featured four companies based in Birmingham, with two from Leicestershire, two from Lincoln and one apiece from Tamworth and Derby.   
https://businesscloud.co.uk/midlands-tech-50/
Birmingham had the highest number of companies in the top 50 ranking, with 18, ahead of Nottingham (11), Leicestershire (7), Staffordshire (5) and Lincoln (3). The West Midlands contributed more than half of the top 50. 
Holovis topped the ranking ahead of Birmingham's Adapttech, which is developing prosthetics technology which includes 3D scanning, a wearable device and app. The top two were both new entrants for 2020. 
Tamworth company Enlighten, which develops e-learning solutions and augmented reality for mental health, was third after topping the ranking in 2019.  
Digital pay-as-you-go life insurance provider DeadHappy (Leicester) and coding bootcamp School of Code (Birmingham) rounded out the top five. 
Birmingham's Geospatial Insight (6), which provides business intelligence based on satellite, aerial and drone imagery, and HIT Energy Services (7), which provides remote monitoring and maintenance of solar power installations, were among six firms to make the top 10 on their first entry to the ranking. 
BusinessCloud called on its readers to vote for companies from a 117-strong shortlist and saw more than 1,300 votes pour in.   
A combination of these votes and choices from an expert judging panel determined the top 50.   
The judging panel was comprised of:   
Naomi Nash, entrepreneur engagement manager (Midlands), Tech Nation

 

Anita Bhalla OBE, chair, Creative City Partnership

 

Lewis Stringer, MEIF senior relationship manager (East and South-East Midlands), British Business Bank

 

Nicola Wright, senior business development manager, West Midlands Growth Company

 

Iain Mansell, deputy director, Innovation Alliance for the West Midlands

 

Jonathan Symcox, editor, 

BusinessCloud

 
Midlands Tech 50 is one of 11 regional tech innovation rankings from BusinessCloud which shine a light on the companies of all sizes doing amazing things with technology.