MediaTech
Investment
A startup behind animations which it says could eventually replace GIFs has raised £3.2 million seed funding from VCs and angel investors.
London's LottieLab is a motion design and collaboration platform already used by designers and developers at TikTok, Canva, Airbnb, Twitter, Duolingo, Google, Uber, Apple, Amazon and Microsoft to produce animations.
As fully-rendered moving images, GIFs take up a lot of space on apps and websites and aren't interactive. Crucially, they cannot be exported as code and as such cannot be manipulated by developers.
The emergence of the Lottie file type in 2017 made it easier to create high fidelity animations and export them as code. Lottie animations enable scalable vector animations on web, mobile and desktop and are used in over 80% of the top 100 apps on the App Store, placing it on a rapid trajectory towards becoming the industry standard. 
However, working with Lottie animations today still requires the use of Adobe After Effects, a 30-year-old VFX tool with a steep learning curve, not fit for purpose and a patchwork of error-prone plugins.
Enter LottieLab. At its heart, LottieLab is a browser-based end-to-end animation platform, for teams to craft pleasing, intuitive and fun digital experiences.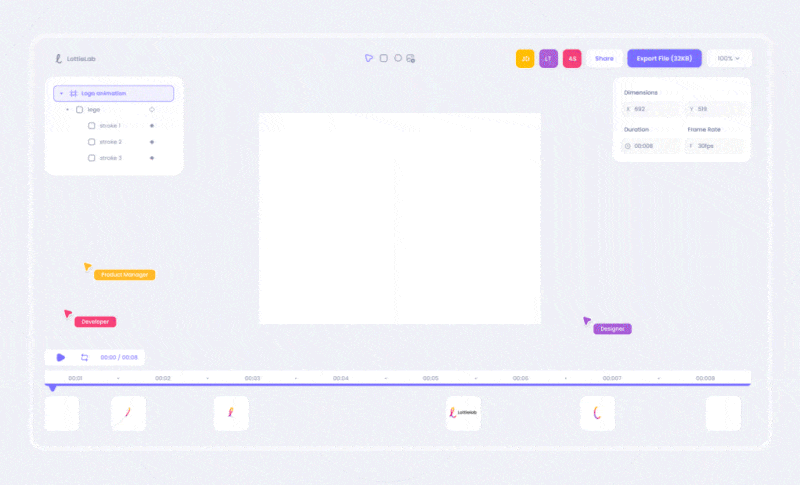 The seed round was led by early-stage VC firm Point Nine and included participation from podcaster-turned-investor Harry Stebbings's 20VC, Entrepreneur First, and some of the world's most prominent founders such as CEO of Webflow, Vlad Magdalin, CEO of Invision Clark Valberg, former CPO of WordPress Aadil Mamujee, the CPO of Slack Tamar Yehoshua, CEO of Squarespace Anthony Casalena, Former VP at Twitter Rob Bishop and Ex-CEO of Product Hunt Josh Buckley.
Founders Andrew Ologunebi and Alistair Thomson met at Entrepreneur First, the startup accelerator program that focuses on talent investment. Both are design and animation experts who have created products used by millions of people globally. 
From Silicon Valley to Europe, they have also worked at global tech companies like Salesforce and Cisco, and previously managed their own design and software agencies helping multiple fast-growing startups build out cross-platform digital experiences.
LottieLab only launched last July and is looking to grow its team threefold in the next year.
"I'm a big fan of sharing funny GIFs with friends, but for high quality product animations, we need a format and tool that's fit for purpose," said CEO Ologunebi. 
"With LottieLab, we are decluttering the motion design process and bringing it into the 21st century. LottieLab has all the benefits of modern design tools fit for today's product development teams; being web-based, collaborative and simple, and crucially, there's no After Effects qualification needed to use it. 
"This is one of the first steps we are taking towards our mission of democratising motion design for everyone, everywhere and to create a world of storytellers, making the web more fun through animations. I'm over-the-moon that Point Nine and our other investors have decided to join us on this journey."
MediaTech 50 – UK's most innovative media technology creators for 2022
Christoph Janz, partner at Point Nine said: "Tools like Figma and Canva have democratised creative design for millions of people, but when it comes to animations, things haven't changed much in the last decade. 
"We're thrilled about LottieLab's vision of democratising motion design and we're excited to work with them as we drive towards a future of making animations easier for all."