It is time for schools to incorporate modern technologies into the teaching curriculum, says former Manchester United star and businessman Gary Neville.
Neville spoke of his deep-rooted passion for digital inclusion and opportunity, which he believes must begin at the grassroots education level, during a session on the third day of Manchester Tech Week as he opened anchor event Digital Transformation EXPO (DTX).
The expo at Manchester Central is bringing together business and IT leaders from across the Northern tech community for a host of panel sessions and networking opportunities.
Neville – who co-founded higher education establishment UA92 with several former United and England stars alongside Lancaster University – made a case for disrupting conventions by changing school subjects to bring in new areas that align to modern job roles and build digital proficiency.
"The use of social media should be a subject at school. Start to pull modern technologies into the curriculum so it adapts to one that really focuses on the jobs that are available in 2022," he said.

This was later echoed by Beena Puri, innovation and partnerships Lead at Greater Manchester Combined Authority, who said that the current curriculum is not fit for purpose.
Neville also addressed how we need to disrupt the crucial need for upskilling current staff to ensure they are able to thrive in digitally transformed working environments. "We have a thriving tech sector in Manchester, but we have got a huge skill shortage," he said.
"We need to retrain a lot of the over-40s to get them aligned with the jobs that are available – whether it be in tech, crypto or blockchain and all the different areas that are going to come to the fore in the next five to 10 years. 
"We've got a huge retraining exercise to do."
As modern technologies proliferate, there is a mindset shift that needs to take place in order to bring people on this journey together and match people with vision. 
John Hobson, VP and CIO at Kellogg Europe, was clear that innovation has to be encouraged as a part of business culture – with people at the heart of this. "We have an ambition that everyone has a seat at the table," he said. 
"We have a rich mix of backgrounds and experiences and I truly believe that if you bring these people together with high standards who can bring different ways of thinking – that's where the magic happens."
Senior leaders in attendance reflected on how the global pandemic was a true catalyst for digital transformation. Jaz Chana, technology director at Cinch and Katie Gallagher, managing director at Manchester Digital, commented on the rapid technology shift taking place and the demand for digital roles across all sectors.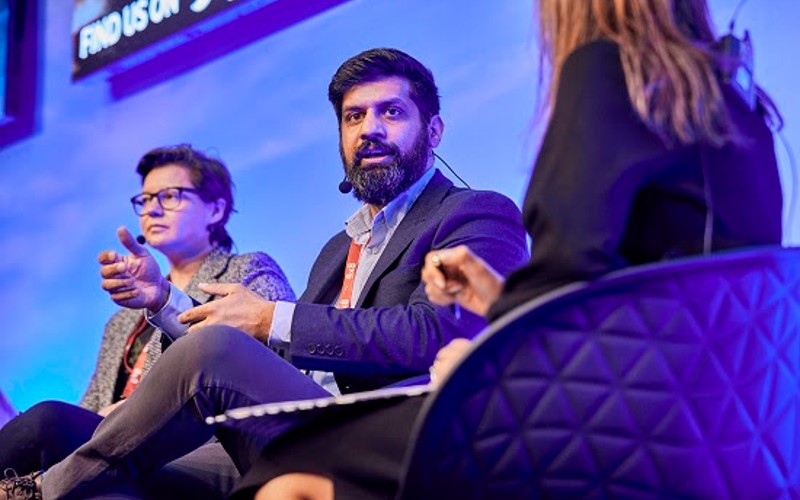 Chana (above) believes that tech needs to be an enabler and leaders need to bring their teams to the work in order to innovate at speed. "It used to be that technology was a competitive advantage because only a small number of people had a good understanding of it. It's ubiquitous now for every company, everyone is on the same stage," he said. 
"Technology is an equaliser, not a differentiator. Speed is your only real competitive advantage."
Gallagher commented on the impact this is having in the search for talent. "This year is particularly interesting because we are dealing with the normal talent shortage as well as the pent-up demand post-COVID," she said. 
"There has been a massive drive through digital transformation, so the types of companies we work with have completely changed, it's not just digital and tech companies – most companies now have a tech or digital capability." 
The event brought initiatives within large national organisations to life. Attendees heard from Co-Op Bank's head of UX & optimisation, Becky Franks, and service designer, Kerry Newton, who shared insight into its Digital Bees initiative that connects colleagues to the community. 
These projects work to increase digital confidence, address the skills gap and encourage people from all backgrounds to pursue careers in tech, as well as supporting people in developing core digital life skills.