MediaTech
The COVID-19 pandemic has placed more importance than ever before on maximising the impact of marketing spend. 
Thanks to technology, companies today have unprecedented access to analytics behind their digital campaigns. Yet tech has also led to a rise in 'click bots', which threaten to throw that marketing spend straight down the toilet – and place revenue-hungry SMEs in danger of folding. 
Enter Beaconsoft. Listed by Tech Nation as one of the top artificial intelligence companies to watch out for in 2020, its Beacon platform enables users to understand exactly how much of their budget is being wasted by these automated programs, which are designed to carry out ad fraud across popular channels like Google Adwords, Facebook, Instagram, Twitter and Snapchat as well as programmatic advertising. 
Indeed, 30-50% of paid search and social traffic is from fake clicks and bots. 
"There isn't actually a great deal that businesses can do to protect themselves from click bots – particularly SMEs," Stewart Boutcher (below), founding CTO and data lead, tells BusinessCloud.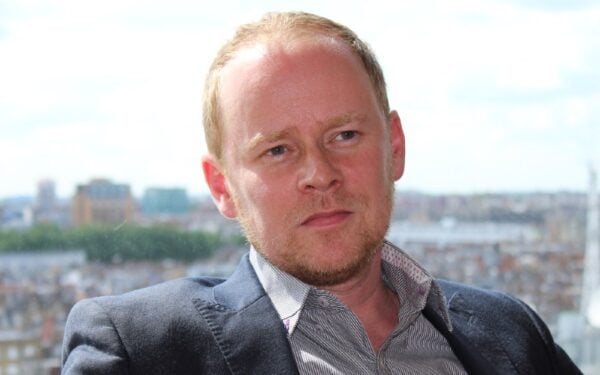 "The vast majority of these organisations simply do not have the time or resources required to combat the problem and they are therefore reliant on outside sources for help. 
"The next steps – specifically to remove the negative impacts of ad fraud – are very complex and demand a lot of time and effort. 
"The threat that ad fraud poses to businesses is significant, widespread, and should not be underestimated by digital marketers." 
The concept behind Beacon was born when Boutcher was running a digital marketing agency back in 2016. "As we were managing campaigns for our clients, we soon realised there was a big disconnect between the data we were receiving from advertising networks and the numbers we were seeing from our own traffic monitoring," he explains. 
"It transpired that this disconnect was the result of fraudulent clicks on our clients' ads, which were wasting significant portions of their advertising budgets.  
"Following discussions with fellow agency owners, we learned that this problem was not only unique to us, but was commonplace throughout the sector, however many had simply resigned themselves to the fact that it was just how things are. 
"The further we looked into the issue, the more the need for a platform like Beacon became apparent, and the company as it is today was born out of this need." 
The platform does not simply block bots that click on a business' advertisements, but instead acts to stop them costing money – taking steps to remove this traffic from clients' marketing channels. 
"Using data from a bot database, we track bots that are having a negative impact on digital marketing campaigns and then prevent them from engaging with any future adverts shared by our clients," says Boutcher. 
"Put simply, if a bot can't see an ad, they are unable to click on it, and this means that our clients' campaigns receive a greater amount of human interactions, thereby delivering a stronger ROI."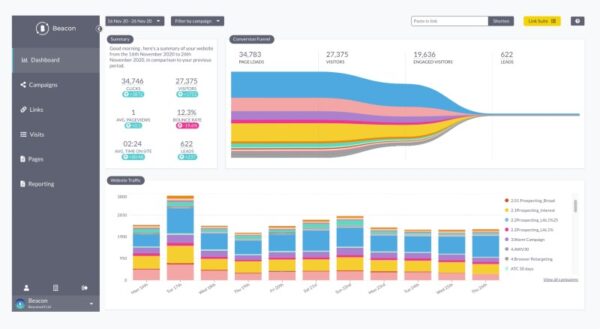 Research by matchseries.com shows that global losses from ad fraud in 2020 reached a total of $35 billion, while a Campaign Asia report published in December found that ad fraud is stealing 20% of the world's online ad spending.  
Many of the world's biggest companies are also being affected: for example Uber turned off two thirds of its annual advertising budgets – roughly equating to $100 million – and saw no change to the effectiveness of its marketing campaigns. 
Leeds-based Beacon employs 13 people and has ambitions to expand around North America with the support of Tech Nation and the Department for International Trade. 
"We have seen consistent growth over the past two years, and we are aiming to grow our revenue substantially over the next 12 months and beyond," adds Boutcher.  
"In addition, we're working closely with the UK Government's Department of International Trade, which is providing us with both financial and in-market support to enter the US market.  
"Our first US clients have come on board this year and we are looking to expand a great deal more in North America.  
"We are also looking at working with the DIT and Tech Nation to explore opportunities in Asia and Far East markets. As our operations continue to grow, both in the UK and abroad, I anticipate that our team will naturally grow too." 
Boutcher has been engaged in the technology sector since 1995 at a senior project manager & board level across organisations from entrepreneurial to PLC. 
He is a member of DMA North Council, leading its artificial engagement project, and digital project lead for the nationally important UK Police Memorial, where Beaconsoft provides technology and data support. 
"Beacon has been involved with the UK Police Memorial as a tech partner since 2015 and has been responsible for ensuring the trust's website is kept safe, accurate and accessible," says Boutcher.  
"In addition to this, we host the UK Police Memorial website and make sure the technology behind it remains operational and up to date.  
"My personal involvement with the organisation has been to work with trustees and partners such as Liverpool John Moores University in building a digital memorial for the thousands of men and women who have given their lives in the service of their communities, which will go alongside the physical memorial at the National Memorial Arboretum in Staffordshire once complete.  
"I am incredibly proud and honoured to have been a part of this – as is everyone at Beacon who has been involved in the project."