HealthTech
A smart cup which launched recently is aiming to help prevent the estimated 40,000 avoidable hydration-related deaths which occur each year.
To this day, hydration monitoring is still paper-based, relying on staff manually recording fluid intake via inaccurate fluid paper charts.
In response, Liverpool-based Aquarate has created the Hydracup, the only smart cup on the market which can produce accurate data that integrates into care systems, saving staff time and delivering quality care. 
The Hydracup discreetly tracks an individual's fluid intake by measuring liquid volume automatically, allowing caregivers to proactively support further fluids to those who need it the most.
One individual who has tested the product is 90-year-old Richard, who lives at home with his wife Valerie.
"With recent health issues and facing dementia, his family were keen for an easy way of monitoring his hydration," Aquarate founder Rebecca Taylor tells BusinessCloud.
"He has been using the Hydracup for a few months now and his family are delighted with the results."
One of Richard's daughters remarks: "We now know with confidence how much my Dad is drinking each day – and it's helping to keep him properly hydrated." 
His other daughter adds that her father seems "alert, brighter and like his old self again".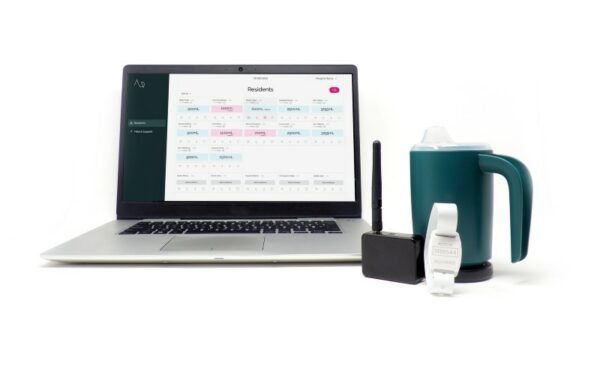 The lifesaving product, which works with both cold and hot drinks, can also restrict fluid management to limit consumption. With a five-day battery life and spill detection alerts, the cups have been sent out to the firm's first customers. 
"Over the last year, Aquarate has accelerated hugely – our Hydracup is fully ready for market and we have shipped our first orders out," says Taylor. 
"We have moved production partners too and will now be manufacturing in Europe to provide quality assured manufacturing which is essential for our customers. We have a number of products in the pipeline." 
Aquarate featured on BusinessCloud's HealthTech 50 ranking recently.
HealthTech 50 – UK's most innovative health technology creators for 2021
Taylor adds: "We are targeting home care and care homes initially, both directly and through council channels. We are seeing a huge demand from the rapid response teams post hospital discharge, as it's essential people can recover well in their own homes. 
"One of our first clients is NRS healthcare who are working with South Devon NHS Trust to provide the correct equipment as care plans are put in place.
"We are in talks with several councils, and as well as the obvious improvement in care provided, they are also seeing huge cost saving potential with the technology in place. This allows for a reduction in hospital admissions and further deterioration when Aquarate Hydracare is used."