Retail
Deals
It's a refrain we've heard before at BusinessCloud: 'Our technology was years too early.'
When Go Instore co-founder and CEO André Hordagoda makes the claim, there is no doubting its veracity.
The London company, founded in 2014, provides live video technology for retail brands, connecting online customers with in-store staff – leading to bricks-and-mortar levels of sales conversion.
It is several years since we first featured Go Instore in our erstwhile magazine and on a breakfast event panel – take a bow, head of sales Jeremy Dodd – and it was interesting to see it snapped up in a US takeover last year.
However it took the small matter of a global pandemic to convince the wider world of the need for its technology.
"There has been an element of luck with us: we've been in the right place at the right time," admits Hordagoda (pictured, left, with co-founder Aman Khurana). "We were two-to-four years too early. I don't know how we survived it, but we did.
"When COVID hit, we went from a 'nice to have' to 'we need you right now'. We were in a position to charge people upfront, because we had a lot of demand. And we used that to fuel our growth. We went [from 11 staff] to 65-70 in under 18 months – and we didn't meet any of them physically!
"Look at the way that people communicate now: we're moving slowly back to this face-to-face video situation. COVID was horrible; but it created the perfect storm for us as a video-first technology to grow. 
"We would have gotten there in the end, but I think it accelerated us probably by five years."
Unieuro & Italian lockdown
When Italy went into lockdown in February 2020 as the European epicentre of COVID, Unieuro – its equivalent of Currys PC World – was an early indicator of the changes to come.
"On the Friday, calls went to zero as all non-essential retail was shut down… then on the Saturday the calls came back up – and they were higher than we've ever seen. We didn't know what was going on!" recalls Hordagoda.
"This guy who worked for HP in Unieuro had gone into the store, picked up his Go Instore phone and app, went home and cleared the dining room table – and just started serving people from home. Transactions were going through the roof!
"Quite quickly thereafter we had brands like Signet Jewelers, Pandora and Dyson come to us. If you'd asked them a few months beforehand whether they would mind their sales staff using their own homes to sell, they would have said 'no way on Earth!'"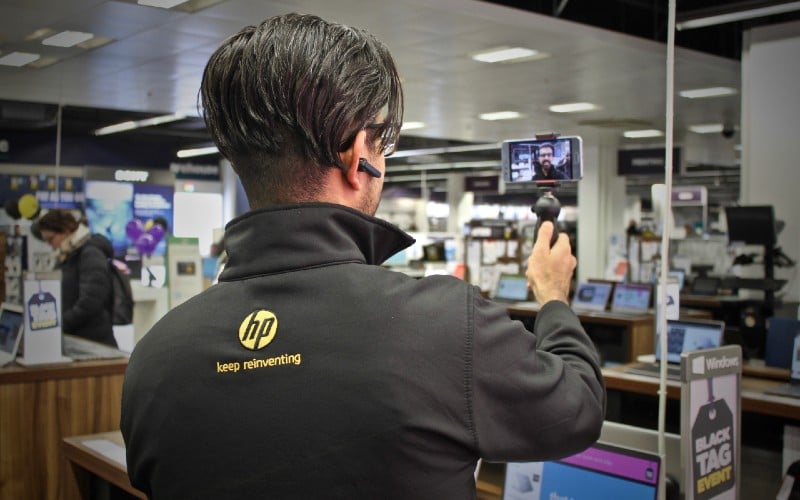 He adds: "Right now, if you go to Sonos's website in the UK, you're connected to someone in their own home. People are still doing it.
"You can imagine the efficiencies: you've got one store, it can be located in a low-rent place – it doesn't need to be on Oxford Street – it can be open 24 hours, normal restrictions around opening hours don't apply, and you don't need to hold stock there – you can have one of each item potentially."
RetailTech 50 – UK's most innovative retail technology creators for 2022
RetailTech 50
& acquisition
Go Instore, fourth in our RetailTech 50 ranking this year, was snapped up in 2021 by acquisitive US brand Emplifi – a global provider of SaaS-based, omnichannel consumer experience software backed by Audax Private Equity – for an undisclosed amount. Emplifi, which has 750 staff, works with brands such as Delta, Ford and McDonalds among a 7,000-strong customer base. 
Prior to the deal, Go Instore had grown with just $1.5m of angel investment and bootstrapping.
"We were one of three pioneers leading this technology across the world… then when you cross the chasm, suddenly every man and his dog is claiming they can do the same thing!" laughs Hordagoda.
"We knew that this market consolidation period was coming where you start eroding on price. We had two options: take on a whole bunch of money and go from being this one-shot wonder point solution – one-to-one video – and turn ourselves into a platform; or we absorb it to another company which gives us that platform status. 
"We went for the latter, which to be honest is a far quicker way of doing things."
Prior to Go Instore, Hordagoda held senior roles at large enterprise companies such as Experian and Smart Focus, as well as working closely with early growth-stage businesses.
He adds: "You've got companies who are in our space who talk about doing chat and pictures alongside video, but we've stuck to our guns on video-first. The principle is quite simple: people buy from people, and the reason that you convert at 20%, 30%, 40% when you go into the store is because there is someone there to help."
M&S uplift
Go Instore's technology – which allows customers to connect to a store associate via video in under 10 seconds – saw M&S achieve a whopping 35% online conversion rate. The company counts Currys, Pandora, Samsung and HP among its customers.
Brands can also use the Go Instore platform to create streamed video events on their own platforms or via social platforms such as Facebook and Instagram.
"Our business grew because of COVID, but the flip side was we were in a position to help thousands of store staff around the world who would either have been furloughed or made redundant," says Hordagoda.
"[We were also an enabler for] those consumers who needed help with buying a laptop, for example, but could no longer go into a shop for help. All of a sudden everyone needed a laptop or an ability to do video calls with their friends and family around the world – so we were in a position to help the industry as a whole."