About Go Instore
High customer traffic is online, but outstanding customer experiences resulting in high conversion rates are delivered in-store. How do we combine the two for a seamless selling experience?
Introducing Go Instore, an Emplifi Company…
Since 2014, Go Instore has been leading the live video shopping revolution, globally. Founded by two retail technology veterans, Aman Khurana and Andre Hordagoda, Go Instore connects online customers with product-matched in-store specialists, using immersive HD video. By dramatically increasing the use and reach of traditional retail working environments for staff, Go Instore provides the unrivaled benefits of an in-store experience for customers combined with the convenience offered via the use of phone, tablet or desktop from anywhere in the world. It combines the huge traffic potential of websites with the significantly greater conversion rates associated with visiting a store, to deliver a new method for brands to engage and serve their customers.
How We're Re-Defining The Live Video Space
As the pandemic altered our retail habits forever, and the world became increasingly technologically dependent, more and more retailers, platforms and vendors attempted to add live video to their platform. But, as the market now realizes, video is actually the easy bit – it's the delivery and execution that defines success. At Go Instore, we didn't add live video, we started with it. We've been trailblazing since 2014; developing a plethora of high-tech features to ascertain our place as the world's number one.
Our one-to-one solution allows in-store staff to engage and convert online customers in a consultative, personal setting. Customers can connect to a store associate via video in under 10 seconds. We product-match our associates on their expertise, to ensure you're always in the right place.
With our one-to-many feature, ShopStream, retailers and brands can experience unique, industry-first features, such as the ability to broadcast to unlimited audiences on their own website, be it product pages, category or even dedicated pages, as well as simultaneously reach audiences across multiple social channels. ShopStream allows users to add to their basket as they go, ask questions in a live Q&A, and should they wish, navigate to a live one-to-one video session in a matter of clicks.
We've developed features such as 2 Way Video, Virtual Backgrounds and Appointments alongside our standard offerings. We have powered countless humanized experiences, trained global teams of product specialists, and partnered with the world's leading retailers. As we settle into 2022, this growth sees no signs of slowing down.
Go Instore, An Emplifi Company
In September of 2021, we took the strategic decision that the Go Instore Live Shopping platform needed to rapidly broaden its reach and its function, so that it could be made available to consumers in their preferred channel, assisting not just in commerce but also in social and service based customer engagements. As a result, Go Instore took the decision to join Emplifi, the leading customer experience platform. Emplifi provides brands with an end-to-end platform for social marketing, social commerce and social care. Emplifi brings together more than 20 years of experience, global operations, and a customer base of 7,000 top global brands, including Delta Air Lines, Ford Motor Company and McDonald's.
Our success as part of the Emplifi family recently reached a new milestone. Following investment from SixthStreet alongside other existing investors, Emplifi's valuation hit over $1 Billion- making us officially a Unicorn company!
Check out the article here.
Success Stories
Check out some of our client success stories here.
Spotlight on Signet…
Go Instore started working with Signet during 2020.
At the height of the pandemic, Signet deployed Go Instore on every website within their entire brand portfolio, including Kay Jewelers, Zales, and Sterling in the US and Ernest Jones in the UK. Customers can now instantly connect with their trusted, locally-based jewelry consultant via an instant "Live Advice" virtual connection powered by Go Instore.
This strategy proved highly successful. In spite of the decline in the retail industry, online sales increased by 72.1% in Q3 2020, and Signet received over 300,000 calls.
Spotlight on Marks and Spencer…
Go Instore partnered with the leading British retailer Marks and Spencer in 2021.
Marks and Spencer wanted to ensure their customers could still engage with their in-store experts and receive the M&S experience from wherever they are. Powered by Go Instore's technology, M&S utilizes secure, live, one-way video consultations that gives their customers an opportunity to explore products and ask questions as if they were in store. Customers can also book a virtual two-way appointment at a time that suits them, a service powered by our partners, Appointedd.
And the results say it all- M&S saw a whopping 35% conversion rate!
Go Instore, In Action
If a picture says a thousand words, a video is a whole new conversation…
About The Founders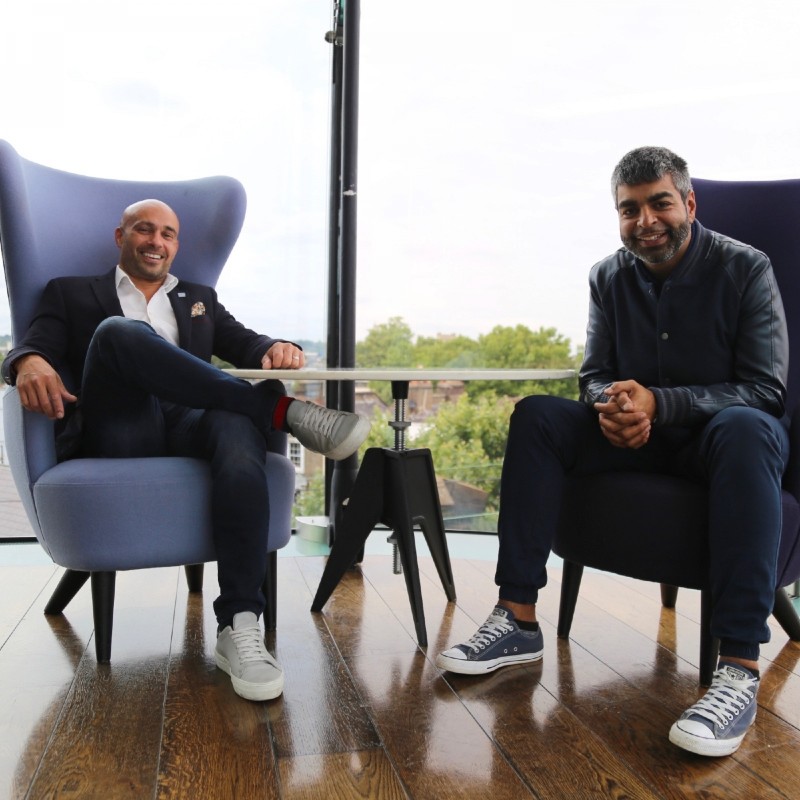 About Andre Hordagoda
Andre has spent the last two decades chasing his passion for innovative technologies with a particular slant towards optimizing customer experiences. His career has seen him hold senior roles at large enterprise companies such as Experian and Smart Focus, as well as working closely with early growth-stage businesses. Andre is passionate about entrepreneurial spirit and has a motivating leadership style. Upon recognising the huge experiential gap between online and in-store retailing, he decided to launch Go Instore with his long term friend and business partner Aman.
About Aman Khurana
Aman has over 20 years of experience in the technology industry. Initially starting his career as a technical consultant, he quickly progressed into commercial roles, going on to lead commercial operations at various start-ups. Aman recognised the importance of working in an environment where people loved coming to work, and working with customers who genuinely felt they were receiving an outstanding level of service. With this in mind, he successfully launched his first start-up in 2010, before deciding to join forces with his childhood friend, Andre Hordagoda.
Together, the pair co-founded Go Instore, successfully instilling both values whilst creating the ultimate online customer experience, and forever changing the way businesses engage with their customers.