Retail
In 2012, a group of MIT students transformed an innocuous household item into an environmentally-friendly product which transforms into herbs, vegetables and flowers.
The novel, cheap invention was the brainchild of Michael Stausholm, who brought the product to the world in 2013 after working with the MIT students.
The hope was to inspire people and companies to take more sustainable actions, no matter how big or small.
It worked. His Danish firm has now sold over 26 million items in 80 countries, with revenue expected to exceed £6m this year.
Michelle Obama used them to promote the publication of her book Becoming. Richard Branson gifts them as a souvenir to his guests on Necker Island. Global brands like Disney, Coca-Cola, Marriott, Toyota and L'Oreal all use them.
More recently the company claimed the #2 spot in Fast Company's list of the Most Innovative Companies in Europe in 2020.
That the idea is both so clever and simple is arguably the source of its biggest operational headache.
Stausholm's patented Sprout Pencil is designed to be planted when it is too short to write with. Inside, a seed capsule faces down so as it starts to germinate, the rest of the pencil dissolves and sprouts.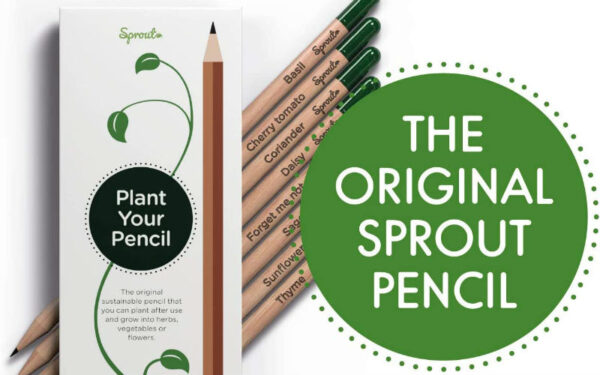 Speaking to BusinessCloud, Stausholm described a normal week in which the company finds between 20 and 100 unofficial or copycat products online, mainly on sites like eBay, Alibaba, Wish and Amazon.
In this case imitation was not a form of flattery but a growing drain on resources. The firm was devoting the hours of two employees, alongside its lawyers' time, to contacting each of these sellers individually.
"The violations are mostly from Asia, including India, but also in Europe and USA," he says of the international problem.
It was a second bright idea which has since wrestled the issue back into manageability.
Using AI software, the firm now scans the eCommerce universe for listings which match its own. Using its own images as a reference, it can thus identify unauthorised sellers and copycats.
Stausholm said that while the AI is getting better at recognising images, a text search is still the most effective way of finding and taking action.
"The system will initially send a cease and desist notice to the violator, and if there is no reaction, the legal team will take over and contact them for further action," he explains.
"It has saved us at least tens of thousands of euros each month, and much more when you include missing orders due to companies purchasing fake pencils without knowing it."
Stausholm estimates 19 out of 20 will immediately remove the infringing content to avoid legal action.
The firm's worldwide patent on plantable writing tools is active in most countries, including China, which means that plantable pencils that are not from Sprout World are fake and illegal copies.
Stausholm said that while Chinese giant Alibaba is a platform "well-known for not respecting IP and patents", he said in the past year "it has become much better and it appears that Alibaba is making a real effort to weed out counterfeits".
On the other hand,  he said Instagram and Facebook "seem to not care too much for IP and are notoriously difficult to contact, and even worse at taking action".
"Amazon, Facebook and Instagram are very lenient and slow to act against patent or trademark violators as their interest seems to be focused on having a high volume of business or users,"  he alleges.
He estimates that of the total number of violations he and his team now identify via AI, 30-40% are intentional violators.
The rest are simply proof of the idea's viability. Stausholm describes a prestigious luxury hotel in central Europe which was giving out plantable pencils to their guests and selling them in their online shop. The activity would likely not have been caught without the AI.
The hotel said it had made an honest mistake, removed its product and ordered 20,000 original Sprout pencils.