Manufacturing
The founder of a leading facilities management tech business is planning to hire 50 people and will launch a predictive maintenance platform later this year.
Cloudfm, which featured on our PropTech 50 ranking last year, grew from Jeff Dewing's garden shed into a £65 million turnover company.
Dewing, whose story was featured in our sister publication TechBlast last year, is a self-made serial entrepreneur who then had to reimagine his business when COVID-19 slashed its monthly sales from £6m to £200k.
Having somehow doubled EBITDA to £4m during the pandemic – while keeping turnover at £50m – he expects the respective figures to hit £5.8m and £60m by July this year. 
"We expect to be at 160 staff by July and will look to hire a further 50 people over the next couple of years – typically in IT and development," Dewing told BusinessCloud.
Dewing's book Doing the Opposite outlines the principle of flipping scenarios on their head to achieve success and happiness in both business and life.
He was motivated to found Cloudfm by the "lies and deceit" that he says are endemic in the FM industry, with engineers and suppliers exaggerating time on the job to inflate their income and avoid tricky questions. 
"It's not down to bad people, but the tools they are given," he explained. "If an engineer arrives late, someone will change the time because they want to meet their KPIs… data is being played about with all the time.
"Our technology is designed to be utterly transparent – good, bad or ugly, you're going to see it. If they were only there for an hour and a half, that's what it says – so that's all you can charge for.
"There's only one version of truth: everybody sees it, because you can't edit or touch any of our data. No one can delete it."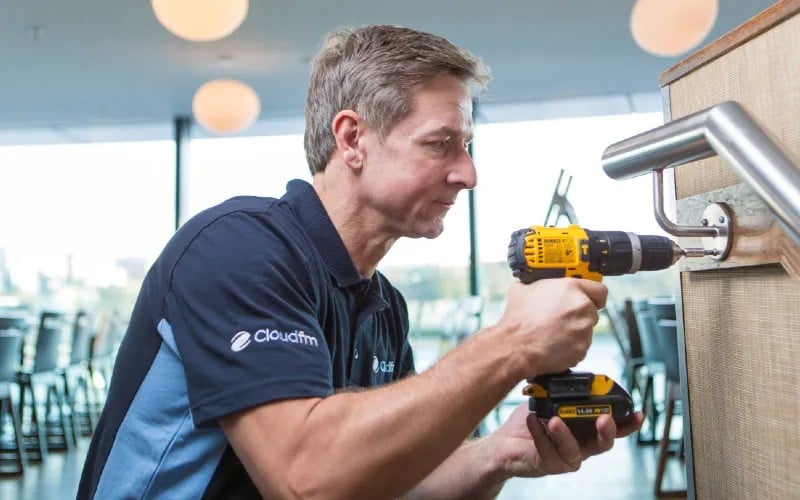 He adds: "The technology was built to influence behaviour. Everyone's trying to procure on an hourly rate – but if the plumber at £38 an hour takes three hours to do the job and the one at £40 takes one hour, how do you compare that before it's happened? You can't measure value – you can only measure cost. Whatever you spend on an hourly rate will have no impact or influence on what you spent at the end of the year – it's the behaviour of the people conducting the work. 
"Every engineer that ever goes to a site to fix a problem is controlled by the service sheet he or she fills in. That piece of paper dictates his salary – he's incentivised to go a little bit beyond the truth. And that's what we've all been doing for 50 years. That's the way the world works."
Dewing's next baby is a predictive maintenance platform, Mindsett, which has been in R&D for two years and will launch officially later this year.
"We've partnered with Essex University to build IoT (Internet of Things) that goes beyond anything else in the market," he explained. "There are numerous pilots running now.
"We expect Mindsett and Cloudfm to create a valuation of £200m by 2025."
He adds: "We are also looking to launch our Freedom platform 2.0, which will include a marketplace model never before seen in this industry."