MarTech
Investment
An AdTech platform which removes the need for tracking interested consumers through cookies has been backed by angel investors.
London-based conversational media platform Octaive raised £500,000, the first external investment by the two-year-old startup. Octaive has seen revenues more than double in the past year, making it already profitable. 
Its 'conversational media' technology generates 'active attention' through conversations between consumers and brands within standard display and video inventory. It says this means users are highly engaged in two-way conversations without having to click through to the brand's site, whilst providing agencies and brands with vital consumer data and insights.
The privacy-first solution has been in particularly high demand since Google's recent announcements on the phasing out of third party cookies, with brands seeking further customer engagement and validation beyond primary metrics such as a basic click through rate.
David Pattison, founder of one of the world's top media agencies, PHD was recently appointed chairman, with further board appointments and investments from Dominic Joseph, founder and CEO of Captify,  James Patterson, VP at The Trade Desk and Anton Hanley, founder and CEO of TLA. 
The funds will be used to scale its operations in Europe and the USA, further developing the product capabilities, and scaling up further customer support layers. Octaive has a range of high profile clients including Vodafone, Lego, VW and The Open University.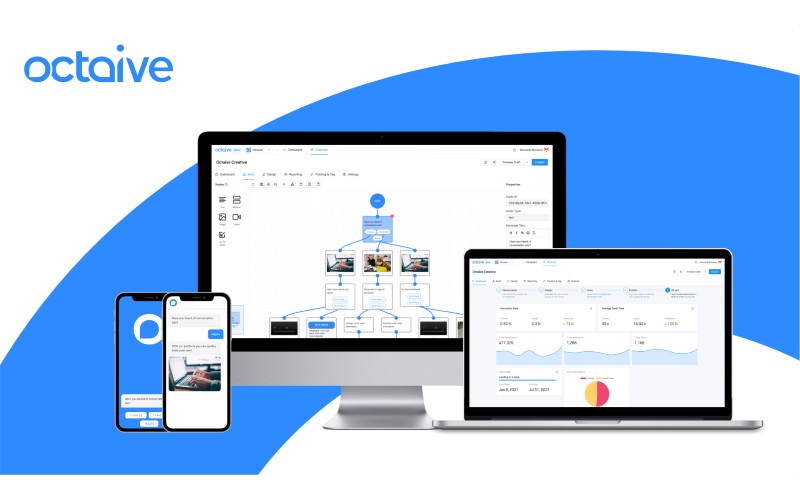 "For too long brands have been limited to just 'pushing' their message at consumers without the ability to listen but today people expect control over their digital experiences," said Sam Peters, Octaive CEO. 
"Octaive's proposition is to help brands look past outdated metrics and create ads that generate 'active attention'. Through doing this we empower consumers to personalise their own ad experiences, removing the need for cookies. 
"We have a fantastic team, partners and clients and together we're driving industry innovation. Our business has been built on a sustainable footing, in profit after just two years, so we are in the fortunate position to be selective about where we get funding and are especially excited to have such respected industry leaders now backing the company on the next phase of our journey."
Dominic Joseph, founder and CEO of Captify, said: "Captify has been working with Octaive for some time helping brands engage consumers in relevant two-way conversations. 
"Octaive is a brilliant example of a company leading the CreaTech revolution, with an innovative solution that is highly relevant today as the industry evolves towards new metrics focussed around 'Attention'. 
"In a world without cookies, Octaive offers a compelling AI proposition for brands looking to better engage with prospective customers through conversation at scale. I am excited by the unique offering and the quality of the management team and I am delighted to invest in and support the business."