Tech Nation has welcomed 31 fast-growing tech companies from across the UK into its Upscale growth programme.
Nearly a quarter of the cohort for the seventh edition of the programme – designed for fast-growing mid-stage scaling tech companies – are HealthTechs, with EdTech also heavily represented following a bumper year for these sectors.
Eleven of the latest cohort companies hail from outside of London, with two from Scotland and one from Northern Ireland. A third – 10 – of the companies have female founders or co-founders. 
The UK's mid-stage scaling tech companies – defined as being at the Series A investment stage – have raised $2.7 billion in the first half of 2021, an all-time record – and up from $2.4bn in the whole of 2020.
With around 60% of companies that raise pre-Series A funding failing to make it to Series A or beyond, the six-month government-backed Upscale programme aims to support and scale the most promising mid-stage tech companies in the UK at this critical stage of growth.
Companies accepted into the Upscale programme will receive over 60 hours of support at world-class coaching sessions – delivered by over 20 expert scale coaches – attend networking events with key stakeholders, peers, corporates and investors, and have access to a range of online resources, designed to tackle fundamental scaling challenges around culture, talent, international expansion and financing. 
Cooper Parry, Cooley and Silicon Valley Bank will be programme partners for this year's Upscale and will provide invaluable support, expertise and insights.
Liam Ward, Upscale programme lead at Tech Nation, said: "I'm delighted to welcome all of these ambitious, fast-growing tech scaleups to the Upscale programme this year. 
"The impact these companies' innovative solutions are already having on people's lives across so many industries is evident from their combined revenue of over £90 million, and it's fantastic to see investors taking note of the potential these tech companies have not only to scale but to transform every corner of society for the better."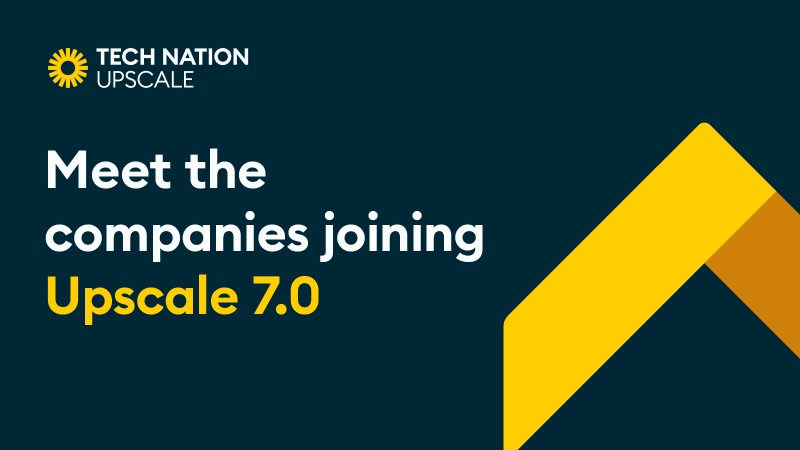 Upscale 7.0 cohort
Acurable
– London – Healthtech
Acurable is a venture-backed, fast-growing medical device company with offices in London and Seville. Its first product, AcuPebble SA100, is the first medical device in the world to obtain the European health and safety CE mark for the fully automated diagnosis of obstructive sleep apnoea. Its award-winning patented technology is a breakthrough in respiratory medicine, the result of 10 years' research at Imperial College London by Acurable's founder, Professor Esther Rodriguez-Villegas. It is based on acoustic sensing and enables for the first time the automated diagnosis, monitoring and management of several important respiratory conditions, such as Sleep Apnoea, COPD, Epilepsy and Asthma.
ISMS.online
– South East – Cybersecurity
ISMS.online is the most practical, easy to use and comprehensive path to privacy, information and cybersecurity success. It helps organisations all over the world quickly achieve standards such as ISO 27001 and meet regulations like GDPR. Its product is an all-in-one, simplified, secure and sustainable cloud-based platform with additional complementary services delivered by the company or partners.
Amiqus is an award-winning scaling tech company committed to using business as a force for good. It has built a market-leading compliance platform that makes it easier for everyone to access professional services, while helping businesses and public sector organisations get to work on the things that matter, faster.
Birdie
– London – Healthtech
Birdie is a caretech with a social mission to reinvent elderly care and radically improve the lives of millions of older people. It uses digital solutions, Internet of Things and clinical machine learning to help care professionals deliver personalised, preventative care so that our ageing population can live healthily and happily at home for longer.
Clim8 is a fintech focused on sustainable investing that allows anyone to invest in companies that are having a positive impact on climate change. Built by an in-house investment team, Clim8 portfolios are focused on companies in six core sustainable themes – clean technology, clean energy, smart mobility, sustainable food, clean water, and the circular economy – the core areas that can bring us closer to a sustainable planet in balance. In March 2021, the Clim8 Invest app went live on the App Store and Google Play, with a 4.8* rating and thousands of active users. 
Cyan builds and sells new technology to help law enforcement, social media and cloud companies find and block harmful content from paedophiles and terrorists. Cyan's digital forensics tools for police have been adopted nationally in the UK by the Home Office and are now finding international customers including in France, Germany and the USA, with applications in counter-terror policing. Cyan Protect provides a fast and secure means of blocking known child abuse and terrorist content online, and even works in end-to-end encrypted messaging apps without compromising user privacy. 
DrDoctor
– London – Healthtech
The DrDoctor platform makes an instant impact by shifting clinically-relevant patient interactions online, used by 37 NHS organisations. Patients can manage their healthcare needs without the disruption of unnecessary hospital visits. Clinicians can see more patients, while ensuring that everybody gets the care they need when they need it. Hospitals can deliver more effective and sustainable care by releasing outpatient capacity, digitising elective recovery and creating operational efficiencies. Planners can harness data and AI so they can efficiently make decisions, manage patient interactions and design more personalised care. Through simple and effective digital transformation, DrDoctor is supporting a sustainable NHS to deal with challenges when the demand for care is outstripping supply.
Focal Point Positioning's software upgrades the sensitivity and accuracy of GNSS-dependent devices. Based on advanced physics and machine learning, the software integrates across the stack, dramatically improving accuracy, reliability and battery performance, with no additional hardware or infrastructure required.
Glean
– Yorkshire – Edtech
Glean exists to help learners from all backgrounds gain the confidence, motivation, and ability to build useful knowledge from the world's information. Glean is the note-taking solution designed to improve learning in classes, lectures, and other environments; it scaffolds the learning process using best-practice techniques from cognitive science. In a post-pandemic world, the company believes that the greatest opportunity for global impact is to use technology to empower individuals themselves to learn better and to develop the skills and knowledge to be successful in a rapidly changing, globalised world, both in formal education and beyond.
Globacap
– London – Fintech
Globacap was founded to use emerging blockchain technology to completely change the underlying processes behind private capital markets. By digitising the asset itself, the platform is more than just technology – it's an all-digital ecosystem that has overhauled, completely modernised and automated the private capital lifecycle, from asset register management, to private placement and secondary liquidity.
Gophr
– London – Transport tech
Gophr is a delivery tech company that's reimagining same day delivery to make it work better for everyone involved; more efficient for businesses, more convenient for their customers, and more profitable for couriers. This is why thousands of businesses across the UK, from household name retailers to local independent restaurants, rely on Gophr to deliver same day, every day.
Healios
– London – Healthtech
Founded in 2013, Healios is a leading specialist digital healthcare company working to empower children, young people and families affected by mental health and neurodiverse conditions. Healios has created the most comprehensive virtual clinic covering multiple complex specialist assessment and psychological intervention services. By blending the best of technology, design, specialised clinical expertise and a personal human connection, Healios is transforming the experience of how care is accessed and received to help children, young people and families lead a better quality of life.
HelloSelf
– London – Healthtech
HelloSelf is the AI-enhanced therapy platform and app where expert minds provide personalised psychological advice to help you make your Self better.
Kidadl
– London – Edtech
Kidadl is the global home of family edutainment and the trusted digital source for high quality, free, personalised content designed for families the world over.
Kortext
– South West – Edtech
The Kortext platform provides universities throughout the world with all the relevant learning materials a student requires to support their learning, in a digital format. Following the impact that the Covid pandemic has had on students having to study remotely off campus, teaching and learning is now becoming a blended physical and virtual experience for both academics and students; the Kortext platform forms an integral part of the digital learning ecosystem of the university of the future. It delivers very detailed content usage data analytics back to both the administrators and academics of a university, allowing for greater personalisation of teaching and learning.
Learnerbly is the workplace learning marketplace, inspiring employees to own their personal and professional development by curating the best resources from over 200+ learning providers. The platform enables employers to give employees fast access to what they want to learn based on how they like to learn. Companies can invest in their people and transform the internal culture of learning in the business with personal learning budgets. The service also reduces admin for L&D and finance teams with simple fulfilment and invoicing. The impact of Learnerbly is highly engaged, empowered, inspired employees who are continuously upskilling and learning in the flow of work, while helping business to scale, grow and innovate. 
Legl
– London – Lawtech
Legl provides flexible workflows for law firms to support all aspects of client lifecycle management. Its modular solutions deliver streamlined client onboarding; fast, automated client due diligence and efficient payments and reconciliation tools. All of this is underpinned by seamless integrations with case and practice management systems, and in-depth insights and audit trails to help firms better understand their clients and comply with regulation.
Logically
– Yorkshire – Cybersecurity
Logically has created a suite of AI-powered products and services to detect, analyse and debunk misinformation and influence operations that may impact public health, election integrity, brand safety or national security. Its threat intelligence platform monitors and analyses the online media landscape for the spread of damaging activity and narratives, and its AI-assisted fact-checking capability provides access to a rapid and scalable fact checking service. The company works with governments, businesses and social media platforms around the world to help them detect harmful online content earlier, reducing its real world impact.
Nourished
– Midlands – Healthtech
Nourished has developed a patented 3D printing technology which allows the company to combine seven different active ingredients into personalised nutrition stacks. Its vegan encapsulation formula allows the active ingredients to co-exist without destroying each other and means they can be absorbed into the body more effectively as they are consumed as a macro. Nourished 3D prints the selection on demand using only the highest quality vegetarian and sugar free ingredients to produce 28 personalised nutrition stacks to be enjoyed daily.
nPlan
– London – Construction tech
nPlan helps clients understand uncertainty and risk in construction projects using machine learning technology and the world's largest dataset of construction programmes. Its insights are used to change the course of major capital projects, providing greater certainty and reducing costs. The company is trusted by Google, Shell, HS2, Kier, and many other clients around the world.
Perlego
– London – Edtech
Perlego's mission is to make education accessible to all. It offers an unlimited subscription to 600,000 non-fiction ebooks, empowering learners worldwide.
PixelMax
– North West – Event tech
PixelMax is an award-winning immersive communications platform using 3D technology with the aim to revolutionise the way content is provided to mass audiences and enhance the way businesses operate. It is a simple, scalable platform that helps our clients solve communication problems and wow their internal and external community. The company is changing the way organisations network, promote, inform and educate using virtual events, digital twinning and product or process simulation, aiming to create a world where we amplify every voice, transform every experience and give every idea a chance.
Spill
– London – HRtech
Spill provides therapy sessions, manager training, and tools to boost emotional intelligence — all in one place.
The Modern Milkman takes all the eco-friendly positives of the traditional milkround and gives it a modern twist. Tech makes it easy and convenient for the customer to reduce their household waste. The Modern Milkman is committed to revolutionising consumer habits by delivering fresh ways to return and reuse packaging, shop ethically and feel good about convenience.
Thrift+
– London – Ecommerce
Thrift+ makes it easy to resell best-quality second-hand clothes. It has built the operations to process clothes as efficiently as possible, and the marketplace to sell them quicker than anywhere else. Once items sell, sellers earn credit to spend, donate, or redeem with retail partners.
TriMedika
– Northern Ireland – Healthtech
TriMedika is an innovative medical technology company designing, developing and distributing the most accurate clinical devices for hospitals worldwide. It looks healthcare challenges in the eye and makes a promise to protect people and planet through meaningful technology.
Uncapped
– London – Fintech
Uncapped is Europe's first revenue-based finance provider. The company believes founders shouldn't have to give away ownership of their company to fund growth. That's why it provides interest and equity-free investments from £10k to £5 million. It charges a flat fee of 6% on the capital provided, repaid through a revenue share.
Urban Jungle is a fully digital insurance provider for a new generation of customers. It uses technology and data science to make it much easier for customers to get access to better-suited, better-value home insurance. The company crafts insurance policies for what customers need, standing against the bad habits of the incumbents, like price walking, hidden fees and interest charges.
VAUBAN
– London – Fintech
VAUBAN makes it easier, faster, and more cost-effective for people to invest together in private companies. Investors can create their private online community, share investment opportunities and invite others to co-invest in innovative companies. The magic happens in the background: VAUBAN provides all the legal and financial infrastructure needed to raise and deploy capital.
Vivacity helps governments manage their transport networks better. It uses AI to optimise traffic lights, prioritising cyclists and improving congestion. It gathers anonymous data from its networks of sensors, feeding into scheme design and network management. Ultimately, the company wants to make a citizen-first Smart City, optimising the city while protecting privacy.
Yoto
– London – Audio tech
Yoto is a cloud-based audio platform that introduces children to a world of stories, music, educational activities, sound effects, podcasts and radio. Its flagship product – the award-winning Yoto Player – is a carefully connected smart speaker that kids control using physical cards that they insert to play their favourite audio titles. The Yoto App allows parents to control the Player remotely, change settings, manage content and access other family features. The heart of Yoto's product range is its Card Store with over 400 of the best kids' audio titles, curated for kids from birth to 12+.