Retail
After OnBuy finished second in our 100 eCommerce Trailblazers ranking with its fast-growing eCommerce platform, we asked founder and CEO Cas Paton about its rapid growth – and plans for 2021
What led you to start up a marketplace?
I founded OnBuy.com in November 2016 because I recognised from my previous career as an eCommerce consultant that there was a gap in the industry for a fairer, more transparent, and ethical marketplace. With our unique approach, we've created a trusted marketplace that favours its customers and sellers equally.
Our strongest differentiator is that we never compete against our sellers at all. OnBuy isn't a retailer, so we don't hold our own stock and we never will – all of our efforts are focused on helping sellers to grow and expand their businesses.
Our belief in consistently championing the independent sellers on our platform results in a huge amount of choice for our customers, who currently have over 30 million products to choose from across thousands of categories spanning beauty, home and garden essentials, tech, toys and baby supplies.
You have grown rapidly over the last two years. What was key to that?
The 24,000% growth OnBuy has demonstrated across its first four years of business has shown that the desire for the ethical eCommerce ecosystem that we've created is tremendously strong.
Our core values of fairness, ethics and transparency – letting customers and sellers know what we're doing, why we're doing it and why it benefits them – have definitely fuelled our growth.
Customers and sellers respond well to transparency and a promise of fairness, and the more we deliver on these core pillars, the more we can grow. As we're not a retailer ourselves, our growth is our sellers' growth, so it's a win-win situation.
https://businesscloud.co.uk/100-ecommerce-trailblazers/
How big is the Poole-based business today?
In terms of staff, OnBuy has tripled its workforce to over 50 full-time team members during 2020, and when our second office opens in Manchester in spring 2021 as part of a £10 million investment into our expansion, we'll be welcoming over 100 more people on board.
Having grown up in Manchester, it's hugely gratifying to be bringing a piece of OnBuy home in 2021. Manchester is full of talented people, so this location is perfect for growing our team as we take to the global stage.
In terms of business performance, not only have we grown a record 24,000% since first launching in November 2016, but we've surpassed 600% year-on-year growth for the third consecutive year.
In the first week of November 2020 alone, we saw sales growth climb by 837%, bolstered both by our own enhancements to our platform and ever-increasing brand awareness as much as the spending habits of customers in a highly unique year.
We have over 8 million buyers and counting using our marketplace, and we've seen record numbers of sellers joining us this year, increasing our seller base by 10% each month.
What do your global expansion plans look like?
We'll bring 42 new country-specific OnBuy websites online before the end of this year, which is part of our broader plan to surpass over 140 additional sites in total by year-end 2023. This will establish OnBuy as a first-of-its-kind global player – we'll be the world's first truly global marketplace. We look forward to welcoming the world to our eCommerce ecosystem and providing more customers and sellers with a fair, transparent and ethical marketplace to shop and sell through.
Crucially, OnBuy's global growth plans will be taking us to numerous countries that other marketplaces have been unable to penetrate. We'll accomplish this by working closely with our global partners, enabling us to understand and work in harmony with these new markets.
OnBuy says it offers a fair platform for sellers. How does it differ from other marketplaces?
Our main differentiator is that we don't compete with our sellers – we never have, and we never will. That's because I believe that the classic eCommerce retailer-marketplace hybrid model is innately flawed.
There's no such thing as a 'third-party' seller on OnBuy because we aren't a retailer to begin with. Online retailers can use our platform to reach customers and grow their sales – it's as simple as that.
Along with the confidence that comes from knowing we'll never compete against them, we also offer retailers competitive selling fees, immediate payment by PayPal on item dispatch, and the chance to expand globally with us – to name just a few benefits.
We have no interest in anything other than helping our sellers succeed, while offering customers fair prices and a huge variety of products to explore on our trusted, secure platform. The ethical eCommerce ecosystem we've created is all about fairer eCommerce for everyone.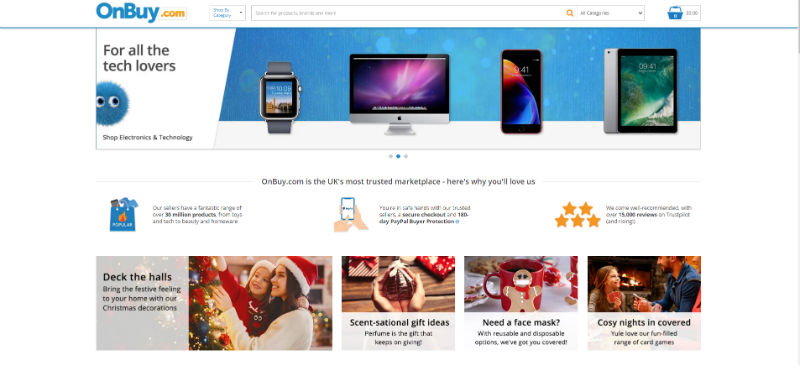 How has OnBuy helped retail businesses navigate the unique circumstances thrown up by COVID-19?
Our commitment to supporting our sellers and customers alike was – and still is – unwavering. We worked to ensure our website could handle the increased load as consumers turned to shopping online, we didn't restrict what could or couldn't be sold via our marketplace, and we made sure that customers could find both essential and luxury items at fair prices throughout.
We also invested £5 million into our marketing strategy for November and December to increase consumer awareness of OnBuy and drive more sales for our sellers. This included a national TV advertising campaign across ITV and YouTube as well as a fleet of billboards and out of home media. We'd originally planned to launch a TV campaign in 2021, but we brought our plans forward to give our sellers an even better end to the year.
One truth that has become clear as this year has taken shape is that the values that OnBuy stands for – supporting independent business along with championing fair play and transparency – have become the factors that consumers all over the world are seeking out more and more when choosing where to make their next purchase.
We welcome these shifts in perspective, while also working day by day to ensure customers and sellers each feel reassured that we're there offering certainty and reassurance, whatever tomorrow brings.
You have brought on board strategic partners. How do these relationships work?
We work with leading eCommerce integrations and logistics companies to offer sellers the opportunity to grow and scale up alongside our marketplace, while ensuring strong customer satisfaction.
We work with a range of top integrations for inventory management and delivery that sellers moving onto OnBuy from other marketplaces may already be using. This fluency of transition is key, whether a seller is joining us as their sole way of selling moving forward, or as a multichannel selling strategy that they need to run in perfect sync with their other channels.
Our vast network of partnerships gives sellers a one-stop solution in streamlining their operations and shipping their sold products to customers, while also enabling our partners to grow alongside us.

How did your own business respond to lockdown?
The lockdown came as a surprise to everyone in the UK, and we immediately recognised that the health and safety of our colleagues and their families has to take precedence.
During the initial springtime lockdown, we transitioned to a full remote-working model, running the business in a decentralised way. This let us remain agile enough to continue operating, supporting our sellers and buyers alike, and we were also able to remotely hire and train new staff even with lockdown in full effect.
To reiterate, we ensured that our buyers and sellers were made aware of the fact that OnBuy would not be limiting what kinds of items could be sold through our marketplace. This provided a great deal of relief to online retailers as much as it did consumers, and we believe it was absolutely the right move.
The arrival of the November 2020 lockdown was sudden but because we've experienced a lockdown before, we're confident moving forward, although our office space also sustains a full Covid-secure design to enable essential staff to work in the office safely.
I pride myself on providing an open, inclusive, and adaptable working environment for every member of my team, so we fully support remote working and flexible hours for those who need them, whether we're in lockdown or not.
You are looking to open a new base in Manchester in March. What is/will be your WFH and office space policies in 2021 and beyond?
While I've hired remotely in the past, Manchester made perfect sense as our second office due to the high level of tech expertise in the city. We'll be employing over 100 new team members in Manchester alone over the next two years, primarily focusing on the technical and sales sides of our business.
It would be short-sighted to expect that the international health crisis will simply vanish by Q2 2021. We have, however, demonstrated our capabilities in sustaining a safety-conscious and socially distant office space, as well as operating successfully with a remote workforce.
Going forward, a blend of that approach can be expected, as we as a society feel out what the best practices are and what the lay of the land is in 2021 overall.
Both new and existing staff are encouraged to have open conversations with their managers, and with myself, regarding their needs. I take pride in our energetic, enthusiastic, and supportive office culture, so it's important to me that we remain compassionate and transparent as we continue growing the business.
What are your hiring plans for 2021?
The events of 2020 have created countless economic concerns, but I'm excited and proud to be both growing the business and consistently hiring against the backdrop of such uncertainty.
Naturally, the main focus will be on getting our Manchester office up and running, and I'm hugely excited to unlock the talent of my home city.
Meanwhile, our Dorset headquarters will continue to grow apace with the expansion of the business. As we go global, multilingual team members are expected to join us along the way.
Having already tripled our team to over 50 full-time staff members in 2020, it's a huge upswing for OnBuy, built on the back of a sustainable and proven business model.
Has the pandemic altered the course of OnBuy itself in any way?
The global health crisis created a huge surge in consumers shopping online, some of them for the first time. OnBuy's already impressive growth has been further fuelled by this acceleration within our industry.
It'd be bold to suggest any business escaped from the emergence of the pandemic unaffected in direction and philosophy. The pandemic enabled OnBuy to strengthen our relationship with our sellers, and welcome new ones into the fold, as well as improving their marketing and tools to give them the keys to their own success.
In terms of business operations, we proved to ourselves that we can easily adapt to a fully remote and decentralised operating model while continuing our rapid growth.
How do you see the retail/eCommerce sector evolving in the medium- and long-term as a result of COVID?
Consumer expectations have been reset as a result of the global health crisis. It's become a double-edged sword, as expectations were more lenient when the pandemic began and they're now more stringent because eCommerce is a lifeline to so many people now. Standards for service are always going to be high, yet the pressure on shipping and logistics especially is going to be more consistent than ever before.
It's largely expected that the rise of eCommerce, and the heightened adoption rate of users, will remain even after the global health crisis is solved. The processes, infrastructure, and innovations we are all creating as an industry are providing a huge opportunity to lay the foundations for this decade of eCommerce.
Over time, we anticipate that the line between physical and online retail will blur to the point that true omnichannel selling becomes the new norm, across businesses and retailers of every size.
Anything else you would like to add?
OnBuy's goal is to revolutionise the eCommerce industry with the ethical ecosystem we've created, in which online retailers are given a fair deal and customers know that each purchase they make is directly supporting an independent business.
Our fair and transparent model means that we're able to provide a trusted marketplace geared towards seller success and customer satisfaction. As we're not a retailer ourselves, every sale made is a sale for an online retailer – and thanks to our PayPal partnership, we're the only UK marketplace that enables sellers to get paid as soon as they've dispatched an item.
2020 has proven to be a wild ride, yet we've persisted with our vision and adapted to the changes required when navigating its choppy waters, which has more than paid off for us and our sellers. OnBuy's team is ready for 2021, boosted through Q4 2020 with our ITV television advertising campaign and our upcoming global rollout.
Expect plenty more excitement to come!
https://businesscloud.co.uk/100-ecommerce-trailblazers/