The online retail and eCommerce landscape has evolved a great deal over the last decade – and in entering the 2020s, global events have stoked the fires of progress like never before.
As the world's fastest-growing marketplace, OnBuy.com is a testament to the increasing amount of conversations surrounding ethics, honesty, transparency and fair play in online retail. Established in 2016 by founder and CEO Cas Paton, an entrepreneur with a long history in eCommerce, OnBuy's growth is down to its ability to challenge the status quo with the ethical eCommerce ecosystem its created.
Daring to do things differently
With a fair, transparent and ethical approach, OnBuy is a true marketplace, not a retailer, so it doesn't compete with its sellers. This differentiated approach has firmly put the marketplace on the map – its business model was one that its CEO, Cas Paton, established that the industry was crying out for.
OnBuy moved to replace the 'third-party seller' relationship that online retailers had been utilising elsewhere. With OnBuy, no seller is third-party, because the marketplace itself has no first-party inventory to begin with. OnBuy has never – and will never – compete with its sellers by selling its own stock. Instead, 100% of OnBuy's efforts are put towards maximising sellers' growth.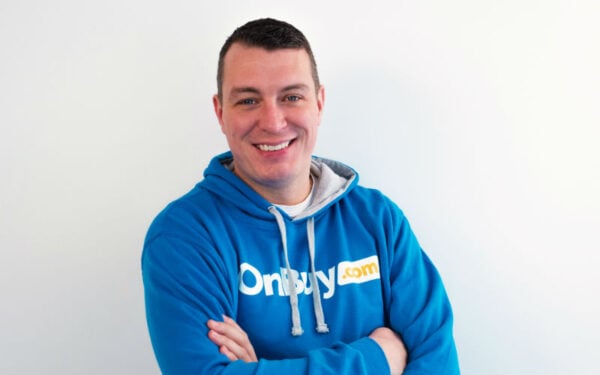 Erasing the conflict of interest
Recognising that the business model of an eCommerce platform acting as a retailer in competition with its own third-party sellers is inherently flawed, Cas created OnBuy to connect customers to sellers throughout and beyond the UK in a fairer, more transparent and ethical way.
Countless conversations with online retailers of every shape and size preceded this decision, instilling Cas with confidence that the desire for a differentiated marketplace existed.
Cas' vision was to level the playing field, and his approach soon saw success. Crucially, every seller signing up to OnBuy is given the same resources, opportunities and tools as one another, whether it's a sole trader, small family business, an experienced online retailer or a household name. Nobody is given preferential treatment, nor are the best tools kept for the biggest players or highest payers. OnBuy's commitment to supporting its sellers is echoed in its Transparent Fee Guarantee: all sellers, no matter their size or volume, pay the same fees.
Because OnBuy never operates as a retailer itself, sellers never have to worry about competition from the marketplace – instead, they can sell with complete confidence. This unique approach has culminated in customers having over 30 million products at their fingertips – spanning everything from tech, toys and baby supplies through to beauty and homeware – from sellers of all shapes and sizes.
Opening the borders to opportunity
As both the popularity of shopping online and the desire to support independent business has increased, OnBuy's mission to give online retailers a level playing field has resulted in astonishing amounts of growth.
Prevailing against national lockdowns and shaken consumer spending habits, OnBuy achieved 600% growth for the third year running in 2020. OnBuy's success translates directly into success for its sellers – with its seller base increasing by 10% every month, the marketplace has helped small, medium, and large online businesses to grow alongside them throughout a turbulent year.
The record-breaking 2020 shared by OnBuy and its sellers will serve as a springboard into an even brighter 2021, with plans for an additional office in Manchester, an OnBuy app, global expansion and much more on the cards.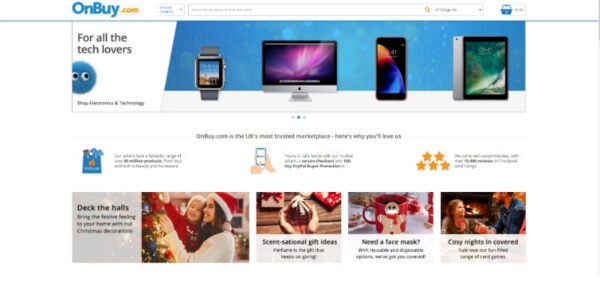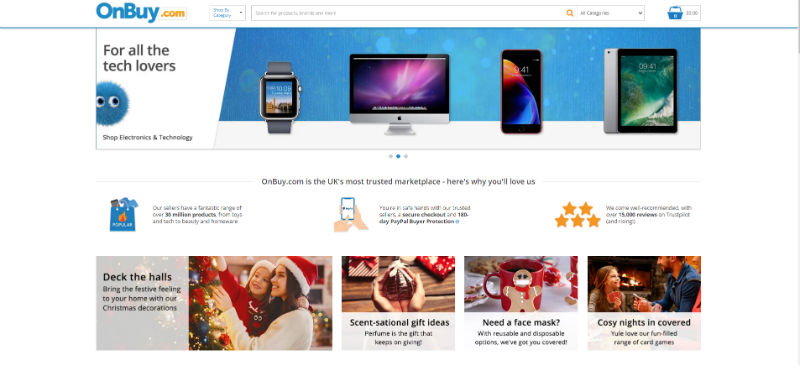 Putting people first
Bolstered by the success enjoyed well within OnBuy's first four years of doing business, Cas and the team have taken 2020 to task, pushing the envelope and the boundaries of what's possible. The business proudly sustains a dynamic and agile workforce, supported by remote working and flexible hours where needed.
Despite economic concerns gripping the UK, OnBuy is consistently hiring to cater to its continued growth – strengthened by its national TV advertising campaign shown across ITV and YouTube in Q4 – and its ever-increasing customer and seller base.
The OnBuy team has tripled in size to over 50 full-time staff members in 2020, and the marketplace is opening a regional Manchester office in spring 2021, creating over 100 more jobs over the next two years while leveraging the wealth of talent found in the city.
The global outlook
The expansion into Manchester is just one element of the bold globalisation strategy defining how OnBuy is moving forward into the 2020s. Already enjoying cross-border sales through its broadly-reaching UK marketplace, by year-end 2020 OnBuy will have launched into 42 additional countries.
These countries will each have a dedicated OnBuy website to facilitate both domestic and cross-border buying and selling, bolstered by its partnership with PayPal. Yet this is just the beginning of the overarching plan to have over 140 dedicated country-specific websites live by year-end 2023.
Each of OnBuy's country sites will operate on the same principles the marketplace was first founded with in the UK – never holding or selling any of its own retail stock, giving online sellers a level playing field so they can thrive, and allowing customers a more ethical and transparent place to buy millions of products, all while supporting independent businesses.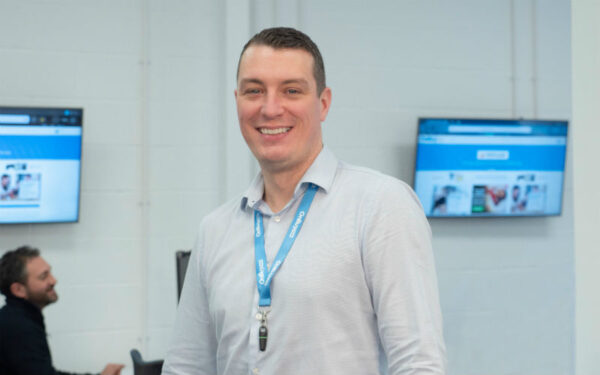 Fair, transparent and ethical forever
Despite its incredible success, OnBuy is growing in a measured and sustainable way, ensuring both that customers have access to a dependable, trusted platform to buy what they need, and that sellers have a reliable route to market that's compatible with leading integrations.
For CEO Cas Paton and his ever-expanding team, OnBuy's success is proof positive that ethical eCommerce, a commitment to supporting online retailers and providing a fair deal for everyone is what the industry needs.
Here to redefine what a marketplace can be to both sellers and customers alike, OnBuy will play a definitive role in the evolution of eCommerce throughout the 2020s – and far beyond.
—
Website and social handles: