The online retail and eCommerce landscape has evolved a great deal over the last decade – and in recent years, global events have stoked the fires of progress like never before. 
Redefining the online marketplace, OnBuy.com was born out of a need to support retailers who were finding themselves competing with marketplaces, rather than working in partnership with them. Launched in 2016 by founder and CEO Cas Paton, an entrepreneur bolstered with learnings from a long history in eCommerce, OnBuy has continued to scale at speed due to its ethical eCommerce ecosystem and its ability to flip the existing flawed marketplace model on its head.
Daring to do things differently
As a true marketplace, OnBuy protects businesses from unfair monopolisation and manipulation that put its clients, who worked so hard to make their businesses a success, at risk. 
OnBuy has never – and will never – compete with its sellers by selling its own stock. Instead, 100% of OnBuy's efforts are put towards maximising sellers' growth, and it's this business model that the industry has been crying out for. It was clear that retailers were desperate for change and ultimately, they realised the value in what OnBuy offered and saw that this new, fairer model would change the eCommerce industry forever.
OnBuy's supersonic growth hasn't gone unnoticed, and its differentiated approach has put the marketplace firmly on the map. It's this approach that has also earned OnBuy a number of recent awards, notably being named as one of The Financial Times 1000 fastest-growing companies, Regional Winner of Fastest Growing Tech Businesses in the South West in Deloitte Technology's Fast 50 2021, eCommerce Company of the Year in the UK Business Tech Awards 2020 and Online Retailer of the Year in PCR's 2021 Awards.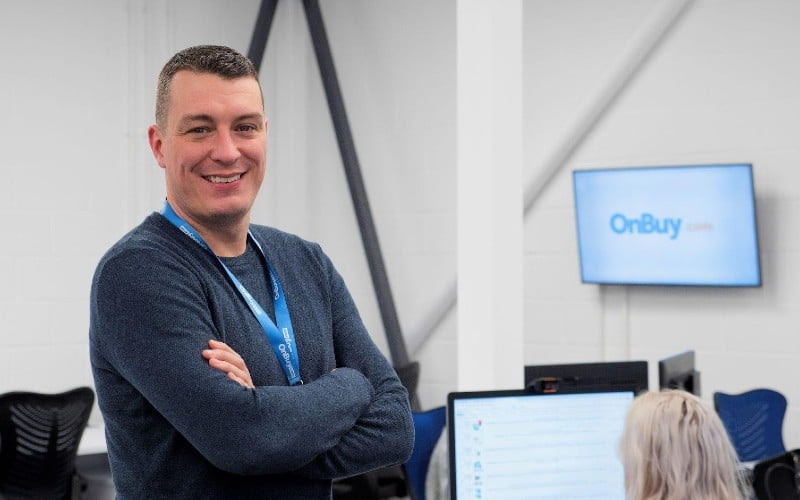 Erasing the conflict of interest
Because OnBuy never operates as a retailer itself, sellers never have to worry about competition from the marketplace – instead, they can sell with complete confidence. This unique approach has resulted in brands such as P&G, Swan, Paladone and other high street names joining the website. Customers have access to over 36 million products at their fingertips – spanning everything from tech, toys and baby supplies through to beauty and homeware – from sellers of all shapes and sizes. 
In just 4 explosive years, OnBuy became the 4th largest marketplace in the UK with over 11,000 sellers on the website, vastly outpacing competitors and solidifying OnBuy's strong market position. Not only have OnBuy beaten the odds and successfully claimed market share from other marketplaces to directly support thousands of UK retailers, but their competitive sales fees means sellers can make more margin. Growth for OnBuy is growth for retailers, which is an ecosystem that OnBuy is proud to shout about.
Opening the borders to opportunity
As both the popularity of shopping online and the desire to support independent business has increased, OnBuy's mission to give online retailers a level playing field has resulted in astonishing growth. In November of 2021, the company hit its landmark 5th Birthday with 224% annual growth in revenue year on year, an 80% increase in retailers on the marketplace and a 71% increase in live product listings. For customers, OnBuy is a trusted platform that has recently become the UK's most trusted online marketplace and grabbed the top Trustpilot spot with a strong 4.7 rating across more than 45,000 reviews.
OnBuy's continued pledge to be the best choice for retailers has delivered £5.5M of additional sales through a suite of data science-led search function developments. Additionally, OnBuy pioneered several industry-leading initiatives. Their Price Crash sale events are unique: instead of forcing retailers to drop prices during key seasonal sales, as other marketplaces do, they offer customers discounts by reducing their sales fees. The retailers still get paid the price they set and can choose to add further discounts if desired. With this approach, OnBuy achieved £2.5m in sales all for their sellers in one day on Black Friday 2020!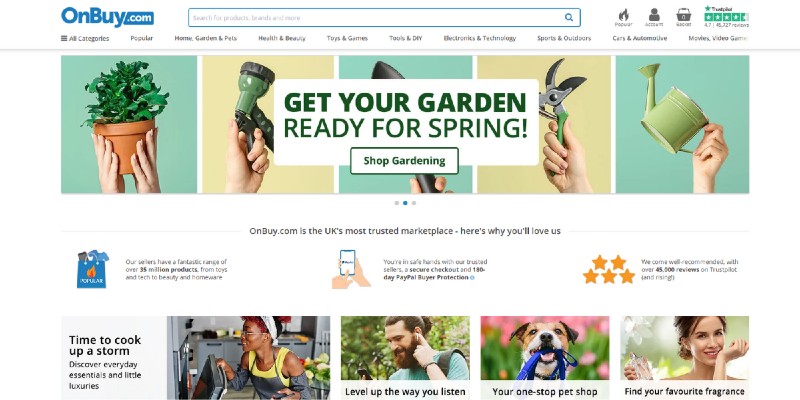 Putting people first
To accommodate such exponential growth in recent years, OnBuy has scaled its team from just 14 people in March 2020 to over 130 employees as of March 2022, growing it by 500% in just one year. Not limited to OnBuy's location, the company hires employees based on their skills, offering remote roles to attract and develop the very best talent all over the UK. The business proudly sustains a dynamic and trusted work environment, supported by initiatives such as flexi-time, hybrid working and more annual leave to help promote a healthy work-life balance.
As OnBuy prepares for some significant milestones in the coming years, the company announced their new HQ located in the centre of Bournemouth to accommodate the influx of new employees. With ample break out areas and a spacious roof terrace with stunning sea views, the new headquarters – OnBuy House – will provide over 4 stories and over 12,000 sq ft of office space, providing the team with a fantastic hub for collaboration and a place to come and enjoy being at work. OnBuy is just one of the lucrative tech companies to reside in the Southwest, creating a hub of innovation on the British coastline.
One way in which the company has rewarded staff for their commitment and hard work is by offering all 100+ employees over £1M in granted share options for OnBuy, giving them the opportunity to be direct beneficiaries of the company's future success. With an anticipated IPO in the next two years, staff are set to benefit from this sooner rather than later.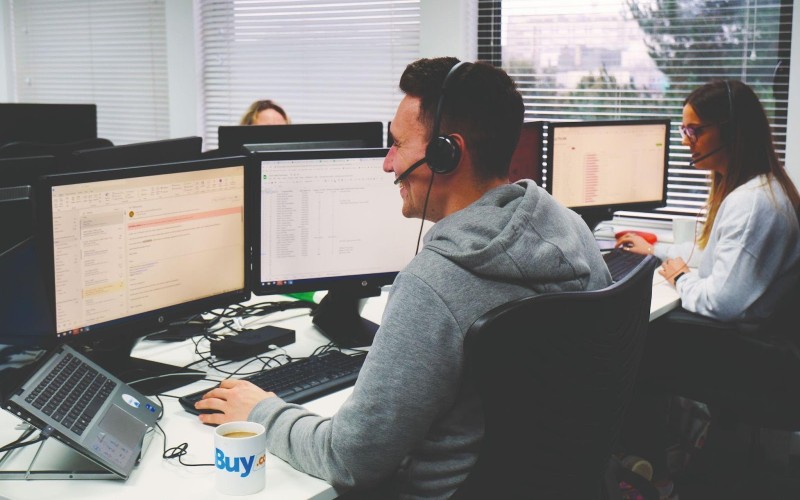 The global outlook
The expansion into Manchester is just one element of the bold globalisation strategy defining how OnBuy is moving forward into the 2020s. Already enjoying cross-border sales through its broadly-reaching UK marketplace, by year-end 2020 OnBuy will have launched into 42 additional countries.
These countries will each have a dedicated OnBuy website to facilitate both domestic and cross-border buying and selling, bolstered by its partnership with PayPal. Yet this is just the beginning of the overarching plan to have over 140 dedicated country-specific websites live by year-end 2023.
Each of OnBuy's country sites will operate on the same principles the marketplace was first founded with in the UK – never holding or selling any of its own retail stock, giving online sellers a level playing field so they can thrive, and allowing customers a more ethical and transparent place to buy millions of products, all while supporting independent businesses.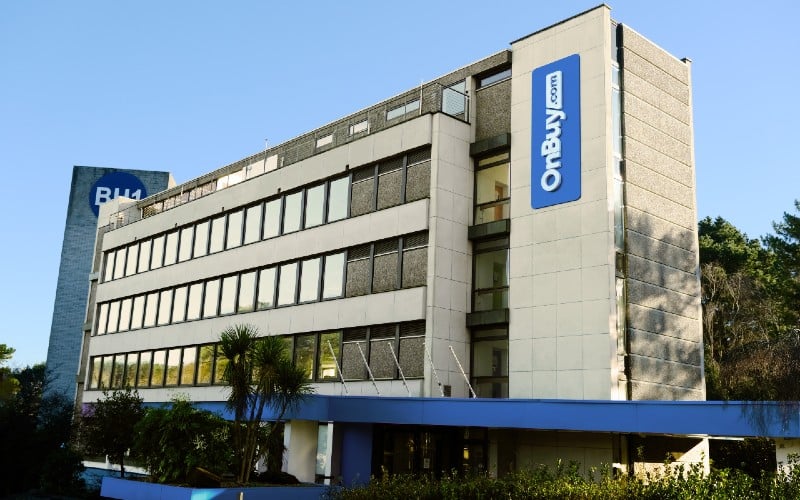 Fair, transparent and ethical forever
Despite its incredible success, OnBuy is growing in a measured and sustainable way, ensuring both that customers have access to a dependable, trusted platform to buy what they need, and that sellers have a reliable route to market that's compatible with leading integrations.
For CEO Cas Paton and his ever-expanding team, OnBuy's core purpose of delivering a fair and transparent eCommerce ecosystem, its commitment to supporting online retailers and providing a fair deal for everyone is what the industry needs.
Redefining what a marketplace can be to both sellers and customers alike, OnBuy is playing a definitive role in the evolution of eCommerce. Valued at an estimated £130M, the OnBuy journey has really just begun.
—
Website and social handles: