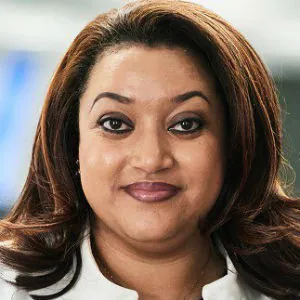 Valerie Moran, head of operations, Ecomm Merchant Solutions
I was born in Zimbabwe to a family of five children. My mother was a beautician and my father ran several businesses simultaneously: a butcher's, bakery, school uniform factory and property investments.  
When I was growing up, he worked extremely hard – and this work ethic passed to me. My mother also pressed upon me the importance of education in achieving independence and success, and I went on to study programming and became a systems analyst. 
I wanted to set up a business in my native Zimbabwe, but market conditions in the country weren't ideal, so I moved to the UK. When I met my husband Noel, I saw the potential in his idea [of prepaid credit cards]. I believed in his idea so much, I quit a good job to join him. 
We didn't have capital at the start and ran the business from a kitchen table. We were super–stretched and doing several jobs each, and only recruited staff as we needed them.  
Listen to Valerie and Noel explaining their journey from bootstrapping to a bumper payday on the FastForward podcast (below)
Thankfully, the business enjoyed 12 years of consecutive growth and this led to our HQ on Regent Street and offices in Wilmslow, Ireland and Malta. Then late last year we were taken over by EML Payments [in a £281 million deal], which saw us listed on the Australian stock exchange.  
When we started out, we knew at some point we would sell the business. However, it was not about just selling the business to anyone. It was about finding the right business that would bring us to be a listed company, have shared synergies and one that would bring PFS to new markets that our licence could not tap into.  
The team's mindset is to constantly provide innovative solutions which are best fit the ever-changing and fast-paced FinTech space and pioneer into new markets: the company today also provides e-wallets and digital banking software.  
PFS is constantly improving and being innovative with its technology to remain at the forefront of contactless, mobile payments, wearables and 24/7 real-time solutions. 
Whilst PFS was our main business, we also set up Ecomm Merchant Solutions in 2014 in the acquiring space. Ecomm's growth has accelerated very well and our focus has been tapping into the Irish, Greek, Cypriot and UK markets. We have now left PFS behind to focus on that business.
An innovative platform for our clients, it has a big focus on automation and analytics. We built the solution to provide a full end–to–end solution where we are the payment gateway, the processor and the acquirer. The intention is to grow Ecomm Merchant Solution organically like we did with PFS. 
I believe in taking a leap of faith and taking a risk to move forward. It is imperative that as an entrepreneur you are constantly thinking of your next project, never resting on our laurels and not settling.