Talos360 has integrated digital identity validation specialist TrustID's right to work checking solution into its TalosATS hiring software
All UK employers have a duty to check that the person they are about to employ has the right to work in the UK, in order to help prevent illegal working. 
Traditionally, the checks involve requesting original immigration and right to work documents, checking their validity, making copies to be kept during the individual's period of employment and for a further two years, with a clear record of the date that the check took place. They apply to all prospective employees, not just those who are from outside the UK.
During the pandemic many businesses were hiring and onboarding new staff remotely for the first time, disrupting previously accepted practices. The UK Government sought to make the recruitment process easier for companies and temporary adjusted right to work checks were introduced in March 2020. These adjusted guidelines permit individuals to send scanned documents via email or mobile app to a potential employer, instead of originals and carry out checks over video call. However, this temporary arrangement is now due to end on 30th September 2022.
Physical or digital?
Before the first lockdown in March 2020, in a predominantly workplace-based environment, employers would require a prospective employee to supply original versions of their documents. This process worked well when the hiring manager could do their own physical matching, seeing and feeling the documents, capturing copies and recording and dating the check. By demonstrating the stringency of their checking process, companies were acting within the law. Even if ultimately, a person was found to be working illegally, where their employer had carried out all proper checks correctly, the business would not face penalties, under the 'Statutory Excuse'.
The government has issued an updated Employer's Guide, with new guidance from 6th April, advising that checks on workers with a biometric residence card (BRC) or biometric residence permit (BRP) could only be done online and physical cards will no longer be acceptable evidence of Right to Work. UK and Irish citizens with an in-date biometric passport can also be checked digitally through the new digital Scheme. Further to this, Covid-adjustments will cease from 1st October, requiring employers to either carry out digital checks on eligible candidates, go back to checking physical documents or choose a mixture of the two. 
The pandemic saw a massive uptake of digital processes generally and businesses are increasingly investigating digital right to work checks as part of the overall organisational shift. Digital checking offers employers and their employees a more streamlined and simplified recruitment process, with the added confidence of full compliance around right to work.
In order to facilitate this, many businesses are setting up relationships with an Identity Service Provider (IDSP) to carry out their digital identity checks. These use images of personal ID documents that are validated using Identity Document Validation Technology (IDVT) and don't require the employer to check an original document.
Talos360 has commissioned research around the do's and don'ts of hiring in today's market. Janette Martin will open a panel debate – hosted by BusinessCloud executive editor Chris Maguire – to discuss the findings on Wednesday 29th June at KPMG's offices in central Manchester. Click on the image below to sign up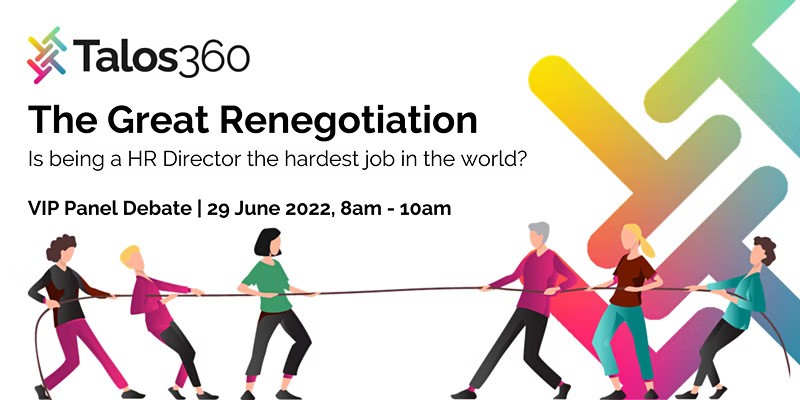 Best practice in tough times
HR professionals are facing multiple challenges at the moment. There are well-documented skills shortages in many sectors and an overall labour shortage in the UK, with a growing number of unfilled vacancies. Brexit has added to the challenges for many organisations that had previously relied on employees from the EU, including sectors such as construction, healthcare, social care, hospitality and IT, among others.
Attracting good talent seems to have become harder than ever. Since lockdown, and the prevalence of remote working, candidates have different expectations of a potential employer. As well as an attractive salary, potential employees are looking at the wider range of benefits on offer, such as health and wellbeing support, a more employee-focused company culture and the option to work from home at least part of the time. 
This means that HR teams are working under great pressure to ensure they can not only attract and hire the best people but can also engage with and retain them. Intuitive, straightforward digital hiring and applicant tracking systems can transform these processes and make hiring, onboarding and employee engagement processes easier and more straightforward. 
Talos360 offers innovative digital products and services designed specifically to support and enhance HR function. We have partnered with another best practice provider, digital identity validation specialist TrustID, and are now integrating its digital right to work checking solution into TalosATS, our advanced hiring software. 
A simpler hiring journey
It makes sense for busy HR professionals to use digital hiring solutions with integrated right to work checks. This provides the assurance of full legal compliance and protects the reputation of the organisation and its employees. Integrating and automating this process also frees up HR professionals to concentrate on the areas of their jobs that require the human touch, such as interviewing prospective candidates, developing more effective employee engagement strategies to ensure stability and continuity within their organisation, and communicating effectively with their teams. HR is all about people, and no one went into this discipline in order to spend all day at their computer. 
Employers should seek out a solutions and service provider with specialist expertise in hiring and employee engagement, with software that fully integrates right to work checks as a standard part of the process. It simplifies the hiring process, reducing the hassle for HR teams and ensuring that companies are protected. This lets them get on with the important business of achieving their organisational goals with a compliant, effective and productive workforce.