When the news broke in July that battery cell technology company ZapGo had entered administration it looked like just another business failure. 
The company, which employed 25 people, was based at Oxford's Harwell Research Campus when the administrators were called in on July 23 with debts of $14m. 
However, dig a bit deeper, and the story of ZapGo – and the people behind it – reads more like a Hollywood blockbuster movie than a business collapse.
It has all the ingredients: a memorable appearance on Dragons' Den; a string of business failures; investor disputes; claims of world–changing technology; a bitter dispute with a major US corporation; and an ongoing court case. 
At one point ZapGo's President of US Operations Charles Resnick was indicted in the US accused of fraud for submitting receipts for prostitutes as business expenses – although he told BusinessCloud the charges were subsequently dismissed. 
To understand what happened at ZapGo we need to start with the central figure: founder and CEO Stephen Voller. 
He was the public face of ZapGo, which attracted $25m investment on the back of claims that its technology would be able to charge electric vehicles in five minutes. 
The $25m was broken down into $5m of grants, $6m in equity and $14m in debt – and it was the 12-15 per cent interest charges on servicing the debt that Mr Voller said forced the company into administration. 
The 61-year-old added: "Technology businesses [like ours] don't fail because the tech does not work – they fail due to a lack of funding. 
"As we moved into the Covid crisis in February and March, when we were anticipating closing a funding round, it brought that to a halt – that's the long and the short of it." 
However ZapGo's investors give a different version of events and lay the blame firmly at the door of Mr Voller.  
So who is Stephen David Voller? 
In 2009 he appeared in series seven of Dragons' Den when he asked for £2.5 million for a 30 per cent stake in his company Bee Automobiles, which was looking to produce the next generation of electric cars. 
According to the accompanying BBC show notes, Mr Voller gave a 'nervous pitch' and described himself as the MD of an internet company and had raised £40m for various companies in the past. 
It was the biggest single investment request ever seen in the den and although Mr Voller left empty-handed, there was no shortage of advice from the Dragons. 
Theo Paphitis was reportedly 'incredulous' while Deborah Meaden quickly uttered the age–old line 'I'm out' after saying the project was a 'financial loss-maker'. 
Duncan Bannatyne, never one to mince his words, said the idea was 'crazy' while Peter Jones had the last word by saying Mr Voller was 'losing sight of reality now' as it was unrealistic to think he could make and market a car for £10m.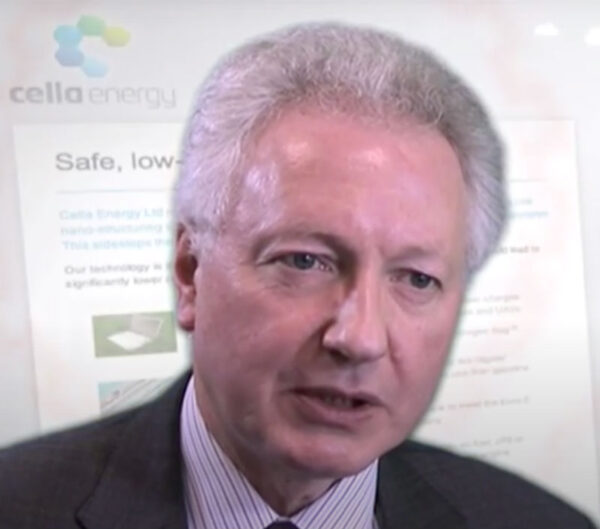 Bee Automotives dissolved in 2010 soon after his disastrous TV appearance. 
"The thing with Dragons' Den is you know it's not real," Mr Voller told BusinessCloud. "There's no such thing as a den. It's a TV studio and this is all an act. 
"It was certainly an experience and a really interesting one. It's not something I'd choose to repeat." 
There's no mention of the appearance on Dragons' Den or Bee Automotives on Mr Voller's LinkedIn profile, where he proudly describes himself as a writer/ novelist having self–published his first book 'King Stephen, the Silver Man and Greta the Witch' on Amazon Kindle in January 2014. 
"King Stephen is a work of fiction but represents an amalgam of Stephen's life experiences in business and in running technology companies," it explained. 
Mr Voller, who said the book sold 'quite a few online', likens his writing to Ken Follett, Tom Clancy and Wilbur Smith but said the 'closest comparison would be the Da Vinci Code by Dan Brown'. 
Mr Voller makes no mention of any of the businesses he was involved in before ZapGo so BusinessCloud has tried to fill in some of the gaps. 
In 2002 he co-founded Voller Energy to manufacture portable fuel cell systems.  Three years late Voller Energy Group listed on the Alternative Investment Market and details of Voller's early career were included in his biography notes.  
"Stephen Voller is an experienced entrepreneur who has successfully built a number of technology businesses and managed a number of high growth companies," it read. "Previously, Stephen was chief executive officer of RealCall (now called Adeptra), a company focused on interactive alerting to mobile phones, managing director of Netscape UK and a sales manager at IBM.  
"Whilst at IBM, Stephen managed a $1 billion business unit, marketing exclusively through distributors, OEMs, retailers and resellers."   
However Voller Energy Group soon lost its fizz and in 2009 a notice in The London Gazette from chairman John Ernest Brown announced that Voller Energy Group had been wound up. Mr Voller told BusinessCloud: "Yes, it had my name on the wall; and yes, it did fail; but it failed after I left." 
Despite the setback, Mr Voller was back in 2011 as the CEO of an energy storage company called Cella Energy, which was the first spin-out from the ISIS Neutron Source at the STFC Rutherford Appleton Laboratory. 
Things seemed to be looking up when Cella Energy won the Shell Springboard Awards 2011 and a £40,000 prize for developing a technology which allowed hydrogen to be stored in a cheap, practical way, bringing the prospect of hydrogen–fuelled cars one step closer to reality. 
Unfortunately it didn't last. Research by BusinessCloud suggests Cella Energy went into administration not once but twice – in 2014 and 2018 – although Companies House show that Mr Voller resigned as a director on May 21, 2013. 
"I wasn't there for either of the administrations," he told BusinessCloud. 
What we do know is that in 2013 Voller founded the company that we know as ZapGo. 
The business was originally called London Graphene but it changed its name a year later to ZapGoCharger and eventually became ZapGo in 2016. 
"There was continual fundraising going on where different investors came in at different times," recalled Mr Voller. "We never stopped fundraising the whole time." 
This was how he came to meet Simon Harris in 2015 at a corporate finance house. 
"He claimed to have the means to produce a new device that would charge a phone in a few minutes," recalled Mr Harris. 
"The subject matter was extremely topical and interesting. We're always looking to stay on top of trends. We thought 'these guys are credible'. 
"We arranged for them to present to an audience of potential angel investors in the spring of 2015 and they raised £500,000 in equity funding." 
Mr Harris himself invested £20,000 of his own money and accepted a position of advisory board member. 
"I was unable to get any measure of Voller and his people but we were comfortable with the risk and decided to give it a go," he said. 
A second round of funding followed in 2016 for another £750,000 and Mr Harris accepted an offer to join the company as a full-time employee. 
"I decided to put my shoulder to the wheel to try and get this technology to market," he said. 
According to Mr Harris, the crux of the problem was the product wasn't market ready and wasn't even the right product. 
"It became apparent in the spring or summer of 2016 that the technology was not suitable for a pocket-size device," recalled Mr Harris. 
"The engineers and scientists tried to apply it to bigger devices like cordless drills, scooters, vacuum cleaners and other consumer devices."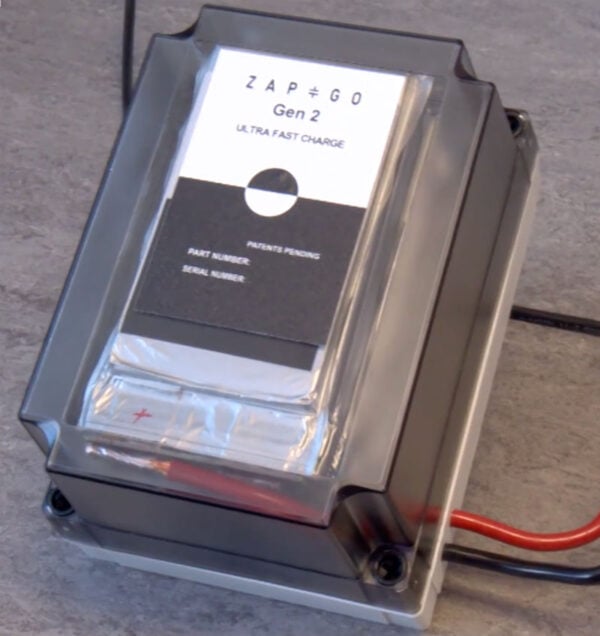 For his part Mr Voller told BusinessCloud the problem wasn't developing technology but making money out of it. 
"For example, we delivered power tools that would charge in 15 seconds," he claimed. "We had those products in 2017. The problem is how you make money out of them. If you go into B&Q you can buy a drill with two batteries for £29.99. For us to compete in that market we'd have to get through huge volumes." 
He said they also developed phone chargers by 2014 but couldn't commercialise them. 
According to Mr Harris, ZapGo's biggest mistake was trying to conquer America and the appointment in August of an American director called Charles Resnick. We'll hear a lot more about Mr Resnick later – but Mr Harris was never a fan. 
"He didn't know anything about the market we were in," claimed Mr Harris. "It was an expensive mistake." 
As they attempted to crack America they exhibited at the prestigious tech show CES in Las Vegas in January 2017. 
Mr Harris recalled: "Voller was getting more and more excitable. I was raising money to feed the money furnace that the company was burning through. Resnick was trying to get the company into the electrical vehicle charging world. The whole thing was getting out of control." 
However he's keen to stress that there's genuine merit behind the technology. "It's not moon shine," he said. "They should have got their heads down and invested in the scientists to get the product right." 
Mr Harris said he tried to warn Mr Voller but claimed he was threatened with the sack and he eventually resigned in May 2018 after nearly three years in the role. Mr Voller declined to comment on his former director. 
But Mr Harris wasn't the only investor to lose money from ZapGo's administration. 
BusinessCloud has spoken to several disgruntled investors including Danish investor Steen Winther Joergensen, who invested £47,000 in the start-up. 
He invested for the first time in 2017 with £30,000, following it up in 2019 with another £17,000. He never met Mr Voller in person. 
"I didn't do my research," he admitted. "I didn't check out the CEO. I didn't know about the administrations or his appearance on Dragons' Den. He's a serial failed entrepreneur. Covid-19 is an excuse." 
Another investor, who asked not to be named, said: "He (Voller) burnt cash. He frittered it away." 
However Mr Voller strenuously denied any wrongdoing. 
"Unusually for a private company we had more than 300 investors," he told BusinessCloud. "Although the number is large the majority of investors invested relatively small amounts of money through EIS." 
EIS stands for Enterprise Investment Scheme and offers tax breaks to individual investors. 
Mr Voller said it was a case of risk and reward. "They got their tax breaks on EIS in return for the accepted risks," he said. "The other element that goes with it is under the EIS rules they're only allowed to have ordinary shares, which gives investors limited protection. It's not like the preference shares which most VC investors insist on." 
However the unhappy investors point out that despite being a start-up, ZapGo paid senior staff whopping salaries of £200k+. According to their 2018 accounts, the highest–paid director was paid £219,696, up from £182,812 in 2017. 
Mr Voller said it wasn't him but declined to identify who the highest paid director was. "In UK terms it may look like a high level of salary, but in the US it's not," he said. 

It was about this time that the story took a dramatic twist when ZapGo came onto the radar of Trevor Milton, founder of Arizona-based Nikola Corporation, which was set up to manufacture alternative fuel vehicles and has a multi-billion–dollar valuation. 
Exactly what happened next is laid out in papers filed by Nikola in the US District Court for the District of Delaware in March 2020 against ZapGo, Mr Voller, Mr Resnick and chief financial officer Tim Walder. 
According to the court documents Mr Milton reached out to ZapGo and Mr Voller touted his expertise as "an experienced business leader and recognised authority on energy storage technologies". 
BusinessCloud contacted Nikola Corporation for a comment and was told: "As a matter of company policy, we do not comment on pending legal proceedings." 
Nikola's version of events is laid out in the court documents. 
The paperwork alleges: "ZapGo, Voller, Resnick and Walder told Milton that if Nikola invested $8m in ZapGo that ZapGo could develop a Generation 4 (Gen4) C-Ion cell (doubling the energy storage over Gen3) in a few months." 
According to Mr Milton, ZapGo claimed that its C-Ion cells were designed for a 30-year operational life and one million charge/discharge cycles. 
At the risk of sounding too technical, this was a big claim. The parties signed a Letter of Intent for Nikola to acquire ZapGo on October 31, 2019 for a 'tentative' purchase price of $56.5m in Nikola stock. 
With the Letter of Intent in place, Nikola began its due diligence with Jason Roycht, vice president of technology development and strategy, meeting ZapGo – which is when things began to unravel. 
Mr Roycht went to England to meet with ZapGo on December 4, 2019, and Mr Resnick reiterated that development of Gen4 would be complete in 2020 with production runs beginning in 2021. 
Mr Walder said that the Gen4 cell would enable ZapGo to realise revenue of $4.1bn by 2024. 
Then came the bombshell. According to the court documents: "During his visit to ZapGo's headquarters in Oxford, Roycht was researching ZapGo on the night of December 5, 2019 when he discovered that Charles Resnick was indicted on 11 April 2019 by the U.S. Attorney for the Middle District of Florida. 
"The indictment alleged that Resnick arranged to meet escorts, prostitutes and call girls during business trips through Europe and the United States while he worked for NASA's Center for the Advancement of Science in Space. Resnick would then submit the expenses for the prostitutes as a business expense." 
BusinessCloud contacted 69-year-old Mr Resnick at his home in America and although he confirmed he was indicted in the US accused of fraud for submitting receipts for prostitutes as business expenses, he said the charges were subsequently dismissed. 
He added that the tax allegations related to 2010-13 when he was being treated for cancer and were several years before he started working for ZapGo or had a relationship with NASA. 
According to Companies House Mr Resnick resigned from ZapGo on December 19, 2019 but by then the cracks in the relationship between ZapGo and Nikola were widening. 
In summary Nikola didn't think ZapGo was making the progress they promised and even asked for an additional $8m funding. 
The papers filed at the US District Court for the District of Delaware continued: "Roycht did additional research and discovered that ZapGo was on the brink of bankruptcy even though ZapGo postured itself as a $4 billion company and an 'equal' to Nikola." 
The relationship broke down completely in February 2020 and Nikola terminated its LOI with ZapGo soon afterwards having clocked up $2,181,508 in development costs. This prompted a counter claim from ZapGo, threatening its own litigation. 
What's not in doubt is that ZapGo, which was already weighed down by crippling debts of $14m, couldn't continue and on July 23 they called in administrators. 
Mr Voller declined to discuss the legal case by Nikola Corporation other than to say he and Mr Walder had filed for it to be dismissed on September 4, 2020. 
He also declined to say whether he was trying to buy ZapGo's IP from the administrators Buchler Phillips, who have been contacted by BusinessCloud. 
What we do know that in the week after ZapGo's administration Mr Voller became a director of two newly incorporated companies called Carbon-Ion Energy Storage Ltd  and Oxford Professional Presentations. 
"Clearly we don't know if ZapGo is going to continue in any shape or form at this point in time," he said. "I'm looking at other opportunities. For those people who have looked to be entrepreneurs and founded companies the path is never smooth. You make mistakes and you learn from those mistakes. 
"In terms of ZapGo's administration we tried everything we could to try and restructure the debt. It was the last resort to put the company into administration. 
"In putting the company into administration, I was the biggest shareholder. I had about 20 per cent of the shares. 
"The majority of the investment we took in was in the form of debt and it was the debt that killed us. 
"The issue we've always had is we've been spending more money and more time servicing our debt than on R&D. 
"In 2018 we took in a debt round from a group of investors in the US. This was what ultimately killed us. We took on money on horrendous terms because we were desperate for cash at that time. Frankly the company has been on a downward slope since we took on that money. 
"In 2019 we were out of cash again so we took on further debt on even worse terms because the only place we could raise money was from the original debt holders. 
"What we tried to do during the first part of the year was restructure the debt by turning it into equity. We didn't succeed in that because we needed 75 per cent of our shareholders to approve the change. We had no choice but to put the company into administration." 
He found an unlikely ally in Mr Resnick. "ZapGo failed because they could not raise enough capital," he said. "In my opinion had ZapGo been based in Silicon Valley instead of Oxford, my gut feeling is they would have found it a lot easier to have raised investment. 
"When Nikola walked away and Covid-19 hit, it made it almost impossible to raise money. Those events coupled with the shareholders of ZapGo not approving a debt restructure made raising additional capital impossible. 
"ZapGo was an early–stage technology company. It was high risk but had the potential for high rewards. Unfortunately most technology companies fail." 
However the explanation cut no ice with experienced angel investor Michael Byrne, who invested £17,000 in ZapGo in 2017 and 2018 as part of the EIS scheme. 
"ZapGo had some really good technology and talented scientists but the weakest corporate governance I've ever seen," he told BuisinessCloud. "Stephen Voller was a disaster. If they were saddled with debt it was down to him. 
"As soon as the Nikola deal collapsed ZapGo was done. It's not down to Covid-19.  
"This is not the first investment I've had that has gone bad and it won't be the last. This is an example of what can happen when you have insufficient corporate governance."