Deals
The entrepreneur who led the management buyout of recruitment disrupter Tribepad says the Sheffield firm has reaped the rewards of its new scaling strategy.
CEO Dean Sadler, a former CTO at Plusnet, was part of the team which founded the award-winning platform that connects employers and jobseekers back in 2008.
However a conflicting view of how to take the business forward would ultimately result in Sadler and the board of directors leading an MBO in July 2016.
"Part of the business was owned by somebody who had maxed out in terms of their capability but also their desire to move the business forward at pace," Sadler told BusinessCloud.
"They were more interested in a lifestyle business than a growth business. There was no animosity: it was a decision that the individual needed to make for their family and we just have to move on."
The newly formed management team doubled the workforce within 12 months and focused on areas which were previously not considered a priority.
"We went from a purely technical-oriented business, where 95 per cent of our employees were software developers, to just 60 per cent devs," explained Sadler. "We recruited account managers, support managers, sales and marketing staff.
"We recruited good people who could move the business forward at a faster pace and fill in the gaps we had."

Tribepad has gone on to add another 30 per cent staff and the business has been growing at about 28 per cent year-on-year since, with revenue in seven figures and five-figure profit.
The staff of around 40 processes over a million candidates per calendar month for clients including the BBC, Tesco and KFC, while it serves clients in 127 countries and 17 languages.
Straight-talking Sadler had the idea for the business in the pub as he considered what to do next following the trade sale of Plusnet – which he had taken to IPO years beforehand – to BT.
However during the early months of the business the team were frustrated by their inability to sell the concept of video interviewing "as the tech was yet to catch up".
"There were so many hurdles," he reflected. "After nine months of trying to build that technology and sell it we pivoted the business and asked companies what their pain points were."
He approached some of the world's biggest companies, including US giant Walmart.
"By doing that we remained about a year ahead of the curve in terms of building technology which businesses actually wanted," he continued.
"We were demand-driven from then on: we didn't define what we were going to build; we were technologists solving the problem brought to us by the market."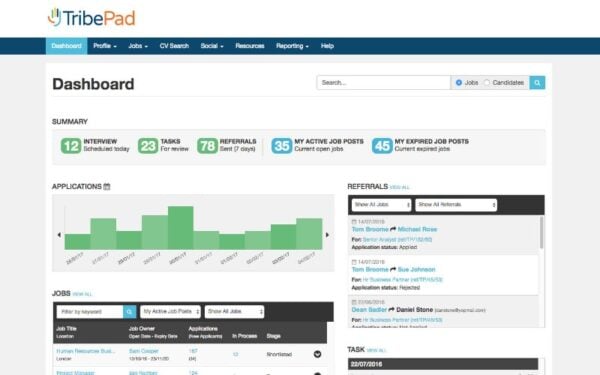 Tribepad carries out psychometric profiling of candidates and has also now gone back to its roots by developing video interviewing technology which is capable of recording the responses of interviewees and also reading their emotional reactions.
"We can work out your reading age, the grammatical syntax of the words you're using and your personality profile – whether you're extrovert or introvert, for example," he said.
"We know if you're smiling, frowning, where you're looking and what you're saying as you're doing these things.
"What we're trying to do is look after two people: the business owner and the candidate themselves. By building up a whole picture of somebody, we can find people whose CVs would be unimpressive if a recruiter looked through them for 30 seconds [but who are the perfect fit for a role].
"If you were to look at my CV – if I ever had one – it would be very sparse: went to uni, travelled the world a bit, went to Plusnet then started a new business. However a lot of experience and skill and expertise has been gathered from those two roles.
"We want to find the diamonds in the rough."
recruitment