MediaTech
In our tech review column, Jonathan Symcox sings along with music streaming box ROXi
Background
Music streaming hardware start-up Electric Jukebox launched in its home UK market in 2016 before rebranding to ROXi in 2017. 
A portable entertainment console including a microphone, its platform includes more than 55 million songs as well as music trivia games, radio stations, karaoke and more. 
The set-top box plugs into a TV and can also be connected to external Bluetooth-enabled speakers, while the service was also recently made available on Sky Q via subscription. 
ROXi CEO Rob Lewis claims that by the end of 2022, ROXi will be available to 500 million TVs worldwide. 
Quick start
Anyone used to waiting an age to play on their PlayStation or Xbox will be pleasantly surprised to find that once you hit the 'on' button, ROXi loads within seconds – and you can simply press the button again to turn it off. 
Mic
The microphone is used to navigate the menu system. Cleverly, you point it at the TV to control an on-screen cursor, in the style of a Wii Remote; but unlike Nintendo's ground-breaking console, it is not necessary to balance a receiver bar on top of your telly. 
Music
The main menu allows you to choose from saved music, curated playlists, official singles and album charts plus 'tastemakers' – the favourite music of stars including Kylie Minogue, Robbie Williams, Sheryl Crow and Alesha Dixon. These musicians are all investors in ROXi. For example, Aussie pop queen Kylie's 'All-time Favourites' playlist including tracks from Electric Light Orchestra, Sly & The Family Stone and Donna Summer.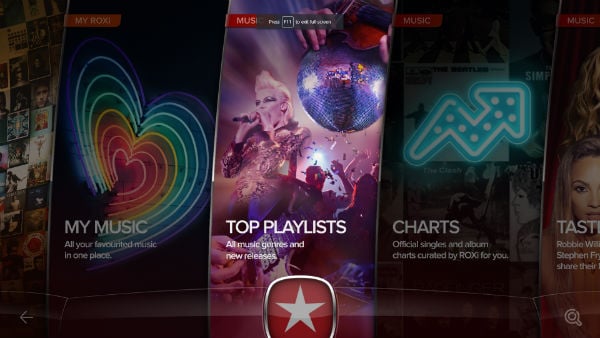 Search
The main way you will find music is the search button on the mic. Holding it in and saying the name of an artist, song or album is easy and the results auto-correct so they are almost always spot-on. Often several versions of the same song are found: for example, 'All Along the Watchtower' brings up different recordings from Bob Dylan and Jimi Hendrix – including live and remixed, previously unreleased versions – while a scroll reveals covers from Neil Young, The Grateful Dead, Brian Ferry and U2. You can filter your search results by songs, albums, radio stations, saved music and karaoke. 
Karaoke
In an era of multiple devices, ROXi is billed as a way to bring the family together to enjoy music. However, a big selling point is the 60,000-plus tracks available to sing along with. Practically every song I fancied belting out was available, from Bryan Adams and Bon Jovi to Radiohead, Muse and Oasis. The words are available on-screen – with the occasional amusing typo – and includes a timing indicator to keep you at the right place. A smaller selection of tracks is available as pure karaoke – just the backing tracks with no singing at all. 
Quizzes
Multiple-choice 'name the song' games are great fun, especially for the kids, and available across genres. There are tracks from Disney films and TV shows as well as more general music. 
Fa
mily
My seven- and eight-year-old boys loved searching for tracks – especially music from Fortnite! – and singing along to songs. It is possible to plug your console into a friend or family member's TV, connect to their WiFi and use with your own account. On my sister-in-law's slow WiFi, the karaoke timing indicator was off, but I have suffered no such problems at home.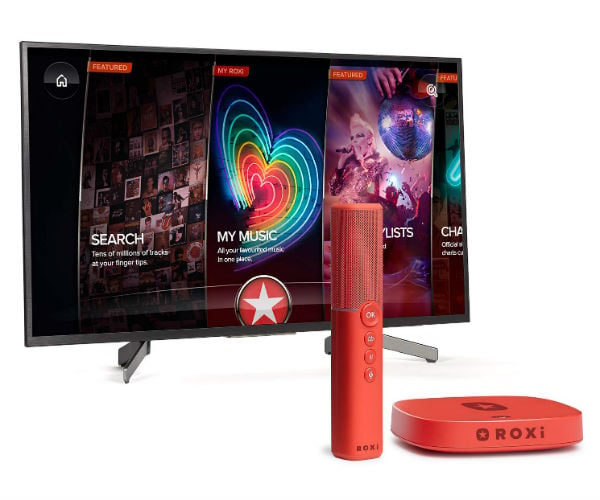 More
A vast slideshow of images is shown when you leave the music playing for a short while. You can connect your Facebook albums to show these instead. 10,000 radio stations from around the world are available while 'therapeutic soundscapes' to accompany meditation or yoga are very relaxing. Songs labelled as 'explicit content' can be hidden from search results via the settings.  
Cost
The ROXi box with one mic and all necessary cables is around £100 and comes with a one-year premium music pass. After a year, you will have to pay £52 for a new 12-month subscription or contend with adverts. The Sky version – which wasn't tested here – includes a free 30-day trial then monthly cost of £6.99. 
Overall r
ating
: 
5
/5
Under Review