MediaTech
In our first tech review column, Jonathan Symcox takes cycling safety app Busby for a spin
Background
Busby, developed by K-Safe, is trusted by thousands of cyclists and has monitored several hundred thousand journey miles since its launch in November 2019.  
The inspiration for the app came when co-founder Barry Green was involved in a serious cycling accident. It uses sensors in a mobile phone to automatically detect a crash or a fall, geolocate the user and alert their emergency contacts.   
Available for free download on any iOS or Android smartphones, it is used by cyclists, walkers, horse riders, runners and road users to predict, prevent, detect and analyse road accidents. It does not collect or store the riders' data.  
Now active in 32 countries across six continents, the co-founders say it has already saved three lives. 
Tough terrain

I fired up the app during an hour-long ride around the Lee Quarry mountain bike trails in Lancashire. These are known locally and further afield for providing a stern test, with rocky terrain and routes which vary in difficulty from tricky to downright dangerous. 
GPS
The GPS kicked in without fuss and lasted for the duration of the ride in a fairly remote and hilly setting. When I've used exercise apps in the past such as Strava and Runkeeper, the GPS has dropped out when entering the quarry itself, with the result that the session automatically ends early. 
Records
The screen shows the distance you have ridden, which is fairly accurate, although it doesn't store your activity for future reference as an exercise app would. But then, that's not its purpose. 
Mounted
I mounted my phone on the frame of my bike so I could see how the app updated throughout. The only frustration was when the screen went to sleep and I had to stop to bring it back up. However, Busby's tagline is 'Safety in your pocket' – it is there as a safety mechanism, not to keep track of how far you have ridden. 
G-force
The key feature of the app is how it tracks the g-forces acting upon your phone, with the idea that if you are in an accident, it will identify that through interpretation of the impact created. During the ride it could tell when I was cycling; when I stopped, it took a few seconds to sense that I had become still; and when I threw my phone into a hillside, it knew something was amiss. 
Emergency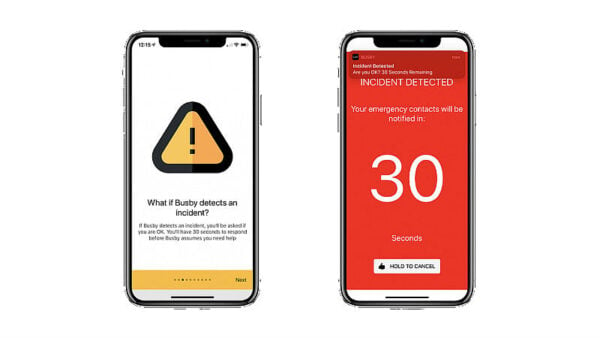 The screen turned red, the phone vibrated and it gave me a clear 30-second countdown to cancel the sending of a message to my emergency contacts. Having mentioned this to my wife earlier, I let the message go through and it did so, smoothly. 
False alarm
The one downside to using the app was when I took the bike down a long and precarious 'black' trail, the shaking of the bike again triggered the alarm. As I was concentrating on staying in one piece rather than looking at the app – and could not feel the vibration – my wife was again notified. You can extend the 30-second delay, should you wish, which would have helped here. And better safe than sorry… 
Extra services
Busby Flare allows users to send out an SOS message to surrounding users within a five-mile radius and also connects them to nearby bike stores. The premium version of the app allows for more emergency contacts to be added. GroupRide allows users to set a safety radius around everyone in their group and receive a notification if someone falls behind. Different activities can be selected, including walking/hiking, running, horse riding, motorbiking and skiing, although these were not tested. A recent update also rewards users by offering coins per mile which they can spend on in-app discounts or enter monthly competitions. Fingers crossed for that Go Pro 8… 
Busby is available to download for free at https://www.busby.io/ or by searching for the app in your app store. 
Overall r
ating
: 4
.5
/5
Under Review