Uncategorized
A new study has identified the top 20 most innovative cities across the UK – and there are few surprises in the list.
London tops the list, which has been compiled by UK card payments provider Paymentsense, with Bristol in second place and Edinburgh in third.
The nationwide 'innovation index' analysed over 60 UK cities and scored each location on the following factors that contribute to innovation:
📈   Business startups –  Number of patent applications and new business registrations
💼  Qualified workforce – Percentage of the working-age population with NVQ4 and above education
🧠   Profession knowledge – Percentage of private knowledge-intensive business services jobs
🖥   Entrepreneurialism  – Google search volumes and trends for 'how to start a business'
Unsurprisingly London ranked as the most innovative city in the UK, scoring 86.4 out of 100 on the Innovative index. With 107 startups registered per 10,000 people, compared to 89 business closures in the same year, the professional landscape of London continues to grow.
London also has the highest number of Kickstarter ideas out of the whole of the UK with 16,835. The average pledge currently invested in London-based Kickstarters is £9,127.90, showing the vast amount of new business growth across the capital.
Second place on the went goes to Bristol, scoring 82.5 out of 100. With nearly £11,000,000 in total invested in Kickstarters, Bristol's innovations just keep coming.
Edinburgh rounded up the top three with 78.5 out of 100. The city saw 55 business startups per 10,000 people in 2019. The historical city is constantly growing with 1,845 Kickstarters open at the moment.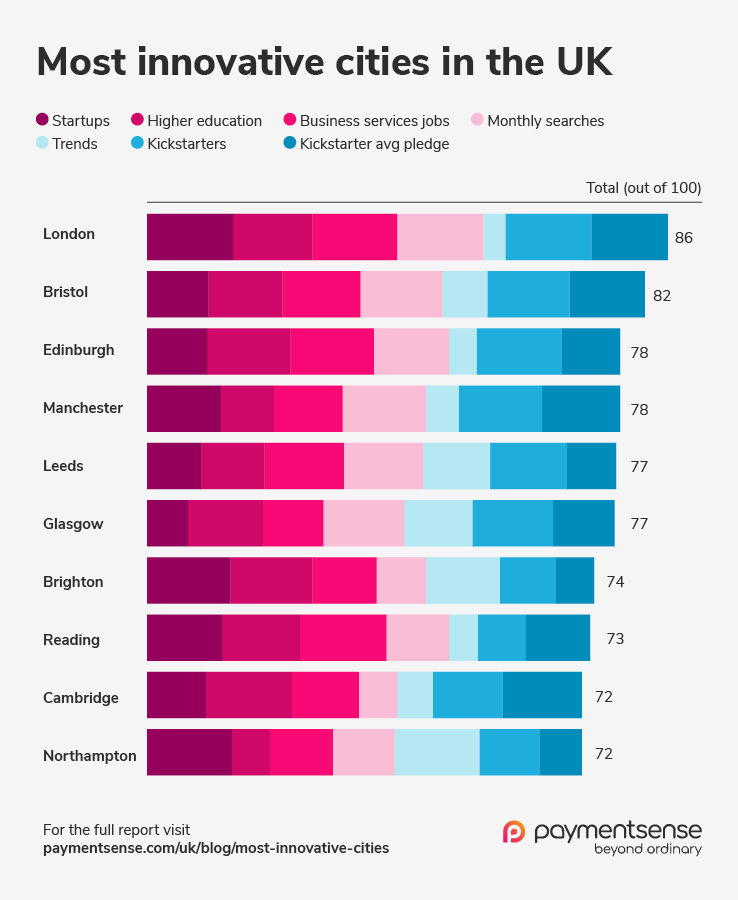 Northampton was ranked 10th in the list, Milton Keynes finished 12th and Slough came in at number 18.
The full list was: 1. London; 2. Bristol; 3. Edinburgh; 4. Manchester; 5. Leeds; 6. Glasgow; 7. Brighton; 8. Reading; 9. Cambridge; 10. Northampton; 11. Southampton; 12. Milton Keynes; 13. Aberdeen; 14. Liverpool; 15. Nottingham; 16. Bournemouth; 17. Leicester; 18. Slough; 19. Sheffield; 20. Belfast.
Paymentsense also looked into which cities were most innovative outside of the UK – with Paris topping the worldwide innovation index.