The UK tech sector has responded with cautious optimism to the government's Levelling Up White Paper.
'Levelling up' rhetoric has been prominent in the government's messaging for some months, with even a Levelling Up Secretary appointed in former Conservative leadership candidate Michael Gove.
On Wednesday Gove unveiled the government's flagship Levelling Up White Paper, setting out a plan to transform the UK by spreading opportunity and prosperity to all parts of it.
It outlined 12 'national missions', given status in law, which it said will shift government focus and resources to Britain's forgotten communities throughout the 2020s. You can see these, as per the government's statement, at the bottom of this article.
Describing these as 'cross-government, cross-society efforts', they include a pledge to increase devolution, allowing every part of England to elect regional mayors with greater powers in the style of nine current regions – including Greater Manchester, the Liverpool City Region, West Midlands and Tees Valley – by 2030 should they wish to.
They also promise a narrowing of economic disparities between the most and least productive areas of the UK; improved public transport systems 'closer to London standards'; an eradication of illiteracy and innumeracy in primary school leavers; high quality skills training; and a tackling of life expectancy disparities between areas, poor quality rented homes, rundown town centres and communities, and serious crime.
R&D and 5G
In terms of technology, the government promised an increase in R&D spending by at least 40% across the North, Midlands, South West, Scotland, Wales and Northern Ireland by 2030, as well as increased national access to 5G broadband.
Labour's Shadow Levelling Up Secretary Lisa Nandy said the White Paper did not include any increase in investment, which was sorely needed to truly 'level up' the UK.
"What we've got is a series of rehashed announcements, some of which are so old they were actually originally made by Gordon Brown when he was Labour Prime Minister in 2008," she told Sky News. "This just simply isn't good enough."
The CEO of one North West-based tech business said the levelling up agenda must first tackle the transport inequality that exists between the North and the South.
Marc Schmid is the founder of Redmoor Health, which supports NHS and social care teams with implementing technology through training and project management.
Based in Strawberry Fields Digital Hub in Chorley the company has just launched a new division – Redmoor Creative – as it looks to grow turnover to £5m by 2024.
"The sceptical side of me would say we've heard a lot about devolved powers from London and the South East before – but very little changes," said Schmid.
"If I was to ask for something it would be to really invest in our transport infrastructure. It is ridiculous that it takes me longer to get into Preston than it does someone to get from Kent to London. 
"By doing this we can improve productivity and open up our town centres which are struggling. We all benefit from a thriving economy regardless of the sector we operate in."
Poor Wi-Fi
He also highlighted poor Wi-Fi as a problem. "Our teams and clients are increasingly relying on a hybrid way of working and need good Wi-Fi for virtual meetings," he said.
"There's no point saying the majority of the population will have good Wi-Fi, we all need to have good Wi-Fi."
However Wayne Story, CEO of UK-based global public sector software company Civica, said the White Paper is 'good news for the UK software sector'.
"From increased regional R&D investment, to enhanced local skills provision, to transforming the approach to data and evaluation across government, it offers the right mix of measures at the right time, ensuring our sector can continue to grow, innovate and attract international investment," he reflected.
Welcoming the commitments on regional investment, he added: "Employing people from Bristol to Dudley to Belfast, we know first-hand what the regions have to offer. In our hubs across the country, Civica experts have developed the technologies which are transforming our vital public services, from local government to education to healthcare."
Innovation Accelerators
The White Paper announced three new Innovation Accelerators centred on Greater Manchester, the West Midlands and Glasgow City Region. These clusters of innovation will see local businesses and researchers in these areas backed by £100 million of new government funding to turbo-charge local growth, learning from the MIT-Greater Boston and Stanford-Silicon Valley models.
Story added: "These offer exciting opportunities to unlock the innovative potential of every corner of the country, cementing the UK's position as a global leader in science and technology."
Sci-Tech Daresbury, a science and technology park in the Liverpool City Region, was referenced in the report. Its chairman John Downes, also CEO of Langtree, said: "If the government is to achieve its levelling up agenda, it's essential a geographically targeted approach is taken with the increase in R&D investment.
"We therefore welcome the announcement that greater powers in spending and investment will be handed to local mayors, and we applaud the plan to use research and innovation to drive clusters of emerging opportunities. 
"Similarly, the decentralising of the UK Shared Prosperity Fund will empower local leaders to use regional strengths in order to harness local hubs of innovation.
"Indeed, the Innovation Accelerator model the White Paper has outlined could be pivotal in helping turbocharge the science and technology ecosystem within the three regions it will be rolled out to. Yet it needs to go further – and we hope to work with government to explore how our businesses, academic and public sector organisations can help to unlock the potential in our region, allowing us to address the inequalities that the pandemic has magnified. 
"While the whole country has taken an unprecedented hit, areas such as our own Liverpool City Region have suffered disproportionately.
"These are hugely encouraging steps in the right direction, yet further work is needed to form the cohesive plan of action that will achieve the levelling up outcomes we all desire. The freedom given to local leaders to have sufficient flexibility over how they use research and innovation funding alongside other aspects of their development strategies could be pivotal."
Little detail
Jamie Holmes, CEO of smart cities platform VU.CITY – which topped our PropTech 50 ranking last year – said digitisation and investment into technology is necessary.
"After much delay, it's heartening to see proposals finally being brought forward that will empower local people to revitalise and improve their communities. However, we'd love the government to properly set out how they aim to do this – the paper has little detail on how it will simplify the planning system to make it more accessible," he said. 
"We know that digitisation is key to improving efficiency, speeding up decisions and accelerating the levelling up process to support much needed revitalisation in our towns and cities.
"New development and infrastructure are absolutely crucial as we seek to balance opportunities across the country. To do this, the government should be exploring digitisation as a priority."
Net Zero
Dr Annette Bramley is director of the N8 Research Partnership, a collective body for the eight research-intensive universities in the North.
She said: "We are particularly pleased to note the specific reference to increasing National Institute for Health Research funding outside of the Golden Triangle as we know that this will have a direct benefit on the health and wealth of the North of England.
"We also welcome the announcement of investment in Innovation Accelerators, including one in Greater Manchester. Further investments in clusters and regional research and innovation ecosystems will be needed to fully harness all the talent and ideas across the UK and help our country reach its Net Zero aims.
"The N8 Research Partnership has long said the UK will not achieve the government's aim of becoming a science and technology superpower without fully harnessing the power of our Northern universities combined with skills and business. 'Levelling up' through the green economy is a huge opportunity that still requires long-term support and new investment at scale from both the public and private sectors."
Charles Woodburn, chief executive at BAE Systems, said: "As a company with tens of thousands of highly skilled, highly productive employees across the North of England and central Scotland, we support putting innovation and skills at the heart of the 'levelling up' strategy.
"Industry and government working together to increase investment in research, development and skills outside of London and the South East will help individuals to access good jobs in the communities where they live, improve productivity and help every part of the UK reach its full potential."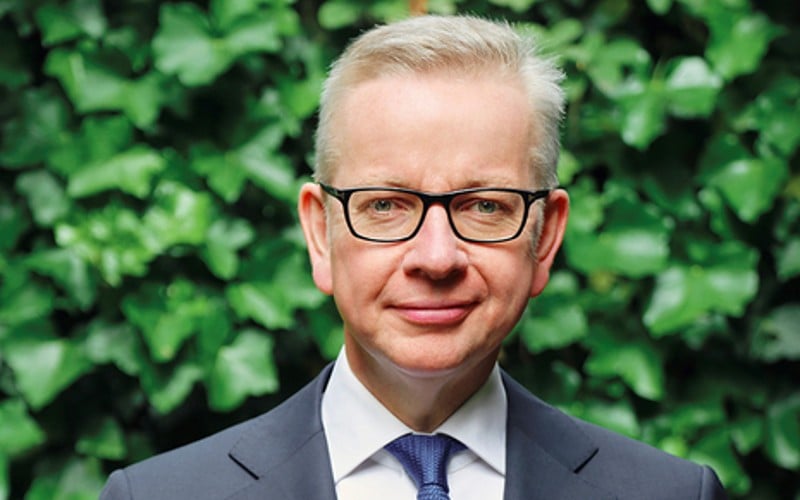 Unveiling the White Paper, Levelling Up Secretary Gove (above) said: "The United Kingdom is an unparalleled success story. We have one of the world's biggest and most dynamic economies. Ours is the world's most spoken language. We have produced more Nobel Prize winners than any country other than America.
"But not everyone shares equally in the UK's success. For decades, too many communities have been overlooked and undervalued. As some areas have flourished, others have been left in a cycle of decline. The UK has been like a jet firing on only one engine.
"Levelling Up and this White Paper is about ending this historic injustice and calling time on the postcode lottery."
The government's 12 'missions' to 'level up' the UK
1. By 2030, pay, employment and productivity will have risen in every area of the UK, with each containing a globally competitive city, with the gap between the top performing and other areas closing.
2. By 2030, domestic public investment in Research & Development outside the Greater South East will increase by at least 40% and at least one third over the Spending Review period, with that additional government funding seeking to leverage at least twice as much private sector investment over the long term to stimulate innovation and productivity growth.
3. By 2030, local public transport connectivity across the country will be significantly closer to the standards of London, with improved services, simpler fares and integrated ticketing.
4. By 2030, the UK will have nationwide gigabit-capable broadband and 4G coverage, with 5G coverage for the majority of the population.
5. By 2030, the number of primary school children achieving the expected standard in reading, writing and maths will have significantly increased. In England, this will mean 90% of children will achieve the expected standard, and the percentage of children meeting the expected standard in the worst performing areas will have increased by over a third.
6. By 2030, the number of people successfully completing high-quality skills training will have significantly increased in every area of the UK. In England, this will lead to 200,000 more people successfully completing high-quality skills training annually, driven by 80,000 more people completing courses in the lowest skilled areas.
7. By 2030, the gap in Healthy Life Expectancy (HLE) between local areas where it is highest and lowest will have narrowed, and by 2035 HLE will rise by 5 years.
8. By 2030, well-being will have improved in every area of the UK, with the gap between top performing and other areas closing.
9. By 2030, pride in place, such as people's satisfaction with their town centre and engagement in local culture and community, will have risen in every area of the UK, with the gap between the top performing and other areas closing.
10. By 2030, renters will have a secure path to ownership with the number of first-time buyers increasing in all areas; and the government's ambition is for the number of non-decent rented homes to have fallen by 50%, with the biggest improvements in the lowest performing areas.
11. By 2030, homicide, serious violence, and neighbourhood crime will have fallen, focused on the worst-affected areas.
12. By 2030, every part of England that wants one will have a devolution deal with powers at or approaching the highest level of devolution and a simplified, long-term funding settlement.