PropTech
The call of the washing basket urging you to put another load on, the knock on the door as you take in yet another parcel for a neighbour… your home and work life blending into one until you can't remember where one ends and the other begins.
It's safe to say that many of us will be itching to get out of the house and into new surroundings after almost a year of working from home. Where the freedom of home working probably once seemed like a luxury, the novelty of the enforced need for your kitchen or spare room to suddenly become your office can wear very thin.
The relaxation of restrictions over the coming months will present the opportunity to break out of those four walls and go back to the workplace. For many not part of an office set-up, co-working spaces could provide the solution.
Here we look at some quirky spaces you may wish to visit during 2021.
WRAP, Brighton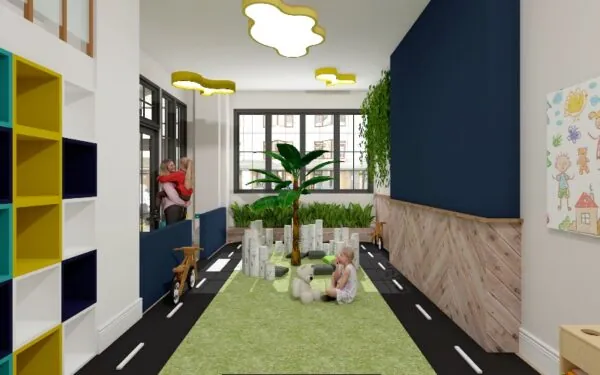 Work and childcare have gone side by side for many of us for the past 12 months. Crowdfunded WRAP in Brighton aims to offer both, with a nursery and a play centre alongside its co-working spaces set to open in July.
Ed Patey, who previously worked in construction project management, and wife Sarah spent a year travelling in 2018 and returned looking for a new challenge that would enable them to work closer to home rather than commuting to London.
They were due to exchange contracts on the lease for the building in which they are based in March 2020, but their plans were put on hold due to the pandemic. However, new ways of working in the past year have shown a real need for their solution, which combines workspace with a nursery, after-school clubs and play centre, as well as provision for yoga, pilates and beauty treatments.
Of all those who had invested in the business via crowdfunding, Patey said: "We're working parents with young children and, working from home, we've all experienced the struggle of balancing work with childcare – trying to be parents as well as productive at work."
Based across six floors, WRAP aims to offer flexibility, recognising that freelancers and the self-employed don't necessarily work 9-5 and need to be able to scale up or down when it comes to their childcare. "People's attitudes to work have changed, they don't necessarily want to carry on working from home and it can be quite claustrophobic working in the same four walls," says Patey, adding that the nursery run – for children aged six months to five – is made much easier when parents are not having to dash across town. "WRAP's solution should make for a much more efficient day all round."
For more information visit WRAP, Brighton | Coworking with onsite nursery
Uncommon, London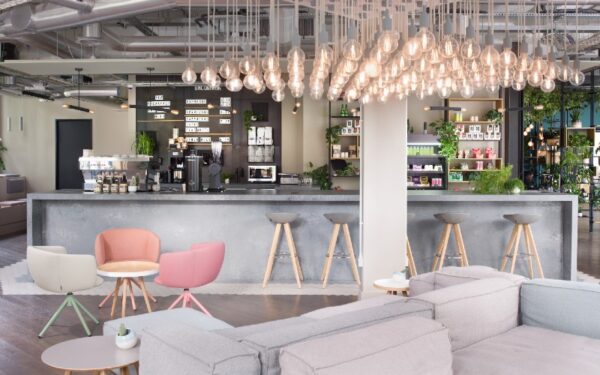 'Live well, work well, do well' is the mantra of Uncommon, which has four flexible workspaces across the capital with wellbeing at the heart of everything they do. The power of plants is central, with pots filling the indoor spaces and a roof terrace to "create fresh air and make you happy".
Carefully thought-out music is used as background to encourage creativity, chairs are ergonomically designed and lighting is engineered to boost moments of clarity. The scent of a room is also a focus, with different smells to inspire creativity or calm.
Offices are located across London and are equipped with 24/7 access, private offices, meeting rooms, wellbeing zones and creative spaces. "You're not just physically comfortable here, you're emotionally supported; hence why our members always feel calm and are able to maximise their creative potential," says Uncommon. "Wellbeing is at the heart of everything we do – we want you to feel good about how and where you work."
The range of memberships start from £24+VAT for a day pass to £399+VAT for a private office, with bespoke memberships also available should you want something specific. Memberships tend to include access to high-speed internet, access to a coffee lounge and regular community events, as well as wellbeing and mindfulness classes.
For more information visit Uncommon | Coworking Spaces London | Explore Uncommon
Cubo, Derby and Nottingham, plus soon-to-be Sheffield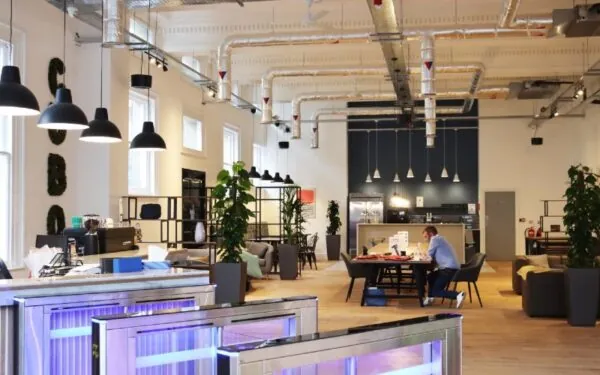 A home from home is what you'll find at Cubo, so if you've become accustomed to the comfort of sitting on your sofa with your laptop, this could be the place for you.
Cubo, which is soon to open a site in Sheffield to go along with its Derby and Nottingham offerings, focuses on giving the best working environment that makes you feel at home while mixing with other businesses.
"Many offices have become mundane, definitely not a place for ideas and creativity," Cubo's website says. "People are seeking new ways of working, new ways to connect and new ways to enjoy working which is what we will provide."
Rebecca Brough and husband Marc own Cubo and say they are very hands-on, which makes them stand out from other co-working spaces.
"Our members are very important to us and we like to accommodate where we can," says Rebecca. "We have years of experience owning and running business centres in Derby and Burton under our company Staton Young, which has of course helped us create Cubo. We are very passionate about our business and work extremely hard to make it successful."
Options include day passes (£25), Hot Desk membership (from £175), Designated Desks (from £225) and Private Offices (POA), which are all +VAT, with hot desk membership allowing access to all sites. Everything is included in the membership with no hidden extras, from free barista coffee and beer to printing.
Access to meeting rooms, private telephone booths, gyms and chillout rooms is also included in what you pay.
For more information visit Cubo Work — Co-Working Spaces, Hot Desks & Private Offices in the UK
DoES, Liverpool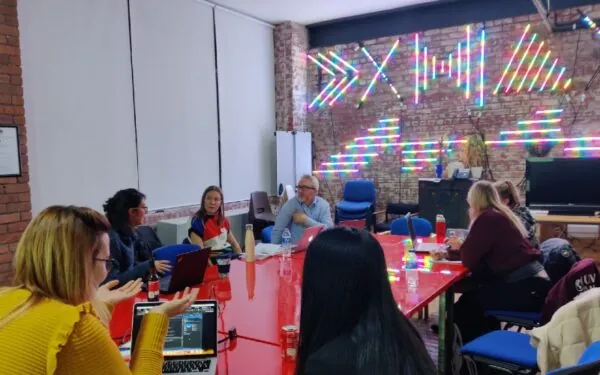 DoES is different to most co-working spaces in offering more than just desks. It's a workshop too, offering equipment such as 3D printers, laser cutters, a CNC Router and much more, meaning it attracts a wide range of people.
"We're in no way stuffy or particularly corporate," says Sean Gleeson, from DoES. "We absolutely accept that we won't be everyone's cup of tea. However, those that find a fit here, love us. We have a very loyal userbase, and we're very happy to be able to support them."
It is very much up to the individual how involved in both sides of DoES they wish to be. There are two co-working rooms – one within the workshop, and one completely separate – as well as meeting and event spaces that can be used as workspaces for no additional cost if they're not already booked.
Flexibility is important and drop-ins are accepted, although booking is recommended. A permanent desk, with designated space with storage, is £175 a month with no contract ­– you can pick up and drop your tenure whenever you please, while a Flexidesk package, for those that don't know how often, or for how long on any given visit, they'll need to be in the space, costs £80 a month.
Daily fees are £12 per day, or £6 per half day, falling to £10 and £5 if you have a DoES 'Friends' Membership, which is £10 a month, and gets you discounts.
For more information visit DoES Liverpool | Where ideas take shape
Paddington Works, London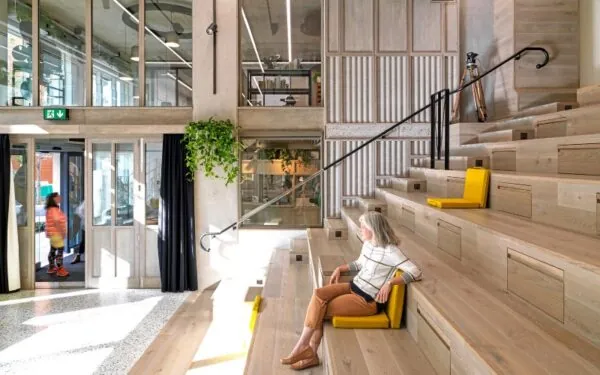 Paddington Works is home to some of the UK's leading BioTech and HealthTech companies, which it says gave it a unique advantage in the world of COVID-19.
Listening to members, it turned to science and technology and invested more than £120,000 in 'new-normal' safety measures, which included investing in its new 'LIVE' production facilities to cater for the rise in need for podcasting for agile working.
"It's a new revenue stream which is important now as more and more people are shifting to working from home as well as office space and other types of working spaces," says general manager Lulu Laidlaw-Smith. Work has also gone into transforming an auditorium into a socially-distanced space.
All the meeting rooms at Paddington Works capture natural daylight and are designed to stimulate and encourage the creation of great ideas. The facility offers flexible bookings with full, half-day, hourly rates and a range of catering options.
Health and wellbeing is at the heart of the environment with fresh, filtered airflow and localised air-con, Circadian lighting tuned to the natural body clock and HÅG chairs to enhance posture and comfort.
The studios, which recognise that many more people as well as desk-workers now work from home, offer electronic smart desks that allow you to stand or sit with integrated wireless mobile charging, cable management and a soft-touch surface.
There are different events and meeting spaces with capacity from two to 80 people.
LIVE also features a bespoke 'floating' vocal booth for vocalists who need a professional studio environment to track vocals, a visual editing suite and a suite for musicians and creative producers, with an in-house production team/network to help people create podcasts for their business.
For more information visit Paddington Works | Exclusive event space London
Co-working