Despite a long and dark year, St Patrick's Day Festival is gearing up for a positive blast.
Instead of the usual festivities involving consuming an inadvisable amount of beer, whisky and corned beef, people will have to stay at home and enjoy a virtual festival alongside their family.
Historically, St Patrick's Day is celebrated with large parades across major cities worldwide, with the first recorded in 1601, Florida. More parades have been organized to celebrate this iconic holiday over the years, with New York hosting their first parade in 1762.
These St Patrick's Day parades are organized in major cities across the world, including London, Sarajevo, Buenos Aires, Chicago, London, and Monserat, to name a few.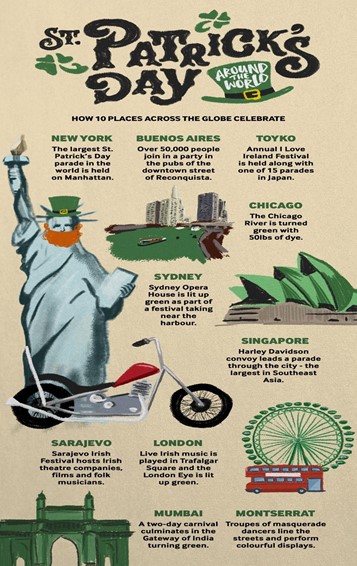 *Infographic by Betway's blog
In the US, St Patrick's Day typically involves dying of the Chicago river, large parades across the streets of Manhattan, drinking lots of Guinness, and getting pinched. And while all that is part of the festivities, it seems there should be much more involved in celebrating a country with such a rich artistic, musical, and literary heritage. The Americans can also credit a lot to the Irish, ranging from politically incorrect leprechauns to Irish steppers.
That explains why the upcoming St Patrick's Day celebrations are already exciting, which will be held virtually for the second time in a row for obvious reasons. As opposed to the usual blowout parade that attracts crowds of over 50,000 people to Dublin, the festival has taken a new form in a dynamic six-day extravaganza culminating on 17th March. The extravaganza features 100+ virtual events for free, packed with things you'd like to check out in the Irish culture.
This year's St Patrick's virtual events will include storytelling with Eddie Lenihan, who is one of the few Irish tradition lore-keepers known as seanchaithe. The cultural preservationist and author enjoy stories of fallen angels, folk tales, and supernatural beings, although he's down for anything. It's no wonder he's often seen as a national treasure.
You can enjoy a virtual tour of Oscar Wilde's Dublin, giving you readings of his work and allowing you to learn traditional willow weaving in the style used in Aran Islands. If there's no willow around the home, you can find some stiff wool or enjoy the brogue.
The virtual event also features comedy by upcoming Irish stars, Irish food history, poetry, and socially-conscious dance. Even better, St Patrick's Day fans can enjoy an animated series known as "Dodgy History of Ireland" featuring historical events and famous people like the gambler Buck Whaley, pirate Queen Grace O'Malley, and St Patrick – the man of the hour. St Brigid's story is the most intriguing, with hits including changing bathwater to beer in a leper colony and supplying beer to 18 churches from a single barrel. This miracle earned her consideration for a spot as a patron saint of beer.
There will still be a parade to celebrate Saint Patrick, although everything will be virtual to continue socially distancing from the public for obvious reasons. Those who want to participate can learn choreography and costume making from professionals, hear about the pageantry art from engineers and artists, take pictures and hashtag them for everyone to admire the work.
The virtual show closes with the St Patrick's Hug (Barrog La Fheile Phadraig) on the night of 17th March, bringing together the best Irish traditional singers and instrument players for cozy evening music near the fire. These songs were pre-recorded in Dublin's famed pub known as the Whelan's, making it an excellent event to enjoy with your loved ones while raising a glass of Irish whiskey.
Instead of the usual live events that attract close to half a million people in Dublin's streets, the festival will be global this year thanks to a new TV channel known as St Patrick's Festival TV. The six-day station will be available online and through the box, calling people to rise past the long dark days and embrace brighter days to come.
The scheduling logistics will be slightly challenging, considering the 90 hours of programming will be running from 9:30 to 11 pm for six days. The festivities will kick off with mindfulness yoga in the morning and end with songs and music from the Ireland Museum of Literature.
In the absence of street parades, pageant companies – normally the show's backbone, compiled a 4-hour workshop film for the festival. These films feature everything from masks, costumes, and float-making, encouraging people worldwide to try the DIY parade from home.
All this action is now available to more than only the people on the Island, considering there are social media and international marketing. The aim is to celebrate Ireland, spreading the message of how beautiful the Island is, and give others the chance to meet Irish people. That also helps to connect the global Irish community.
Partner content